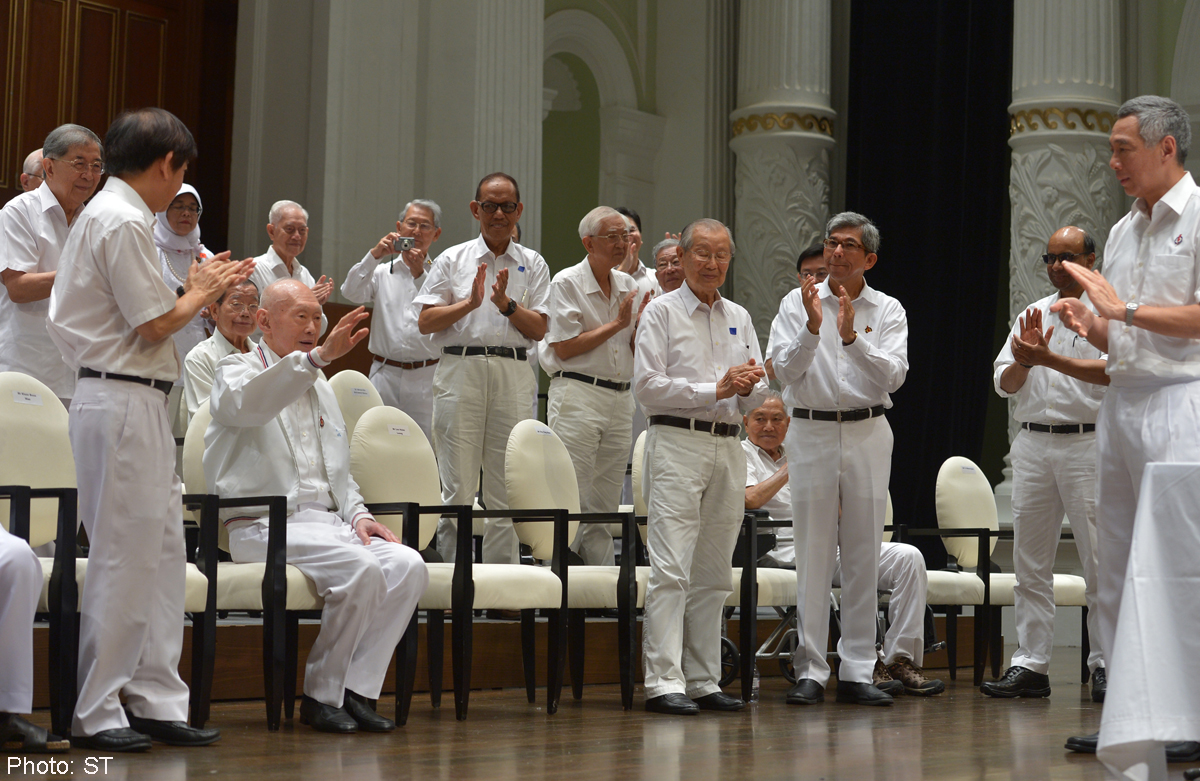 The People's Action Party (PAP) has announced the full slate of members for its top decision- making body that will lead the party into the general election, which must be called by January 2017.
The PAP central executive committee (CEC) added three new faces to its ranks, and also beefed up its team of organising secretaries.
The new faces are Senior Minister of State for Foreign Affairs and Home Affairs Masagos Zulkifli and backbenchers Zaqy Mohamad and Liang Eng Hwa, who were co-opted into the CEC along with Culture, Community and Youth Minister Lawrence Wong. Mr Wong was also on the previous committee.
They bring the total number of CEC members to 18. The decision to co-opt the four was made at a CEC meeting on Monday, PAP
organising secretary Chan Chun Sing, who is Minister for Social and Family Development, said in a press statement yesterday.
The meeting follows the 33rd ordinary party conference on Dec 7, where cadres elected 12 CEC members. Another two were co-opted then: Defence Minister Ng Eng Hen and Speaker of Parliament Halimah Yacob.
On Monday, the CEC also appointed three second organising secretaries. They are Mr Masagos, Minister of State for Trade and Industry Teo Ser Luck and Minister of State for Culture, Community and Youth Sam Tan.
Mr Teo and Mr Tan are not in the CEC. But the PAP statement said an organising secretary does not need to be a CEC member.
Meanwhile, the CEC's office holders remain unchanged from the previous committee.
National Development Minister Khaw Boon Wan remains the party chairman and Communications and Information Minister Yaacob Ibrahim the vice-chairman.
Prime Minister Lee Hsien Loong stays on as party secretary-general, and Deputy Prime Ministers Teo Chee Hean and Tharman Shanmugaratnam as first and second assistant secretary-general respectively.
Minister in the Prime Minister's Office Lim Swee Say remains the treasurer, and Law and Foreign Minister K. Shanmugam the assistant treasurer.
Health Minister Gan Kim Yong, Dr Ng and Mr Chan also remain as organising secretaries.
Mr Masagos said he has had a taste of what had to be done, having helped in party work, adding: "Whatever I am asked to lend a hand in, I will put in my best."
Mr Zaqy, the youngest CEC member, said he hoped to contribute by connecting with younger Singaporeans and reflecting their aspirations, while Mr Liang said: "I will do my best to reflect issues from the ground, and also to represent other backbench MPs."
yuenc@sph.com.sg

This article was first published on Jan 7, 2015.
Get a copy of The Straits Times or go to straitstimes.com for more stories.