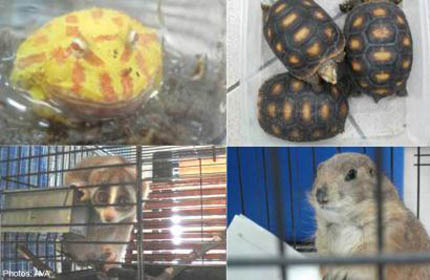 SINGAPORE - It was the biggest seizure of illegal wildlife from a home in Singapore in 11 years.
Ong Ming Shiang, 33, somehow managed to keep 32 animals - some of which were endangered - in his Housing Board flat in Toa Payoh North.
They included three rare ball pythons, two Indian star tortoises, a slow loris, three black- tailed prairie dogs, two sailfin dragons and five ornate horned frogs.
He was fined a total of $41,000 on Thursday after pleading guilty to contravening the Endangered Species (Import & Export) Act and the Wild Animals and Birds Act.
It is the highest fine imposed on an individual for the possession of illegal wildlife here.
Acting on a tip-off, officers from the Agri-Food & Veterinary Authority (AVA) found the wildlife on an inspection on June3 last year. AVA records revealed that the animals were not indigenous and had been brought in without permits. Investigations revealed some had been given to Ong while others were bought by him.
No further details were given in court.
AVA prosecuting officer Yap Teck Chuan said there was no evidence linking Ong to any wildlife smuggling syndicate but asked for a heavy fine as there was evidence to show that the animals were for sale.
The maximum punishment for contravening the Endangered Species Act is a $500,000 fine and a two-year jail term, while the maximum penalty under the Wild Animals and Birds Act is a $1,000 fine.
Pleading for leniency, defence counsel Alywin Goh said a heavy fine would cripple Ong financially as his client also had to support a wife and two sons, aged one and two.
District Judge Hamidah Ibrahim allowed Ong, who works in his father's provision shop, to pay $16,000 first and the remaining $25,000 two months later.
The 32 animals are being cared for by the Singapore Zoo.
It is the biggest haul of wildlife since 2002, when a man was fined $25,000 and jailed for three months for owning 47 illegal wild animals as pets.
In 2007, an aquarium shop was fined $60,000 for the possession of 60 Asian arowana fish without an AVA permit.
khush@sph.com.sg
The animals seized
One Sunda slow loris
One common marmoset
Two Indian star tortoises
Three leopard tortoises
Two red-footed tortoises
Two yellow-footed tortoises
Two alligator snapping turtles
Three ball pythons
Two green iguanas
One lined flat-tail gecko
Five ornate horned frogs
One inland bearded dragon
Two sailfin dragons
Three black-tailed prairie dogs
Two degus