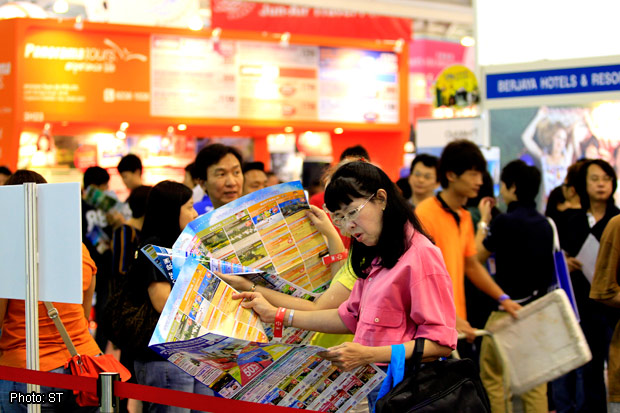 SINGAPORE - Four major travel agencies have backed out of the popular travel fair organised twice yearly by the National Association of Travel Agents Singapore (NATAS), and are planning to hold their own travel event next year, said Today.
The report said travel agencies SA Tours, Chan Brothers Travel, Dynasty Travel and CTC Travel have broken off from the association after disagreements that apparently arose over entrance fees charged to the public and how the proceeds from the fair were used.
Held since 1987, each fair "attracts tens of thousands of visitors and generates millions in sales", according to Today. The four agencies have been participating at the fairs "for as long as two decades", the same report said.
At the last NATAS fair in September, The Straits Times reported that Chan Brothers' sales for destinations in Europe rose by 8 per cent, while Dynasty Travel saw bookings for cruises doubled compared to the previous year.
Commonly known as the Big Four in the local travel industry, the agencies plan to hold their own fair next year and the dates will coincide with NATAS event dates in March 2015, according to Today's source.
The rival event is going to be held at Marina Bay Sands and admission would be free, added the source.
Some travel agencies and participants at previous NATAS fairs have reportedly been approached to join the rival fair, according to the report, while other participants such as Royal Caribbean International said it would continue to take part in the NATAS fair.
According to an unnamed source in the industry, NATAS have been receiving less visitors at its fairs. According to The Straits Times, the NATAS fairs held at Singapore Expo drew in a total of 56,189 visitors earlier in September, about 10 per cent less than the 62,744 at the August's run in 2013.
He said the four agencies could have been unhappy over the entrance fees increasing over the years, and that they could have been "trying to negotiate a discount on participation fees". According to Today, the entrance fee for the NATAS fair had increased by a dollar to $4 in 2010.
His travel agency is adopting a wait-and-see attitude, and might even consider participating in both trade fairs.
According to reports, the next NATAS fair is going to be in March 2015. The venue for it has yet to be confirmed.
wjeanne@sph.com.sg