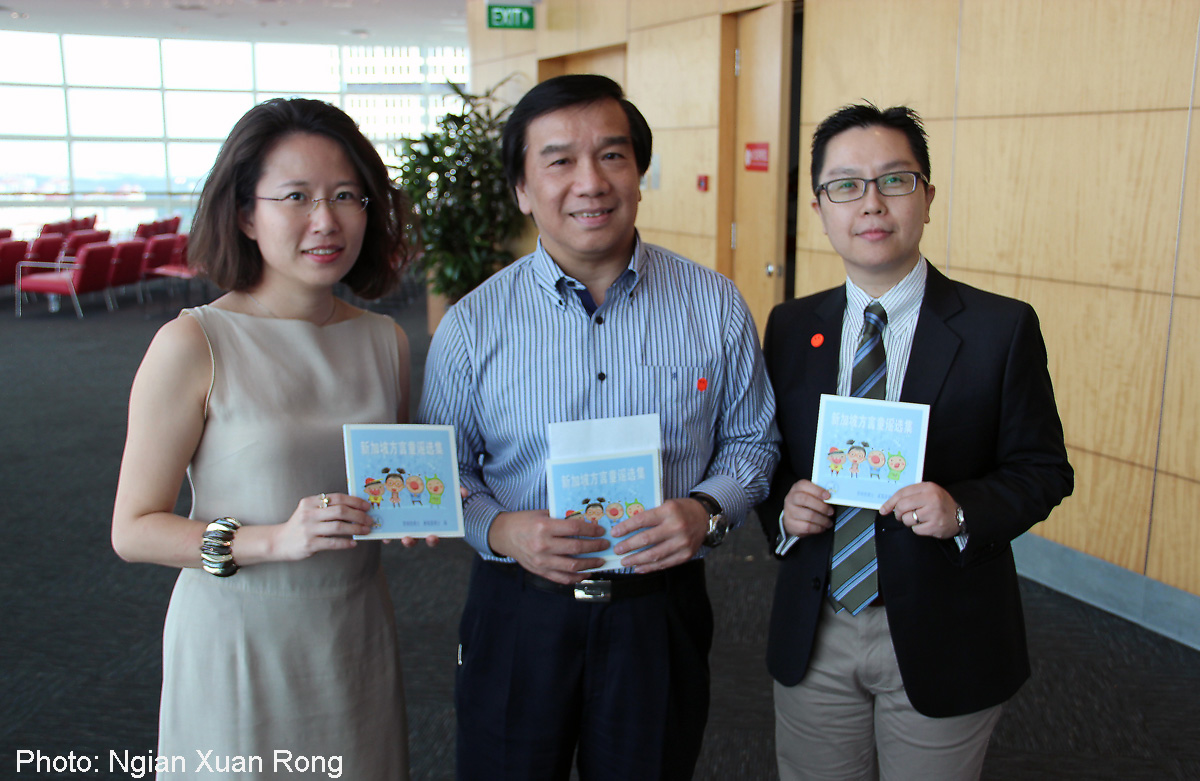 SINGAPORE - Hold a rich collection of history and culture in your hands with a recently released compilation of nursery rhymes from various dialect groups in Singapore.
The Anthology Of Chinese Dialect Nursery Rhymes In Singapore was released last month by the Guang Dong Clan Association, and is a treasury of 50 songs in five dialects: Cantonese, Hokkien, Hainanese, Teochew and Hakka.
The book is written in simple Chinese characters and is also accompanied by audio recordings of all the rhymes.
Co-author of the book, Dr Kang Ger Wen, 41, started work on the collection in 2011, alongside Associate Professor Lee Cheuk Yin of the National University of Singapore department of Chinese studies. Prof Lee is also the head of the department of cultural education at the Guang Dong Clan Association.
Dr Kang, who is assistant course manager of the diploma of Chinese studies at Ngee Ann Polytechnic, says the project was started "to conserve the precious folk culture in Singapore".
He adds: "Dialect nursery rhymes in Singapore have a unique and important value in the world of Chinese language. They are different from the dialect nursery rhymes in China, Hong Kong and Taiwan. For example, the Chinese dialect nursery rhymes in Singapore might be the only ones which have been influenced by the Malay language."
He points out a Hainanese nursery rhyme in the collection titled August 15 Moonlight, with Aug 15 in the lunar calendar being the date of the MidAutumn Festival.
One of the lines in the poem, translated into English, reads: "I'm not afraid of 'ba', and I'm not afraid of ghosts/I'm only afraid my wife won't open the door."
Dr Kang says: "Scholars haven't yet agreed on what the word 'ba' means, but it could be a Malay term referring to a cat or a monster."
Putting together the book was a daunting task and finding people to contribute to the anthology was a challenge.
Dr Kang says: "Nowadays, it is not easy to find people in Singapore who can speak Mandarin well, not to mention people who can remember their dialect and nursery rhymes."
In the end, most of the contributors to the book were recommended by clan associations.
Dr Kang says they also faced difficulties when talking to some of the contributors.
He explains: "Some elderly people can speak their dialect well, but cannot see or cannot remember clearly. Sometimes, I needed to confirm the lyrics with them again and again, because their answer this week might be different from last month's."
He once ran into trouble because of his boyish looks. He recalls: "I remember one case in which the auntie did not believe I was Dr Kang because I look so young.
"The first time I met her, she did not allow me to enter her house. The second time, she had totally forgotten about me and would not let me enter her house until I let her listen to the audio recording of her voice."
Dr Kang adds that he and his co-author had decided from the start to produce a CD to accompany the book.
"When we decided to collect the dialect nursery rhymes in Singapore, we knew that putting down only the lyrics was not enough. Some things cannot wait and, if we don't do them today, we will regret it tomorrow."
lting@sph.com.sg
The Anthology Of Chinese Dialect Nursery Rhymes In Singapore is available for $10 from the Guang Dong Clan Association (151 Chin Swee Road, 15-01, Manhattan House, tel: 6735-5216).

Get a copy of The Straits Times or go to straitstimes.com for more stories.