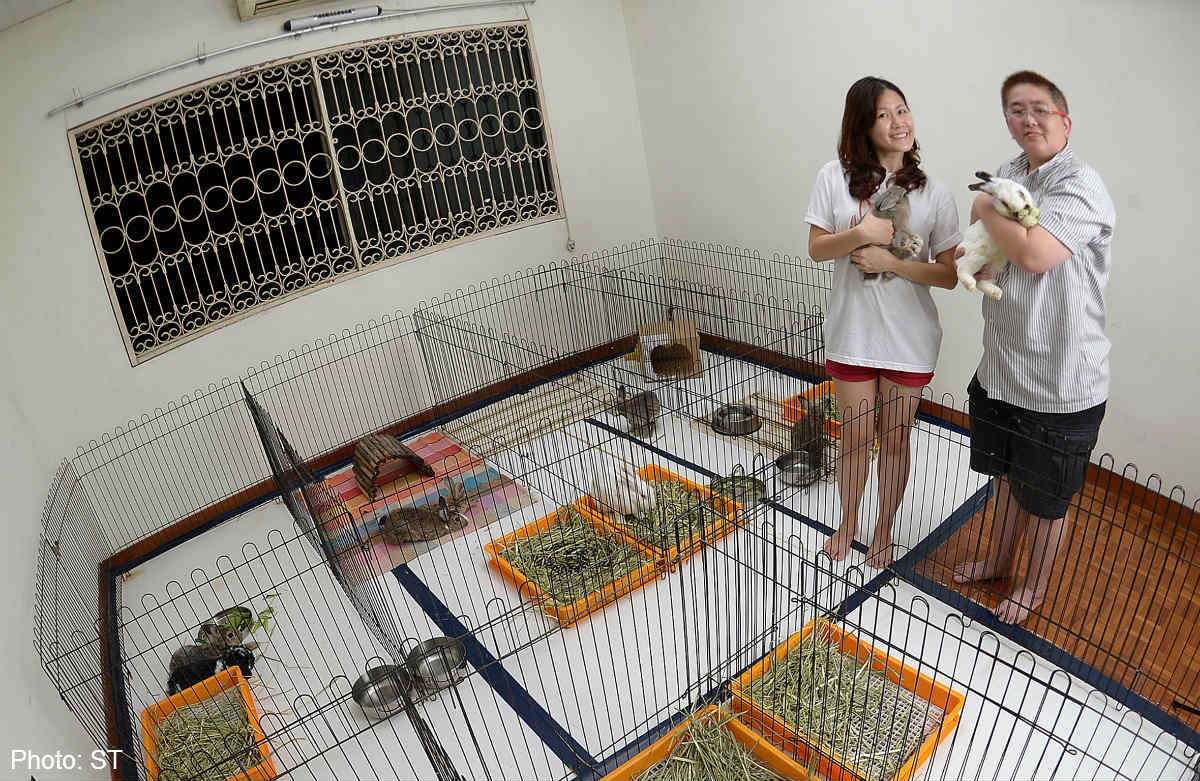 SINGAPORE - Ms Jackie Fang has 60 rabbits living with her in her rented semi-detached house in Upper Thomson. At one point, she had 100.
Almost all of them have individual play pens and were either bounding about or chomping down hay when Life! visited her at home.
"I can't explain why I'm drawn to rabbits. I just love them. Perhaps it is because I was born in the Year of the Rabbit," she says, grinning.
A typical day sees her waking up at 6am, to chop up fresh vegetables for the animals, clear their litter trays and make her rounds to see how each rabbit is faring. She returns home from work usually by 6pm to do the second feeding.
Her weekends usually see her running errands for her bunnies, such as buying items for them and grooming them. "I don't think I have any weekends to myself," she says.
She spends about $4,000 monthly on the rabbits' bedding, hay and other necessities. By her estimation, she has also spent more than $100,000 on their medical bills.
"I'm at the vet almost every day because one rabbit or another requires attention," she says.
Despite the great number of rabbits she has at home, do not call her a hoarder.
"I see myself as a bunny rescuer. I take in abandoned, sick and handicapped rabbits, and I nurse them, rehabilitate them and try to re-home them," says Ms Fang, 50, a director in an oil and gas firm.
She rescued her first rabbit 12 years ago and has not looked back since. More than 200 rabbits have come under her care to date. Last year, she and seven others came together to set up Bunny Wonderland, a private rabbit rescue group.
Of the 60 she now has, about 15 are healthy and Bunny Wonderland is looking for homes for them. Another 15 are young bunnies that were either abandoned or given to them by owners who could no longer manage, and need to be trained and sterilised before they can be adopted.
The remaining 30 are either old, sick, handicapped or have other medical needs and will be with her "until they go to eternal rest", she says.
The bunnies that need special care have usually had traumatic experiences, including being crushed, thrown about or dumped. These leave them with conditions such as splayed legs or missing limbs. Such rabbits are housed in baby cots.
"I'm like a parent and the bunnies are my children," says Ms Fang, who is single. "But to them, I'm a walking carrot who is going to give them treats."
It is all worthwhile to her and her team of volunteers. She says: "I've always wanted to create a wonderland for rabbits. We are not God, we can only try to do the best we can, one rabbit at a time. Here at Bunny Wonderland, no bunny gets left behind."
It is this same deep compassion for animals that accounts for the eight cats, a 15-year-old dog and one mynah bird that live with Ms Jeslyn Long, 28. Unemployed, she lives with her parents and two younger sisters in a terrace house in Lorong Chuan.
Ms Long, who has been bringing animals home since she was little, has also fostered other kittens, rescued other birds and even cared for rats.
Some years ago, she had gone into a pet shop to buy food and saw that the pet shop owner was using some newborn rats to try to trap the mother rat.
"The rats had been eating the pet shop's food," she says. "But they looked so pathetic that I felt I could not just do nothing."
She took them home, and bottle-fed them until they were weaned. In the years that followed, when the rats had skin problems, leg ailments and even tumours, she took them to the vet.
Ms Long's attachment to stray cats started forming more than a decade ago after she rescued a stray kitten mewing helplessly in a drain. Since then, many have passed through the Longs' doors, some with dramatic stories surrounding their rescue.
Two years ago, Ms Long did up a special "cat room" for them, where they can drink from a special drinking fountain, lounge about on their beds and have plenty of scratching posts. The room's walls were also hand-painted by Ms Long, complete with a rainforest backdrop and flamingoes soaring across the painted sky.
The cats share the space with a single mynah, rescued by Ms Long when it was a baby. The bird had torn its leg muscle and a veterinarian said it would die.
But she lovingly washed and cleaned its wound daily. Today, although it cannot fly, it is alive and well and enjoys the company of the Longs' cats.
Ms Long intends to continue her rescuing efforts. "I just love animals. I don't like the idea of them being hurt or abandoned," she says. For some others, it is the lure of the exotic that sees them having multiple pets.
Dr Simon Quek, 40, a veterinarian at Mount Pleasant Animal Medical Centre's Clementi branch, owns a toucan, about 10 arowanas and co-owns about 15 Bengal cats - a cross between an Asian leopard cat and a domestic cat - with a friend.
"Arowanas are a very majestic breed of fish, with a few row of scales, while Bengal cats look exotic and leopard-like," says Dr Quek, who explains that he has multiple pets because he is fascinated by a variety of different animals.
His latest addition to his animal family is his toucan Toby, that he bought from a friend last December for $4,000. "I do a lot of bird-watching and bird photography and I've always found toucans very pretty," he says.
He took a look at how the Jurong BirdPark built its bird enclosures and got a contractor to construct one for Toby. He is now training it to respond to commands with the help of a clicker.
"Hopefully, in time to come, Toby will be able to perch on my arm and we could even let it do some free flying," he says.
His advice to people who want to own multiple pets of different species is to ensure that they do their homework on each potential pet before they get it, especially when it comes to the animal's diet and housing requirements.
In general, those who want to own multiple pets should also be able to cope financially with caring for their pets should they fall ill, he says, recalling how he had to spend "a few thousand dollars" nursing some of his Bengal cats after a few of them fell ill at the same time. "Any animal requires you to invest time and commitment to it," he says.
brynasim@sph.com.sg

This article was first published on June 28, 2014.
Get a copy of The Straits Times or go to straitstimes.com for more stories.