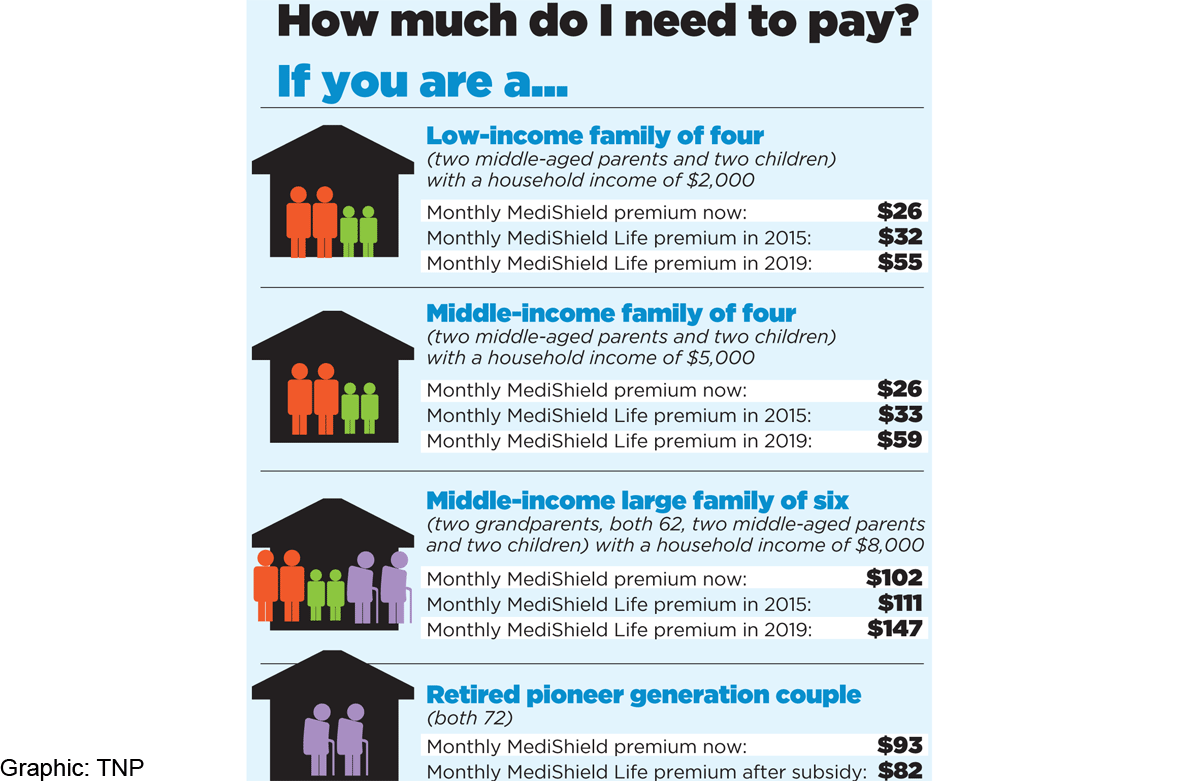 With $4 billion pumped in to support MediShield Life, MediShield Life Review Committee chairman Bobby Chin described the revamped national health insurance scheme as a 'major step towards Singapore becoming a more inclusive and compassionate society'.
Here are seven things you should know about the scheme, which will kick in from the end of 2015.
1. WHO IT WILL COVER:
- Every Singaporean and permanent resident.
- Even if you are above 92 (current age of MediShield coverage), have pre-existing conditions or had been rejected by insurers.
- Coverage is for life and you do not need to apply.
2. HOW MUCH MORE YOU WILL PAY:
- Depending on your household income level, annual premiums will go up by between $36 and $360.
- For lower-income groups, up by $36 to $132.
- For middle-income groups, up by $60 to $168.
- For higher-income groups, up by $84 to $360.
- You can use your Medisave to pay for your premiums.
3. SUBSIDIES YOU'LL GET IN PAYING FOR PREMIUMS:
- This depends on your age group, household income, household type, as well as citizenship status. You will pay more if you are working, and less when you are retired.
HOUSEHOLD INCOME & AGE:
If you are low-income (each member in your household earns an average of $1,100 or below), middle-income (between $1,101 and $1,800) or upper middle-income (between $1,801 and $2,600):1-40 years old: 25 per cent (low); 20 per cent (middle); 15 per cent (upper-middle)
41-60 years old: 30 per cent; 25 per cent; 20 per cent
61-75 years old: 35 per cent; 30 per cent; 25 per cent
76-85 years old: 40 per cent; 35 per cent; 30 per cent
86-90 years old: 45 per cent; 40 per cent; 35 per cent
Above 90 years old: 50 per cent; 45 per cent; 40 per cent
- Those in the Pioneer Generation (born before 1949) will receive special subsidies of between 40 and 60 per cent on their premiums for life. They do not get other subsidies. This group also enjoys annual Medisave top-ups of between $200 to $800, which can be used to pay for their premiums. This means that those aged 80 and above have their premiums fully covered.
HOUSEHOLD TYPE
- Those living in properties with an annual value of $13,000 or less will get up to half their premiums subsidised. This would include most public housing units.
- Those living in properties with an annual value of between $13,001 and $21,000 will receive 10 percentage points fewer.
CITIZENSHIP
- PRs will get half the subsidy for Singapore citizens in the same age, income and annual value groups.
TRANSITIONAL SUBSIDY
- For the first four years of MediShield Life, Singaporeans will get an additional subsidy on their premiums. This will lower with time, ranging from 80 per cent of the net increase in premiums in the first year, to 20 per cent by 2018.
- For those who still cannot afford the premiums, additional financial assistance will be provided. "If you really can't pay, there will be assistance given to you, because the commitment from the Government is that no one will lose their MediShield Life policy because of inability to pay," said Dr Lee Chien Earn, who heads the sub-committee for universal coverage.
4. FOR THOSE WITH PRE-EXISTING CONDITIONS:
The Government will bear 75 per cent of the additional cost - about $850 million over five years - of covering those with pre-existing conditions.
The remaining 25 per cent, which comes up to about $250 million, will be paid by increasing the premiums of all other Singaporeans by not more than 3 per cent.
- Those with pre-existing conditions will have to pay an extra 30 per cent on their premiums.
5. MAXIMUM AMOUNT YOU CAN CLAIM
INPATIENT TREATMENTS
- Normal ward: Up to $700 per day, was previously $450
- Intensive Care Unit ward: Up to $1,200 per day, was previously $900
- Community Hospital: Up to $350 per day, was previously $250
- Surgical procedures: Up to between $200 and $2,000, was previously between $150 and $1,100
OUTPATIENT
- Chemotherapy: Up from $1,240 per 21/28-day cycle to $3,000 per month
- Radiotherapy: Up from between $80 and $160 per treatment session to between $140 and $500
6. WHAT HAPPENS TO MY INTEGRATED SHIELD PLAN?
- Such plans (private insurance plan with advanced benefits on top of MediShield, and covers the Class B2/C ward patients) will have their MediShield portion transitioned to MediShield Life. These policy-holders will see an increase in their overall premiums.
7. WHAT YOU CANNOT USE MEDISHIELD LIFE FOR:
- Ambulance fee
- Cosmetic surgery
- Maternity charges (including Caesarean operations) or abortions
- Dental work (except due to accidental injuries)
- Infertility, sub-fertility, assisted conception or any contraceptive operation
- Sex change operations
- Optional items which are outside the scope of treatment
- Overseas medical treatment
- Private nursing charges
- Purchase of kidney dialysis machines, iron-lung and other special appliances
- Treatment that has received full reimbursement from Workmen's Compensation and other forms of insurance coverage
- Treatment for drug addiction or alcoholism
- Treatment of injuries arising directly or indirectly from nuclear fallout, war and related risk
- Treatment of injuries arising from direct participation in civil commotion, riot or strike
- Treatment of self-inflicted injuries or injuries resulting from attempted suicide
- Vaccination
- Surgical interventions for the following rare congenital conditions which are severe and fatal by nature: Trisomy 13, Trisomy 18, Bilateral Renal Agenesis, Bart's Hydrops, Alobar Holoprosencephaly, Anecephaly
fjieying@sph.com.sg

This article was first published on June 28, 2014.
Get The New Paper for more stories.