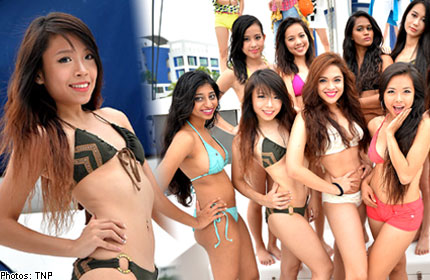 One was offered $8,000 a month to be a social escort. Another, $4,000 an hour for sex.
These dirty offers had happened where these women least expected it - on their personal and Miss World Singapore (MWS) 2013 Facebook pages.
Miss Kayla Wong, 19, and Miss Krizzia Sayson,20, told The New Paper they want their story told to warn young women against sex predators.
They said they were appalled by the overt harassment - especially when it was done in the context of them being MWS contenders.
A few months ago, the girls had received private messages and e-mails that described in detail what was required of them in exchange for a proposed sum of cash.
Said Miss Wong: "There were all sorts of requests for all different kinds of services at different rates.
I was quite offended because I found it very disrespectful.
"All these people want is attention, so I'm not going to give it to them."
She added: "I have always stuck strongly to my principles, so I will advise young women, who may be tempted to take up such offers, not to do it.
"There are many ways of making money and they don't have to resort to this.
"I feel like there's nothing we can do about being sexually harassed, we can protect ourselves only by making sure we don't engage in any of it, so my advice is (to) just ignore."
The girls insist the offers are not pranks, but for real.
And they said they have heard of other models, not from MWS, who have taken up jobs as social escorts or prostitutes.
So when some girls take up such offers, the men will continue to try their luck.
Miss Wong said: "These men are just targeting young girls stupid enough to accept the job.
"The most ridiculous one I received was a guy who was into S&M (sadomasochism)."
The man in question, named Mark, wrote: "Hi! I am looking for gals to command and humiliate me and treat me as your slave...$120 per hour.
"You can kick me, make me crawl and kneel before you."
Both girls forwarded the messages they received to TNP.
They were lurid and blatant.
Apart from these one-off offers, there were also others who sought a more long-term arrangement.
Wrote Kardon Sg in his e-mail to Miss Wong: "I'm looking for someone who can spice up my life.
"In exchange for your companionship, I will give you a fixed monthly allowance of $8,000.
"I hope you will keep this a secret affair between us, I wouldn't want anybody to know about this, especially my wife."
Miss Sayson said there were also middlemen, or pimps, who were playing matchmakers for their contacts.
One Abigail Lim had tried to "pass on'" her sugar daddy to Miss Sayson and gave details about his looks, habits and assets to entice her to close the deal.
Wrote Abigail Lim: "Just wondering if you are interested to earn $12,000 for three hours? What is involved is just purely sex...this is very safe fun.
"He is a banker/trader... I have been with him for the past two years as he used to be my sugar daddy."
Said Miss Sayson, who is also an aspiring actress:
"These people don't just stop at one message or email.
I get them repeatedly, it's appalling and irritating.
"If a model accepts this kind of job, I guess money to her comes before her dignity.
"Maybe she's caught in a situation where she's desperate, so I'll let it be, I won't judge."
Advice for models
Miss Wong, who intends to go to the US next year to study marketing, said she would advise models to steer clear of nude or lingerie shoots, as she has been doing since she started modelling a year ago.
She felt that such shoots would all the more invite unwanted advances from these online sex predators.
She said: "I don't know why models complain when their nude or semi-nude pictures get leaked online and they get propositioned for sex.
"If you want to complain, then don't do the shoots in the first place."
She admitted that her parents still don't know that she has been sexually harassed.
"If they knew about all this, they would freak out.
I don't intend to tell them.
"I have a group chat with my model friends where we will warn each other about all these indecent propositions.
"I just don't know why people think that models and, above all, Miss World Singapore contestants are free game."
The cynic in Miss Wong conceded that these monetary offers in exchange for sex were likely greatly exaggerated.
But event organiser Edmund Ooi of Asia Music People said he wasn't surprised that the MWS finalists were being propositioned for sex.
He said: "The pageant makes these women more valuable to the predators, as they see them as a prize catch as they have the title to go with it.
"So that's why these predators feel like they can command better value with the girls.
"When the girls joined the pageant, I told them from day one to expect things like that.
"If I found out that any contestant has accepted such a job, I would remove her from the pageant immediately.
"I don't despise prostitution, but she certainly cannot be Miss World Singapore."
Get The New Paper for more stories.