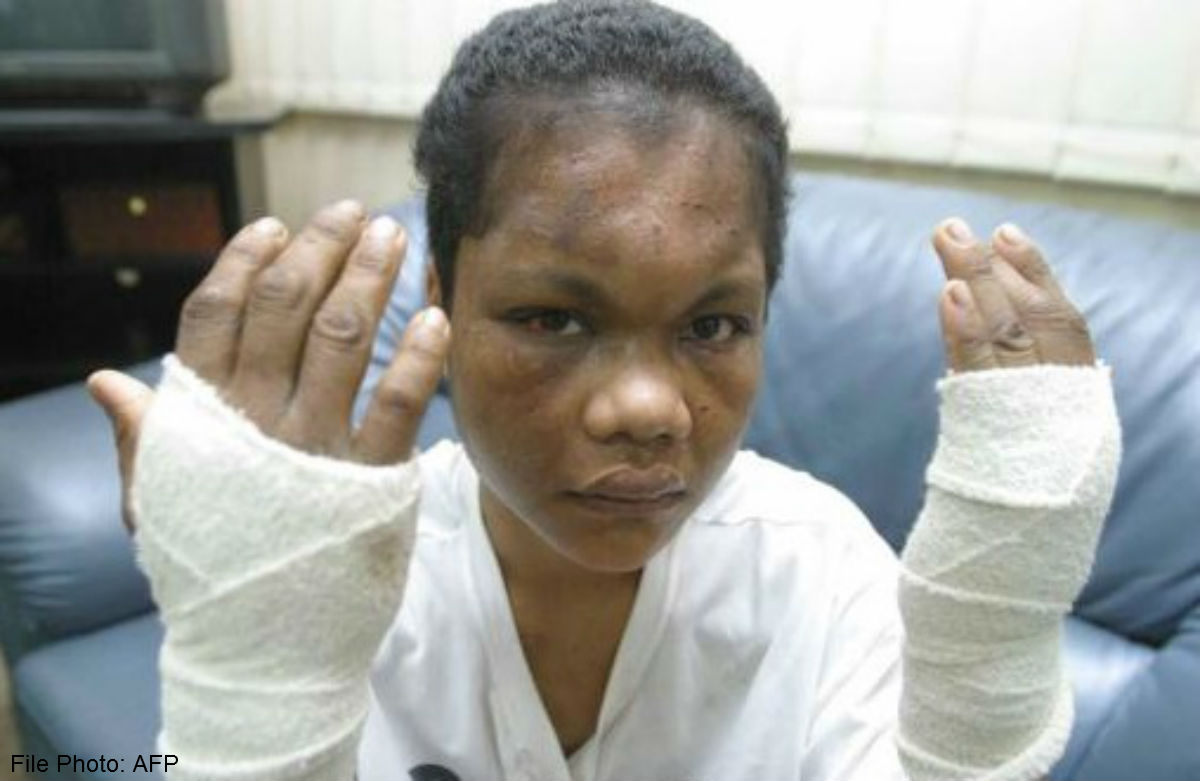 KUALA LUMPUR - Maid abuse victim Nirmala Bonat could not breast feed both her sons due to severe injuries inflicted by former employer Yim Pek Ha in 2004, the High Court heard yesterday.
Testifying in a suit for damages and loss of income against former employers Yim and her husband, Hii Ik Tiing, Nirmala said she had several scars from the injuries and, as a result, her sons now aged 4 and 1, were not breastfed.
The 30-year-old was referring to her injuries in 2004 when Yim placed a hot iron on Nirmala's breasts as punishment for not properly carrying out chores.
"I suffered immense pain. Due to this, I could not shower or sleep as the pain was unbearable."
Nirmala also said she suffered mental anguish and depression which prevented her from seeking employment for almost four years.
"I did not work anywhere from May 17, 2004, till January 2008. I only started working in the first quarter of 2010 in Indonesia."
During examination-in-chief by her counsel M. Kavimani, Nirmala, who spoke through an interpreter, said that Yim kept a diary of a list of items with their cost that were claimed to have been damaged by her.
"The first defendant (Yim) would list all the items she claimed were damaged by me and later she would ask me to sign every entry."
Asked about the total amount of damage listed in the diary, Nirmala said it was RM12,490 (S$4,755).
However, during cross-examination by counsel Chan Vy Sing, Nirmala said Yim did not take any money from her. She also strongly refuted claims by Chan that she was making false statements concerning the diary and the physical and mental torture in order to seek damages from Yim.
Meanwhile, handcuffed and clad in a yellow baju kurung, Yim was seen crying and hugging family members in court.
Yim, 46, a housewife and former boutique manager, is now serving time at Kajang Prison after being convicted of four counts of causing grievous hurt to Nirmala at her apartment in Villa Putera, Jalan Tun Ismail here, in 2004.
The Sessions Court here found her guilty and sentenced Yim to 18 years' jail on three counts of causing grievous hurt to Nirmala using a hot iron and hot water. However, Yim was acquitted on the fourth charge of causing hurt with a metal cup.
Yim's jail term was reduced to 12 years after she appealed to the High Court and the Court of Appeal upheld the decision. On Jan 28, 2010, Nirmala filed the suit against Yim for damages amounting to RM28,545 for loss of income and RM10,616 for other expenditures.