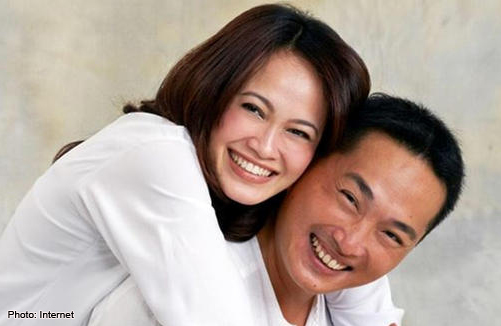 She will never forget Teddy Bear's words.
It was 2013 and Ms Joanne Lee was in the same team as Teddy Bear, aka South-east Asia Games medallist Irving Ng, at the Singapore Masters Swimming Meet .
She felt she was the weakest link who did not deserve to swim.
But the late Mr Ng believed otherwise, and the words he said to her have remained with her and took on greater strength after his sudden death on Saturday.
"He said it didn't matter if we didn't win a medal, it just mattered that we finished the race," she said in an e-mail tribute she sent to The New Paper.
Their team won gold that day.
Ms Lee, 40, a senior manager and head of strategic communications at NTUC Income, used to train with Mr Ng in the 80s with the now-defunct People's Association Youth Swimming Club (PAYSC) from 1982 to 1986.
She said: "We reconnected via Facebook in 2008 and subsequently developed a friendship as adults...
"I was extremely impressed at how he'd given up a lucrative job as a successful accountant to serve as a physical education teacher.
"When I asked why he was willing to take a significant pay cut, he said that he wanted to, in his own words, 'give back to the national sporting community which supported me so well in my own sporting endeavours'."
Mr Ng, 43, had recently been nominated for a President's Award for Teaching.
The Hai Sing Catholic School teacher taught both physical education and elements of business skills, working primarily with Normal (Technical) students.
His wife, 38, who wished to be known as Adila, said his sudden death was hard to take.
Mr Ng left home on Saturday night for his routine run, but never returned.
He was found without a pulse on Cecil Street where a passer-by attempted cardiopulmonary resuscitation before he was sent to Singapore General Hospital (SGH).
Ms Adila was already in bed when she realised her husband's jog was taking much longer than it usually did.
HOSPITAL
She called her husband's mobile phone several times to no avail, until a woman picked up and informed Ms Adila that her husband had been sent to SGH.
"When it wasn't his voice, I already had a sinking feeling," said the senior tax manager at ANZ.
"I asked if he was okay and she said 'Just come to the hospital', so I knew something was wrong."
She was taken to a room where she was told that her husband had died of cardiac arrest and then asked to identify the body.
"He was in good shape and you'd never expect this to happen to him. It was shocking. It still feels so unreal, like he's going to walk through the door and I'm going to see him again," she said.
Mr Ng had two children, a son, three, and a daughter, eight.
"One of the first few things my daughter said when she realised her father was no longer there was 'Who's going to cook for us?' and 'Who's going to send me to school?'," said Ms Adila.
She said he achieved plenty in his lifetime.
"He had a short time but I guess it's more of how you live your life, not how long you live it.
"He tried to squeeze in as much as he could in the short time he was here and he probably did more than most people have at his age."
Mr Ng's dedication to his students was clear, she said.
"He was so involved; (he was) even in touch with their parents and (would) tell them how to support and motivate their children.
"A bus load of (students) came to visit. I was telling them how Irving would always tell me stories about (them) to the extent that I feel like I know them too,'' she added.
Hai Seng Catholic School has declined comment.
Many of his students took to social media to show their grief.
A female student known only as Phyllis tweeted: "Thank you for being one of the best teachers that I have had in secondary school, for giving me so many opportunities. RIP."
Another student, known as Muhd Danial tweeted: "You are (someone who) can NEVER be replaced. RIP Mr Irving Ng."
Swimming fraternity pays tribute
The unexpected death of Mr Irving Ng sent shockwaves through the swimming community.
The former national swimmer collapsed during a routine run on Saturday night.
"I've known him since he was a young swimmer. He's always come across as pleasant and very friendly, always a team player. It's a sad time for the swimming fraternity," said decorated swimmer Ang Peng Siong.
"He was a real gentleman and a well-respected family man," he added.
Olympian Ng Yue Meng said of his late team-mate: "He touched the lives of many who knew him.
"He was an inspiration in the way he led his life and he will be dearly missed."
MEDALS
Mr Ng represented Singapore in the SEA Games in Kuala Lumpur in 1989, winning a silver in the men's 100m backstroke event, as well as the gold in the 4x200m freestyle relay.
He helped start the Oldies But Goodies swim group for retired swimmers in July 2012 to exercise and keep fit.
Member Joanne Lee, 40, said: "Irving will be missed by many - family, colleagues and students. He'll also be sorely missed in the pool. I'll never forget the grim determination on his face before a race, his graceful backstroke plunge off the block, and his triumphant grin when he won."
The Singapore Swimming Club will be dedicating their South-east Asia-Pacific Masters Swimming 25M Short Course competition in April to the late Mr Ng.
Singapore Swimming Associationpresident Mr Lee Kok Choy said: "It is with deep regret that we have lost one of our swimming stars who was also a respected team member, passionate teacher and a friend to many."
jeaniau@sph.com.sg

This article was first published on Feb 27, 2015.
Get The New Paper for more stories.