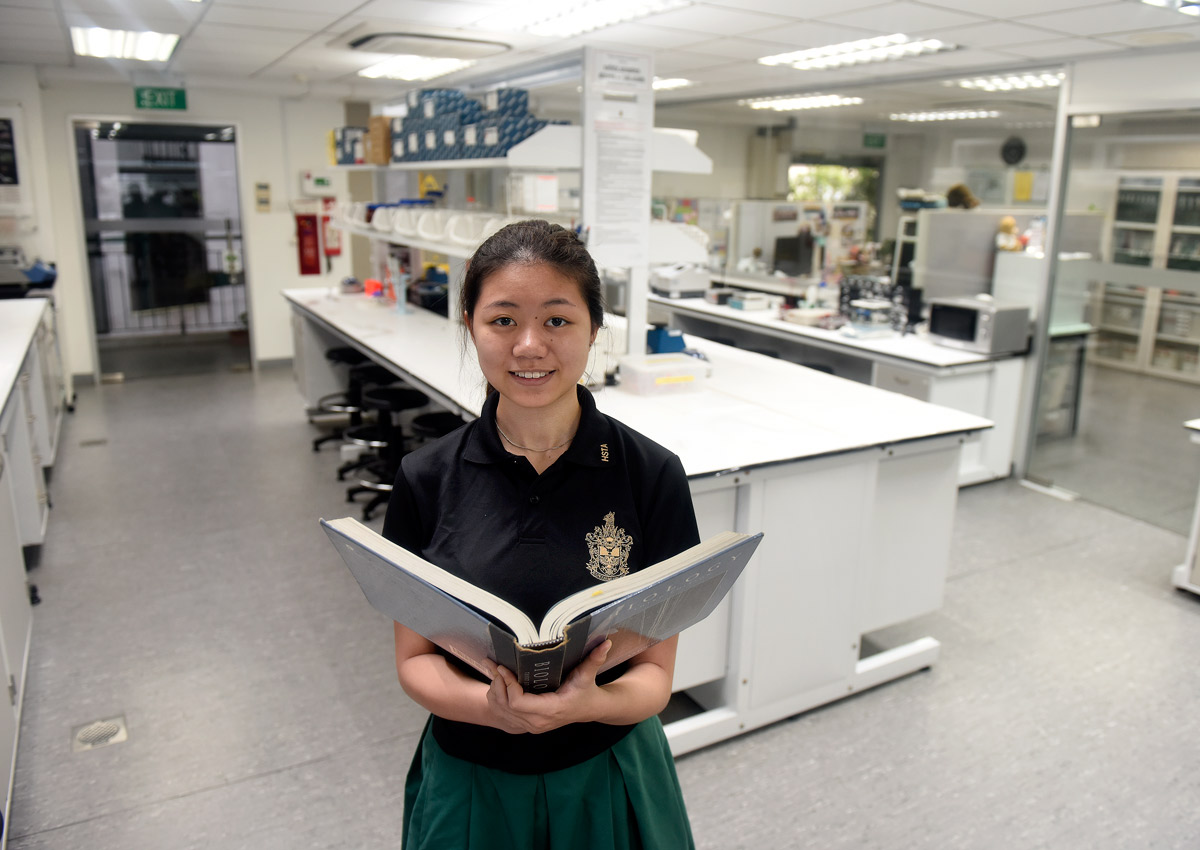 Deanna See loves biology, but instead of poring over a textbook, she would rather watch science videos on YouTube.
"It's like having a teacher 24/7, or having someone explain things to you," the 17-year-old Raffles Institution (RI) student said.
"Videos bring concepts to life."
Rather than loading their productions with jargon, Deanna's favourite YouTubers spice up topics such as game theory with lively, humorous monologues.
Two months ago, she did the same thing in a homemade video - explaining antibiotic resistance using markers and Lego figurines belonging to her 11-year-old brother.
On Dec 4, that five-minute clip won her a US$250,000 (S$358,000) scholarship from The Breakthrough Prize Foundation funded by Facebook founder Mark Zuckerberg.
She can use the money for any university of her choice.
Deanna had made the video for the global Breakthrough Junior Challenge competition.
It required participants to explain a difficult concept in mathematics, life sciences or physics with an original video.
The competition drew more than 6,000 entries from 146 countries.
There were only two winners - Deanna and 18-year-old Antonella Masini from Peru, whose video was on quantum entanglement.
The foundation paid for Deanna and her family to fly to San Francisco on Dec 2 to receive her prize, which also included a US$50,000 award for a teacher who inspired her and US$100,000 to set up a new science laboratory in her school.
There, both winners had lunch with Mr Zuckerberg and his wife, Ms Priscilla Chan, and attended a dinner hosted by Russian physicist Yuri Milner and his wife, Julia.
Speaking to The Straits Times last week, Deanna said the competition married two of her favourite things - biology and film-making.
In her spare time, she records vlogs - or video logs - of herself talking about anything that comes to mind.
"I enjoy filming myself," said the bubbly student, who will sit the A-level examinations next year.
"I would say there's something really interesting in talking to no one."
To make her video, she had to research the complex topic of antibiotic resistance, which she had only briefly studied in class.
Then she had to break the subject down into bite-sized pieces without sacrificing too much detail.
In the 10 days Deanna took to finish the video, she went through three drafts.
"Videos throw the juiciest bits at you," she said.
"They're very different from textbooks, where there is just a lump of words."
She submitted the video on YouTube just three minutes shy of the deadline on Oct 10.
The former student of Raffles Girls' School, to which she is donating the US$100,000 lab prize money, said she has been interested in science since she was young.
However, it was her RI biology teacher, Ms Wong Seok Hui, who inspired the quirky doodles seen in her video.
"My class is rowdy but she always manages to make us listen to her," Deanna said.
"She makes (the subject) dynamic and she's very passionate about biology."
Instead of going to Ms Wong, the US$50,000 prize money will be donated to RI's school scholarship fund.
Deanna's parents - a pilot and a housewife - were supportive of her work, she said.
During the popular vote segment of the competition, they rallied friends and family to vote for their daughter's entry.
"Once when I was sick, they even asked people in the clinic to vote," she recalled, laughing.
The other segments included a peer review and judging by scientists from various fields, including physics and biology.
Deanna plans to study biology or biomedical sciences at a university with a strong scientific track record, either in Singapore or in the United States.
"I hope to be a clinical scientist, where I will be able to interact with patients while still doing research," she said.
linettel@sph.com.sg

This article was first published on December 12, 2016.
Get a copy of The Straits Times or go to straitstimes.com for more stories.