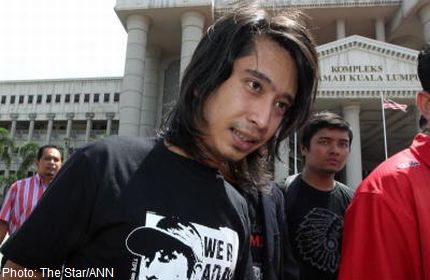 KUALA LUMPUR - Activists Adam Adli and Hishamuddin Rais have been released after having their statements recorded by police for flying the Sang Saka Malaya flag in Dataran Merdeka on Aug 30.
Dang Wangi OCPD Asst Comm Zainuddin Ahmad said they were released on police bail around 3am yesterday from the Dang Wangi police headquarters.
Last week, a YouTube clip of national laureate Datuk A. Samad Said reciting a poem in Dataran Merdeka while an anonymous man charged onto the stage and took away Sang Saka Malaya flags went viral.
The man also loudly stated that the Jalur Gemilang was the country's true national flag.
His actions have gained him great support in the Malaysian blogosphere where he is known as the heroic "Abang Botak".
The Sang Saka Malaya is a red-and-white flag with 12 yellow stars set in four columns reportedly proposed as Malaya's national flag by an association in the 1940s.
Hishamuddin and Adam, who were seen holding the flags in the video clip, are being investigated for sedition.
Meanwhile, Samad has been urged to surrender to police to help facilitate investigations.
Inspector-General of Police Tan Sri Khalid Abu Bakar claimed that Samad had gone into hiding and cannot be located.
However, Samad has been quoted by news portals denying Khalid's claims that he has gone into hiding.
Samad apparently said he would only turn himself in if he was formally asked to appear at a police station.
In George Town, Home Minister Datuk Seri Dr Ahmad Zahid Hamidi said his friendship with Hishamuddin would not affect the investigations on the latter.
Dr Ahmad Zahid said he became friends with Hishamuddin when they were both students in Universiti Malaya from 1973 to 1976.
"I put my full trust in the police force to carry out their duty professionally and to conduct a thorough investigation on Hishamuddin," he said.