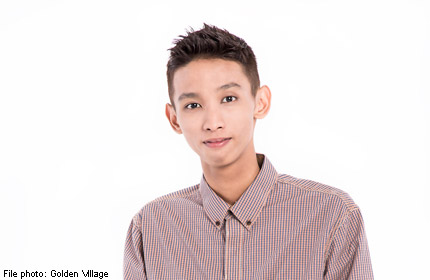 Ah Boys to Men actor Ridhwan Azman on Tuesday made a report to the police against cyber hackers who took control of his social media accounts.
The hackers froze him out of his YouTube, Facebook, Twitter, Instagram, blog and two e-mail accounts. But in doing so, they may have left a trail to their identities.
Ridhwan, 20, said he was able to access his Facebook page four days after it was hacked last Tuesday.
When he accessed the administrative section of his Facebook page, he found that two people - unknown to him - had assigned themselves as moderator and manager for his page. One went by the Facebook profile name Farhan Tahir while another used the moniker Lucypher Prometheus. They removed themselves from his account shortly after.
The police said yesterday that it was inappropriate to comment as investigations are ongoing, and could not confirm if these two people are being probed in relation to other cyber hacking incidents.
They also did not confirm if the two are among a group who have been called up by the police to assist in probes into the cyber hacking of the Prime Minister's Office (PMO) and Istana websites.
These individuals, said the police, are aged between 17 and 45. Two suspects involved in the hacking of PMO sites are brothers while a third suspect is helping investigations.
Two other men are being questioned over the hacking of the Istana website.
"I hope they are caught soon... We should be allowed to speak freely and say what we feel is the truth without worrying about these people (hackers)," said Ridhwan, who is currently serving his national service.
"I stand by what I said... I hope the youth won't be gullible about what they see and read online."
Ridhwan, through his YouTube channel, had asked his 16,000 subscribers not to support hacktivist group Anonymous after it threatened to unleash a legion of hackers on the country last month if the Government did not revoke its licensing regime for online news sites.
Hackers retaliated by gaining access to his accounts and shutting him out of them.
"People should also be more careful with their accounts and make sure they are secure... I had a password that was more than 30 characters long but the hackers still cracked it," he said.
mariaa@sph.com.sg

Get a copy of The Straits Times or go to straitstimes.com for more stories.