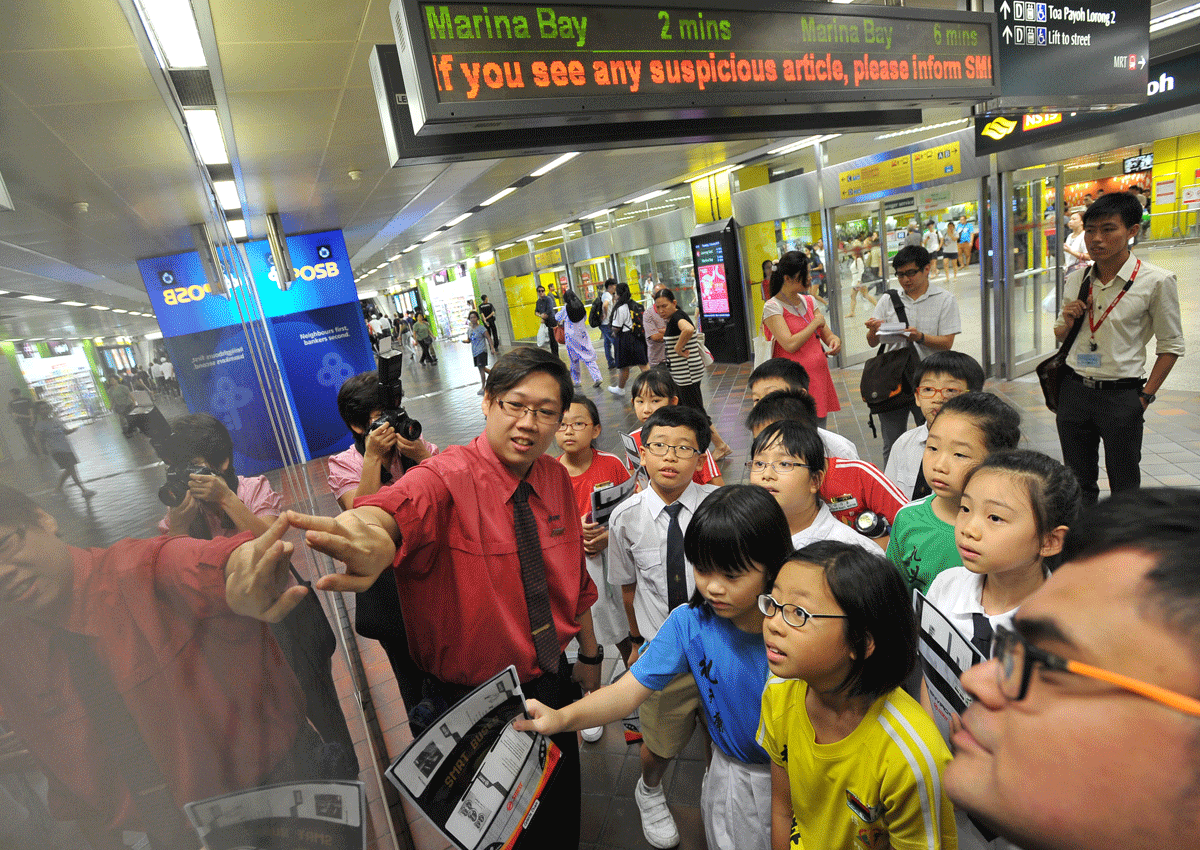 Commuters tapping in at the fare gates at the Toa Payoh MRT station in April and September last year may have been wished a good afternoon by an 11-year-old.
They may have met Pei Chun Public School's Camille Yeo, one of the SMRT's youngest service ambassadors, at the station.
Camille, along with more than 30 Primary 5 prefects from the nearby school, helped commuters with directions, lent a hand at the ticketing machines and ensured that the elderly and disabled were given priority to use the lifts. Their work came under the SMRT's Adopt-a-Station initiative, in which children can serve the community near their schools and learn how to be gracious commuters themselves.
The programme is incorporated into the schools' Values in Action activities, a requirement by the Education Ministry to get students to work on community projects .
While each child performed ambassador duty only one or two times for three hours at a go, they said it was a confidence-builder and taught them perseverance.
Camille, now 12 and in Primary 6, said: "Some people nodded and smiled; others just ignored us as they were rushing or using their phones."
Another Pei Chun pupil, Ong Wee Lyn, 12, who helped at the ticketing machines, said: "We stood there for three hours... But when we helped somebody, and they said thank you and smiled, it made us forget our tired legs."
The programme was started in September 2014 and 21 schools are now taking part in it.
Mr Dave Ong, SMRT's head of passenger services department, said the schools decide on the activities, which include ambassador duties, musical or martial arts performances and art murals or exhibitions.
He said: "Through the programme, students play a pro-active role and are involved in the neighbourhood when they interact with commuters."
Schools also decide how many and how often students take on station duties. Before they start, they attend a two-hour training session, which includes an orientation of the station and service etiquette.
Besides MRT stations, bus interchanges can also be adopted, which was what Yishun Town Secondary School has done.
Last April, students from a Secondary 1 class went to the recently opened temporary interchange every week to help commuters - from directing them to the correct bus bays to carrying their bags.
Student Jocelyn Lim, 14, said: "The experience made me more confident to approach people."
Teachers said the Adopt-a-Station scheme has benefited their students. Mrs Wong-Ngoo Ing Choo, Pei Chun's head of department for character and citizenship education, said: "They pick up soft skills such as communication and collaboration, and the ability to think on their feet when they meet situations they will not come across in the school-based scenario."
Yishun Town Secondary form teacher Ramthan Ab Wahid, whose class took part in Adopt-a-Station, said that in the classroom, students can only imagine what outside life is like. With the programme, they can experience it.
As Adopt-a-Station is new, commuters have sometimes misunderstood what the pupils are doing.
Camille said: "Some commuters said it looked like I was being punished. But what made it special was this one woman who walked up to me and asked what I was doing, so I told her. She said I had a nice smile and that I spoke perfect English. That brightened my day."
adrianl@sph.com.sg

This article was first published on February 4, 2016.
Get a copy of The Straits Times or go to straitstimes.com for more stories.