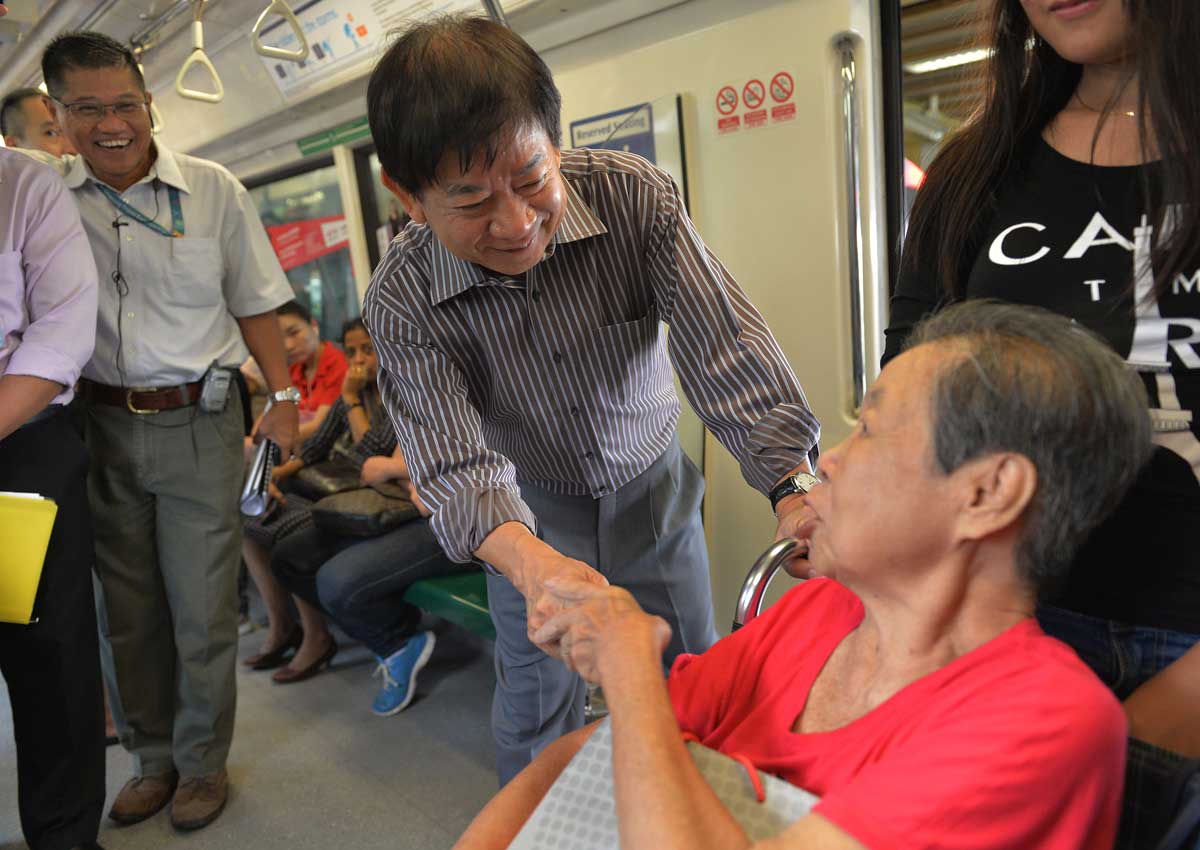 All bus rides will be free in the event of a network-wide rail disruption like the one on July 7.
These free rides will include those on private buses, which will be roped in to help in such large-scale breakdowns.
The Land Transport Authority (LTA) is also looking at ways to make fare refunds in the aftermath of such disruptions more painless.
Now, commuters queue up at stations for refunds, adding to the crowd and confusion of a breakdown.
At the same time, the LTA is working on a mobile phone app to channel information to commuters as quickly and as clearly as possible. The app - which will include information such as which lines are affected, alternative routes available and which bus stops to go to - could be ready by year end.
The LTA revealed these at a joint exercise with SMRT and SBS Transit yesterday to test an enhanced incident management plan.
LTA chief executive Chew Men Leong said: "When service is disrupted, even for a short time, our job is to get information to commuters quickly and help to provide alternative transport."
The exercise is the fourth since two massive breakdowns in December 2011. Since then, there have been at least 35 and 22 major disruptions on the MRT and LRT networks, respectively.
New elements were introduced at yesterday's preparedness exercise, including flashing beacons at bus stops to inform commuters where free boarding is available.
Also, bus drivers will cover the fare readers when they see that flashing light. These beacons are being tested at Tiong Bahru and Serangoon stations, before they are rolled out to other stations.
This applies when one line, or a stretch of a line, is affected. When two or more lines are down, all bus services at all bus stops will be free.
Another new initiative is activating special bus services - on top of current bus-bridging services - to ferry stranded passengers to key interchange stations or to major town centres. These special bus services will be provided by public bus operators as well as private bus companies such as Woodlands Transport.
These new steps were introduced following the July 7 incident, which crippled both the North-South and East-West lines during the evening peak period.
The unprecedented rail failure affected more than 400,000 passengers, many of whom got home after midnight - some by walking.
Operator SMRT was fined a record $5.4 million for the incident, which arose because of inadequate maintenance.
The LTA is studying ways to prevent a repeat of a network-wide disruption, including physically separating the North-South and East-West lines so that an electrical fault does not spread across both lines.
However, should such an incident happen again, exercises such as yesterday's - which was held at the Tiong Bahru-Buona Vista stretch of the East-West Line - are supposed to help.
christan@sph.com.sg

This article was first published on October 15, 2015.
Get a copy of The Straits Times or go to straitstimes.com for more stories.