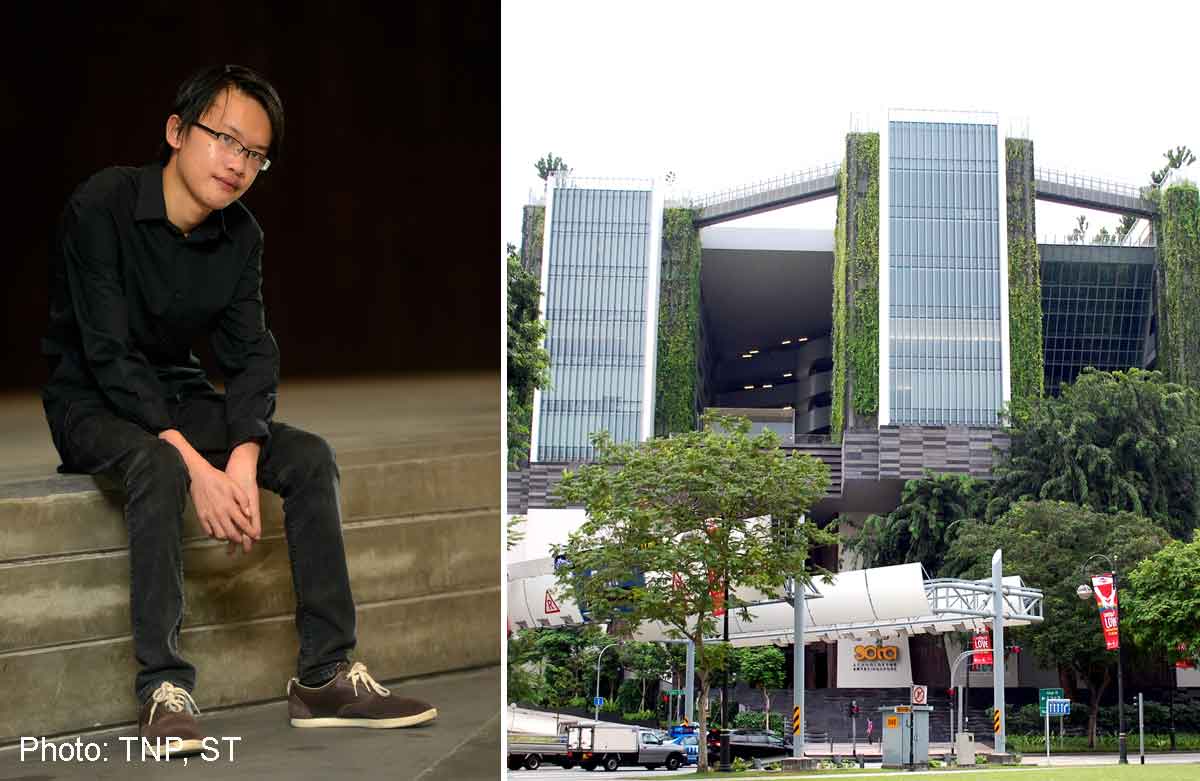 The heart condition Daniel Tan was born with prevented him from doing sports or physical workouts.
But it helped him realise his talent in the visual arts, which took him to the School of the Arts (Sota).
Despite missing classes for nine months during the crucial two years of his International Baccalaureate Diploma Programme (IBDP) due to his health, the 18-year-old was one of the 110 students in his cohort to graduate.
They collected their results from the school at 2pm yesterday.
Daniel declined to reveal his score, but more than half the cohort obtained a score of between 40 and 45 points, with three students achieving the perfect score of 45 points.
ABOVE AVERAGE
On average, Sota's second batch of IBDP students scored 39.18 points - higher than the Singapore average of 36.53.
The acting head of the Faculty of Visual Arts at Sota, Mr Khiew Huey Chian, said: "The workload and rigour of the IBDP was heavy, even for a student with no health or physical stamina issues, let alone Daniel."
Teachers at Sota were "really amazed that he could get those results" despite having missed nine months of lessons.
In 2011, he underwent surgery to have a pacemaker implanted to his heart to help correct its rhythm. He was hospitalised for six months.
Rhythm problems are common in teens and young adults with congenital heart disease due to changes in the conduction tissue of the heart.
Initially, he was breathless after the operation, "but it is now under control with medication," Daniel said.
In 2012, he was warded for three months for a chest infection.
But Daniel never gave up and continued to fight for his diploma. He would constantly consult his teachers, who kept their doors open for him.
"My friend Zachary Wong also helped me a lot with my maths and science subjects. Zachary did music," Daniel said.
As his poor health does not allow him to pursue his studies overseas, Daniel is pinning his hopes on the local institutions.
"I have applied to the Yale-NUS College to do a course in liberal arts. I'm also considering architecture," he said.
S'PORE STUDENTS EXCEL
Singapore has topped the Asia-Pacific region in the International Baccalaureate (IB) diploma exams for four years running.
For the exams last November, Singapore students passed with a rate of 96.82 per cent - trumping students from Australia (93.66 per cent) and New Zealand (92.99 per cent).
Of the 975 students here, 43 - 32 of whom were from Anglo-Chinese School (Independent) - achieved the perfect score of 45. The number was 41 in 2012.
The average national score here was 36.53 points, while the average score globally was 29.95 points.
In Singapore, 20 schools offer the IB programme, which is more broad-based than the A levels.
It requires students to take six subjects and Theory of Knowledge, a course combining philosophy, religion and logical reasoning. They also take a second language, undertake research, write a 4,000-word essay and get involved in a community service project.

Get The New Paper for more stories.