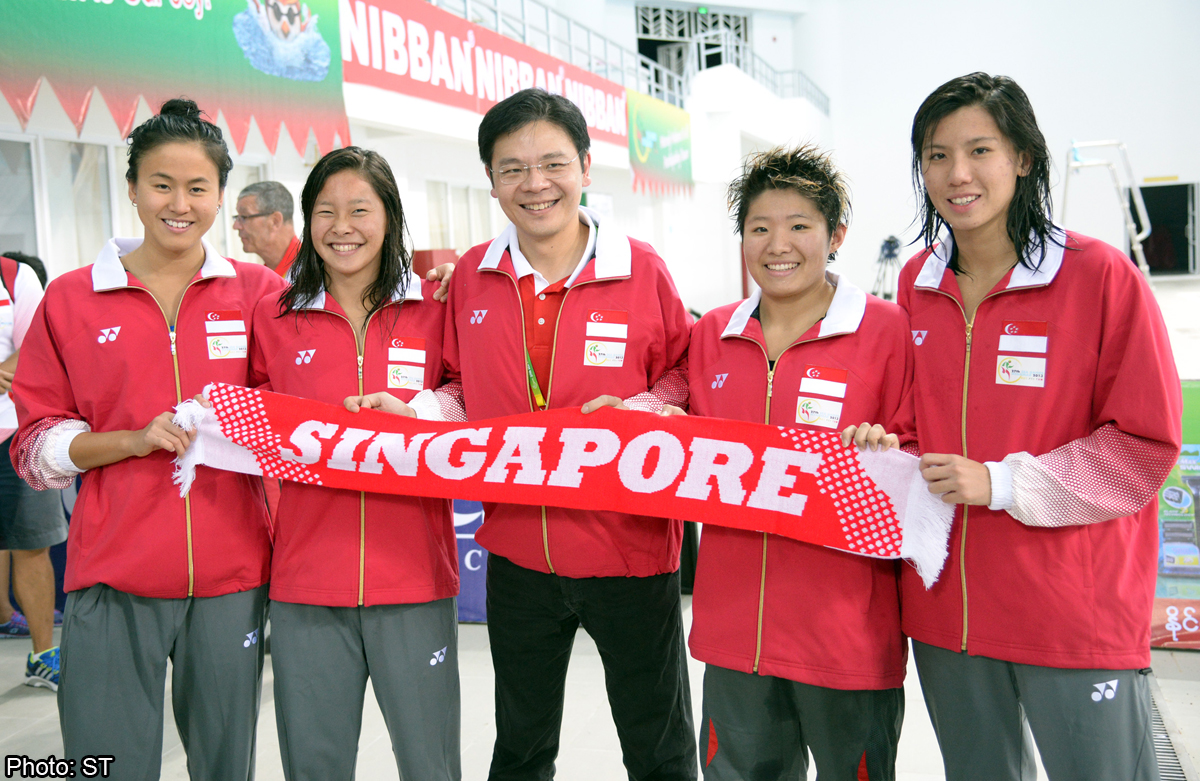 NAYPYIDAW - Handed the anchor role in his first SEA Games relay appearance, Quah Zheng Wen knew he could not let his nation down in yesterday's 4x200m freestyle race.
So he put country before self, giving up on a certain medal in the individual 200m backstroke event to conserve energy for the relay - which was scheduled two races after.
His gambit at the Wunna Thiekdi Swimming Complex paid off as the team, whose other members were Joseph Schooling, Danny Yeo and Pang Sheng Jun, took the crown in an exhilarating final - and also in a national and meet record time, no less.
The quartet clocked 7min 26.67sec to beat the SEA Games record of 7:30.73 - also the national mark - which was set in 2009.
Less than a second away were Malaysia in 7:27.32. Indonesia were third in 7:35.13.
Said Zheng Wen, who mounted a comeback after trailing in the last 50m: "I eased back in the 200m. You could see how tired I was after the 400IM. It was an insanely hard race and it gave me a really bad headache after."
The teen had earlier out-touched Thailand's Kevin Nuttapong by 0.18sec to retain his 400m individual medley crown in 4:23.45.
But in the 200m back, his time was more than six seconds off his personal best as he came in fourth. His personal best of 2:01.18 would have easily won him gold as first-placed Ricky Anggawijaya of Indonesia clocked 2:03.44.
Zheng Wen's decision in saving himself for the team's victory won praises from his coach and team-mates. Said coach Gary Tan: "He's always been a team player and again he put his team before himself today. "It's really admirable for a 17-year-old to make such a decision."
Added first-leg swimmer Joseph: "He had three events and it was really tough on him.
"What he did was really something. I just kept yelling and cheering for him."
Acting Minister for Culture, Community and Youth Lawrence Wong, who was cheering the team on, also singled Zheng Wen out for praise.
He said: "I'm really proud of the 4x200m boys' team. Because for Zheng Wen, it was his third event and he swam so well. It really shows his commitment."
Following the men's victory, the women quartet led by Zheng Wen's sister Ting Wen, Lynette Lim, Amanda Lim and Tao Li also won the 4x200m.
In what was the final event of the day, they helped Singapore to win three golds and three bronzes in the six events competed for yesterday.
The nation bagged medals in all the events.
The women's 100m which featured Quah and Lim will be reswum today, due to a technical error after protests.
Singapore's other medallists were Meagan Lim who took two bronzes in the 200m IM and 200m backstroke. Veteran Zach Ong, in his fourth SEA Games appearance, also helped himself to third place in the 200m backstroke.
ugenec@sph.com.sg

Get a copy of The Straits Times or go to straitstimes.com for more stories.