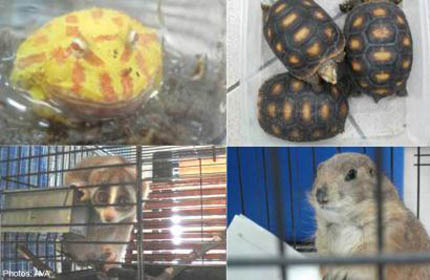 What: When the agri-food and veterinary authority (AVA) raided a flat last year, they found 32 animals.
Type: Nineteen were classified as endangered species and 13 as wild animals.
Who: Ong Ming Shiang faced 32 charges of possessing endangered species and wild animals without permits or licences. He pleaded guilty to 16 of them. Sixteen other charges were taken into consideration.
Where: A three-room flat at block 203, Toa Payoh North.
How he was caught: Someone who suspected the Toa Payoh North Flat contained wild animals tipped off the AVA last May. Officers carried out surveillance. On June 3, an inspection uncovered the animals.
Sentence: Ong was fined $41,000. If he defaults on the fine, he will be jailed for three months.
List of animals
Number in brackets denotes how many
Leopard Tortoise (3)
May not be threatened with extinction, but may become so
Red-footed Tortoise (2)
May not be threatened with extinction, but may become so
Common Marmoset (1)
May not be threatened with extinction, but may become so
Ornate Horned Frog (5)
Classified as a wild animal
Yellow-footed Tortoise (2)

May not be threatened with extinction, but may become so
Black-tailed Prairie Dog (3)
Classified as a wild animal
Green Iguana (2)
May not be threatened with extinction, but may become so
Indian Star Tortoise (2)
May not be threatened with extinction, but may become so
Sunda Slow Loris (1)
Most endangered
Degu (2)
Classified as a wild animal
Ball Python (3)
May not be threatened with extinction, but may become so
Other animals:
Lined Flat-tailed Gecko (1)
May not be threatened with extinction, but may become so
Alligator Snapping Turtle (2)
May not be threatened with extinction, but may become so
Inland Bearded Dragon (1)
Classified as a wild animal
Sailfin Dragon Spp. (2)
Classified as a wild animal
Source: Convention on international trade in endangered species of wild fauna and flora (cites)
ngjunsen@sph.com.sg