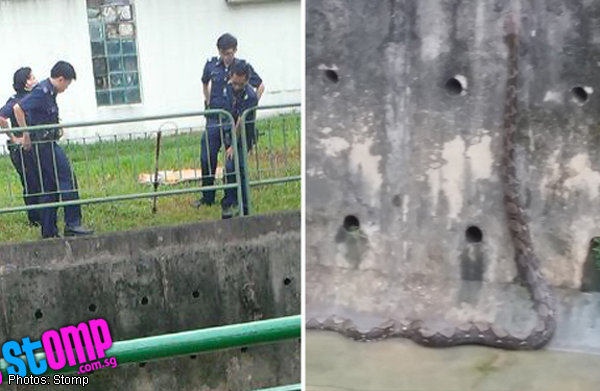 A metre-long snake was spotted gliding along a drain outside St Gabriel's Primary School in Lorong Chuan this morning at around 9am by two women.
Stomp readers Kathryn and Gwen said that a crowd had gathered to watch the python, which also tried to enter a hole in the drain at one point.
This is only one of the many reported sightings of the reptile in urban areas of Singapore recently.
Last Thursday, a snake had slithered out of a toilet bowl at a unit in Sims Avenue and bit a woman, who was later sent to hospital.
Earlier last month, a python stuck in a drainage pipe in a Jurong West canal had also caused a hoo-ha and attracted a huge crowd. One Stomp contributor even called the police in an attempt to rescue it.
Kathryn told Stomp in a phone conversation:
"A metre-long python was seen in the drain today at about 9am, in the drain outside St Gabriel's Primary School.
"It was gliding and I also took a photo of it trying to enter one of the drain holes. There were a lot of people watching the python."
Stomp contributor Gwen said the snake seemed stuck in the hole, prompting her to call the ​ Agri-Food & Veterinary Authority (AVA).
She also raised concerns over the snake being spotted near a primary school.
Said Gwen:
"It's 10.30am now and police officers are at the scene.
"With this big snake right beside a primary school, I can't imagine what might have happened if its movement was free and easy."

Visit STOMP for more stories.