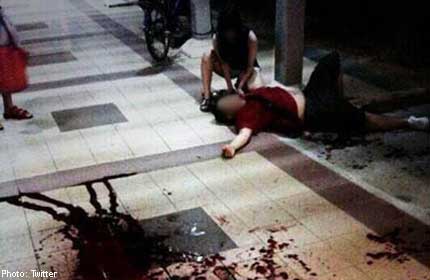 Warning: Graphic photo, viewer discretion is advised
A picture of a wounded man attended to by a woman is circulating on Twitter.
The man is lying on his back while copious amounts of blood can be seen on the floor in the foreground of the photo.
There are currently no details on the picture or where it was taken but the incident is believed to have happened somewhere in Woodlands.
The photo was spotted on Twitter by Stomp contributor Mai, who sent it to Stomp.
Mai wrote:
"Singapore is no longer safe.
"Another slashing case in Singapore.
"This is really scary."

Visit STOMP for more stories.