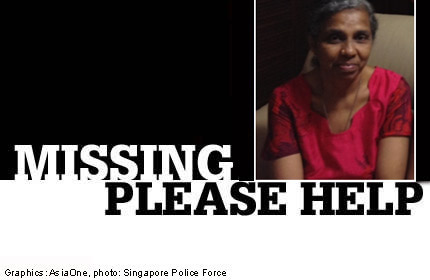 SINGAPORE - Police are appealing for information on the whereabouts of 60-year-old M Gengaswari. She was last seen in the vicinity of Blk 640 Ang Mo Kio Ave 6 on September 13, 2013 at 3.30 pm.
Madam M Gengaswari is described to be about 1.56m tall, with shoulder-length hair. She is slim and of a dark complexion.
Anyone with information on Madam Gengaswari's whereabouts is requested to call the Police Hotline at 1800-255-0000. Information can also be submitted online at https://app.spf.gov.sg/CrimeStopper/CrimeStopper.aspx. All information will be kept strictly confidential.