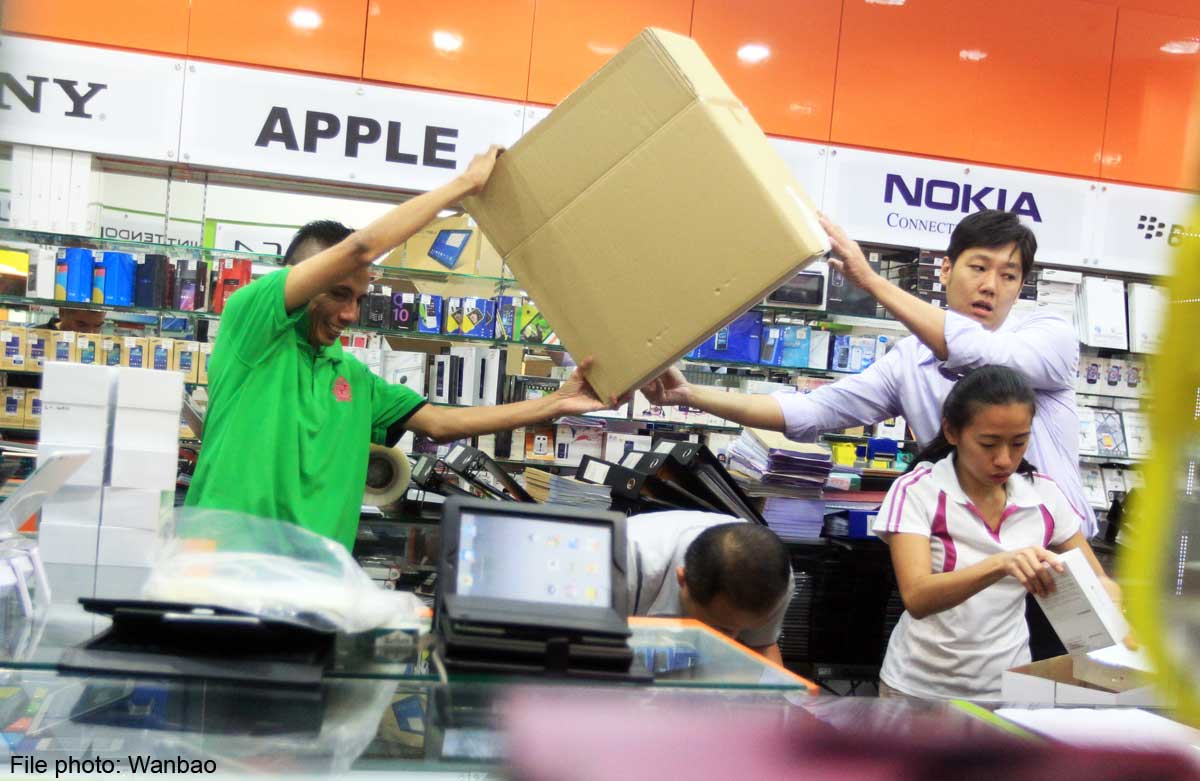 The recent arrest of the errant owner of a now-defunct shop in Sim Lim Square sends a strong signal to other would-be culprits, said retailers in the IT and electronics mall.
The hope is that the strong move by the authorities will deter shop owners from exhibiting such behaviour in the future.
On Wednesday, Mr Jover Chew, the owner of Mobile Air, known for its infamous incident of overcharging a Vietnamese tourist who begged on his knees for a refund, was arrested. Last year, the police had received several reports against the shop for dishonest sales practices.
Many of the problematic spots have already seen a drop in complaints about errant traders.
According to the Consumers Association of Singapore (Case), there were just 12 complaints made against shops in Sim Lim Square from January to April this year, compared with 32 complaints for the same period last year.
Said Case executive director Seah Seng Choon: "The arrest sends a strong signal that errant traders will not be left alone and that our authorities will investigate and take appropriate measures against any recalcitrant traders."
He added that there is still a need for consumer protection laws to be strengthened to address the problem of errant retailers reopening under a different name.
The Sim Lim Square management itself also recently passed by-laws which allow the management to install CCTV cameras and a voice recorder system in front of shops which have more than three complaints made against them to Case or the Singapore Tourism Board.
Said Ms Liu Hui Ni, 31, who works in a computer accessories store in Sim Lim Square: "Since shopkeepers here now know that they might be arrested, it is a strong deterrent because who wants to risk his rice bowl?"
Some businesses have noticed a positive change in People's Park Complex too. Mr Steven Chong, 57, an optometrist in the shopping mall, said: "With the law taking action against unscrupulous shops, shopkeepers are more careful now."
Others are not so certain that the errant shop problem, in Sim Lim Square and elsewhere, has been nipped in the bud. Said a 50-year-old, who has worked in an audio equipment shop in Sim Lim Square since the 1990s and wanted to known only as Mr Lee: "I think if we let our guard down, errant retailers might pop up again. The arrest is a good reminder, but it is not a complete solution. How long will the good behaviour last?"
Meanwhile, at Mr Chew's registered address in Yishun, neighbours told The Straits Times that they saw him "as recently as a week ago" though his wife, Ms Winnie Koh, 32, claimed she had left him.
Ms Koh insisted in Mandarin: "We are no longer together so it is inappropriate for me to comment on his well-being."
Chinese daily Shin Min Daily News reported yesterday that Mr Chew had sent his mother a text message saying that he had to appear in court today.
cherylw@sph.com.sg
awcw@sph.com.sg

This article was first published on May 29, 2015.
Get a copy of The Straits Times or go to straitstimes.com for more stories.