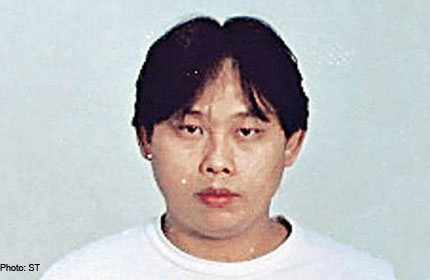 The "death knell" is sounding for a Singapore-linked match-fixing syndicate after the arrest of its suspected mastermind, said a former head of Fifa security on Thursday.
Businessman Dan Tan Seet Eng's alleged ring is said to have rigged over 150 matches in countries including Italy, Hungary, Finland and Nigeria. The 48-year-old and 13 other Singaporeans were arrested on Tuesday.
Former Interpol officer Chris Eaton, who headed the international football authority's security arm, said this is a "major" and "eclectic" group, with hands in nearly every European league.
Tan, who is wanted in Italy and Hungary, was nabbed together with 11 men and two women in the islandwide crackdown, led by the Criminal Investigation Department (CID) and the Corrupt Practices Investigation Bureau (CPIB), with police support. Mr Eaton said: "I believe it's the death knell to this particular group."
Interpol chief Ronald K. Noble told The Straits Times that six of those arrested are linked to ongoing European investigations or prosecutions in countries including Italy, Germany and Finland.
Police here declined to reveal further details of the operation, although the paper understands that the authorities have kept close tabs on Tan since February.
Mr Eaton, currently director of sport integrity at the Doha-based International Centre for Sport Security, suggested that Tan's arrest is related to tension between Tan and convicted match fixer Wilson Raj Perumal.
When Wilson Raj, 46, was arrested in Finland in 2011, he claimed Tan was at the helm of the match-fixing operations. Tan, however, told The New Paper in August 2011 that he did not know Wilson Raj personally.
But he had a business dispute with him.
Mr Eaton believes that Wilson Raj and Tan have "fought internally" since 2011, "after Tan ordered (Wilson Raj) to surrender in Finland". "This internal warring resulted in the first separation within the organisation," he said.
Yet in the two years after Wilson Raj was arrested and ratted on Tan, the latter was still a free man. It appears that the net started closing in on him in February this year, when the European Union's joint police body Europol said it had identified 150 suspicious matches played worldwide between 2008 and 2011, which were allegedly linked to Singapore. Tan was linked to them.
When The Straits Times asked Singapore police at the time why Tan had yet to be arrested, the answer given was that there was no hard evidence implicating him.
In March, CID and CPIB officers met investigators from across Europe at the Interpol General Secretariat headquarters, under the auspices of the Interpol Global Anti-Match-Fixing Taskforce. This was to review evidence of alleged match-fixing by an international crime group based here.
In May, match-fixing prosecutors in Hungary indicted Tan and 44 Hungarians suspected of being involved in an international ring.
Earlier this week, 10 people at Melbourne's Southern Stars club were arrested on suspicion of match-rigging, linked to alleged South-east Asian fixers including Wilson Raj.
Mr Eaton praised Australia and Singapore, saying: "The two countries' actions appear to be uncoordinated, but taken together, it's a major blow to the global match-fixing industry."
Interpol also commended the local authorities' action, calling it "an important step" in the crackdown. Mr Noble said: "No person should doubt Singapore's commitment to fighting match-fixing."
brynasim@sph.com.sg
nsanjay@sph.com.sg

Get a copy of The Straits Times or go to straitstimes.com for more stories.