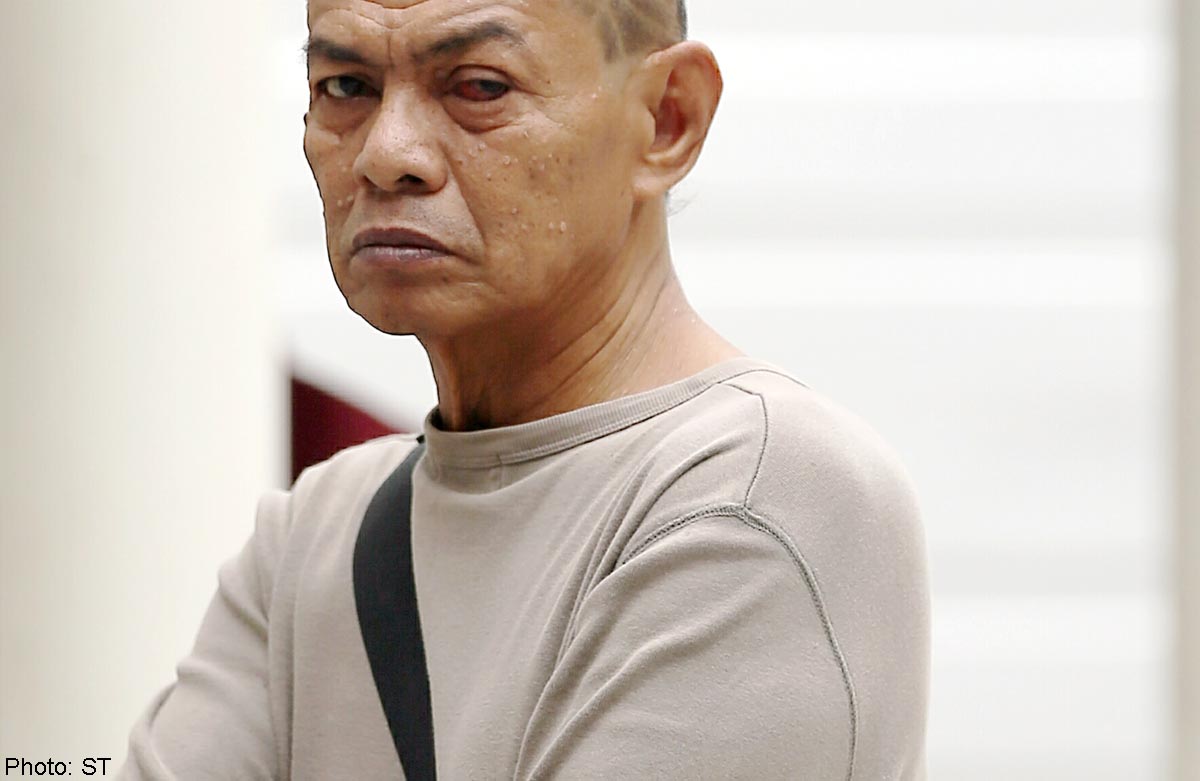 An arrest warrant has been issued for a jobless man convicted of slashing his neighbour with an illegal samurai sword, after the 64-year-old did not show up in court on Wednesday for sentencing.
Abdul Rahman Ibrahim had pleaded guilty on Sept 9 to hurting 41-year-old Yun Yew Lee in the victim's HDB flat, after their relationship soured over a partially-returned debt.
At about 4pm on June 6, Abdul Rahman, knowing that his neighbour's door would be open as usual, stormed into Mr Yun's third-floor flat in Commonwealth Crescent, brandishing a small samurai sword and a chopper from his kitchen.
Using the sword, which has a 32-cm blade, Abdul Rahman twice slashed Mr Yun, who was lying on a mattress in the living room talking to his 12-year-old nephew.
When Mr Yun's brother came out of a room, Abdul Rahman stopped the attack and later left, leaving Mr Yun with a 5cm laceration on his arm.
His case was up for sentencing on Wednesday morning but was postponed to the late afternoon, after Community Court Judge Mathew Joseph asked the prosecution during the morning hearing to make further submissions on the jail term he was to receive.
But Abdul Rahman, who was present at the morning session, failed to return to court.
His 53-year-old brother Yusof Ibrahim, who had raised the $5,000 bail to keep him out of jail, told the court Abdul Rahman had given many excuses for not coming back, including claiming to be in hospital with stomach pain.
Judge Joseph granted the prosecution's application for a warrant of arrest.
Abdul Rahman cannot be caned as he is over 50. Besides the hurt charge, for which he faced up to seven years in jail and a fine, he had also pleaded guilty to trespassing in Mr Yun's home, and admitted to having the sword without any lawful authority.
But it emerged in court during Wednesday's morning session that Abdul Rahman had been arrested the day before for drug offences unrelated to the crimes he was about to be sentenced for.
Given his history of drug- related convictions dating back to 2002, his new offences exposed him to a possible long- term sentence of more than seven years, the court heard.
pohian@sph.com.sg

This article was first published on Nov 14, 2014.
Get a copy of The Straits Times or go to straitstimes.com for more stories.