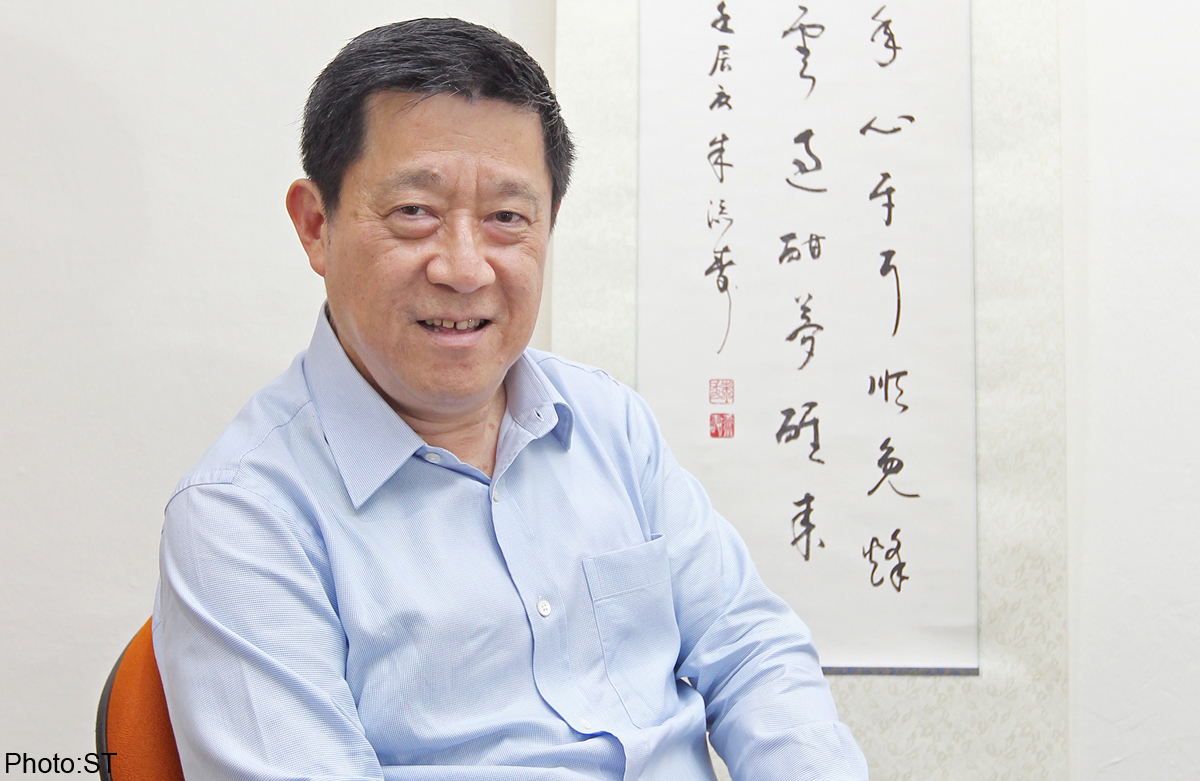 SINGAPORE - At age 63, most people would think of retiring, but veteran arts administrator Choo Thiam Siew is taking on yet another challenge - to promote local Chinese culture.
Earlier this year, he was named chief executive officer of the upcoming Singapore Chinese Cultural Centre (SCCC), which will be housed in a new 10-storey building in Shenton Way by 2016.
Initiated by the Chinese community and supported by the Government, the centre hopes to get the young and new Chinese citizens interested in local Chinese culture and host events such as cultural performances, exhibitions and workshops.
"I am honoured that at my age, I am given the responsibility to start up the centre," Mr Choo, who stepped down as president of the Nanyang Academy of Fine Arts (Nafa) in March, told The Straits Times.
Now housed in temporary offices at the Singapore Federation of Chinese Clan Associations' headquarters in Toa Payoh, the new centre will include a 530-seat auditorium, a multi-purpose hall, rehearsal rooms and a library. It will cost at least $70 million to build.
Its first major event will be a mass national song sing-along, which he hopes to stage in September next year in conjunction with Singapore's 50th birthday celebrations.
When fully operational, Mr Choo said the centre would have 16 staff and an annual operation budget of over $10 million. Now there are just three - his secretary and two programme executives.
His new job sees him continue to promote arts and culture here, which he has done for the past 18 years, starting with his appointment as chief of the National Arts Council (NAC) in 1996.
Nafa board vice-chairman Poh Choon Ann, 78, said Mr Choo is the best man for the job at the new cultural centre.
Mr Poh, who is also chief executive of Poh Tiong Choon Logistics and a strong supporter of the arts here, said: "He was a former civil servant, an efficient arts administrator and a lover of the arts who is an artist himself. Under his charge, I am sure the new Chinese cultural centre will be able to achieve its objectives."
While most people associate him with the arts, Mr Choo first made a name for himself as a horticulturist.
A Colombo Plan scholar, he has a bachelor's in horticulture science from the University of Canterbury in New Zealand and a master's in urban forestry from the Australian National University.
His wife is a retired entomologist he met when they were undergraduates in New Zealand. They have two daughters.
For 20 years, the old boy of Catholic High School looked after the flowers, plants and trees across Singapore as a parks officer and later deputy commissioner of the Parks and Recreation Department, now called NParks.
Remembering the day when he was asked to move to the NAC, he said: "I was caught by surprise because I thought I would retire from looking after the flowers, plants and trees actually."
But Mr Choo, then 45, found the new challenge hard to resist. After all, it meant a promotion as CEO of a statutory board.
He decided to move as he was interested in the arts. Schooled in the poetry of the Ming, Song and Tang dynasties since young, he has also written with the Chinese brush from primary school.
He played the clarinet and saxophone in the school band too, and began to be a serious Western classical music listener when he was in secondary school. "I was in the audience at concerts and art exhibitions and knew the who's who in the arts scene though I was never involved in the promotion of the arts then," Mr Choo said.
His lifelong artistic pursuit and his training in the sciences as a horticulturist had, in fact, given him a "dual personality", he said. That had provided him with the "balance" he needed to be an efficient arts administrator.
Nor is he just an administrator. He is a published poet and artist himself now, releasing his first collection of 85 poems written in classical form in 2001. He also founded the Xin Hai Calligraphy Society (Singapore) with friends in 1999. They hold an exhibition of their works every other year.
An influential figure in the arts and culture scene, Mr Choo chairs the Tote Board Arts Fund and advises many arts groups, including the Singapore Chinese Orchestra, Composers and Authors Society of Singapore, and the Chinese Opera Institute. In 2003, after seven years at NAC, he was headhunted to become president of Nafa. In his 11 years there, the number of full-time students went from 1,600 to nearly 2,500.
He was working on Nafa's fourth campus building, due to be completed in three years' time, when the call came earlier this year for him to lead SCCC to promote local Chinese culture. "It was another surprise for me for I thought I would retire from Nafa when I am 66 with the completion of the fourth campus."
But that is not to be.
"For now, I am busy with preparatory works for the construction of the centre's building, which we hope to complete in about two years' time," he said of the new centre.
And only then, can this man of flowers and the arts finally think of really retiring.

This article was first published on June 9, 2014.
Get a copy of The Straits Times or go to straitstimes.com for more stories.