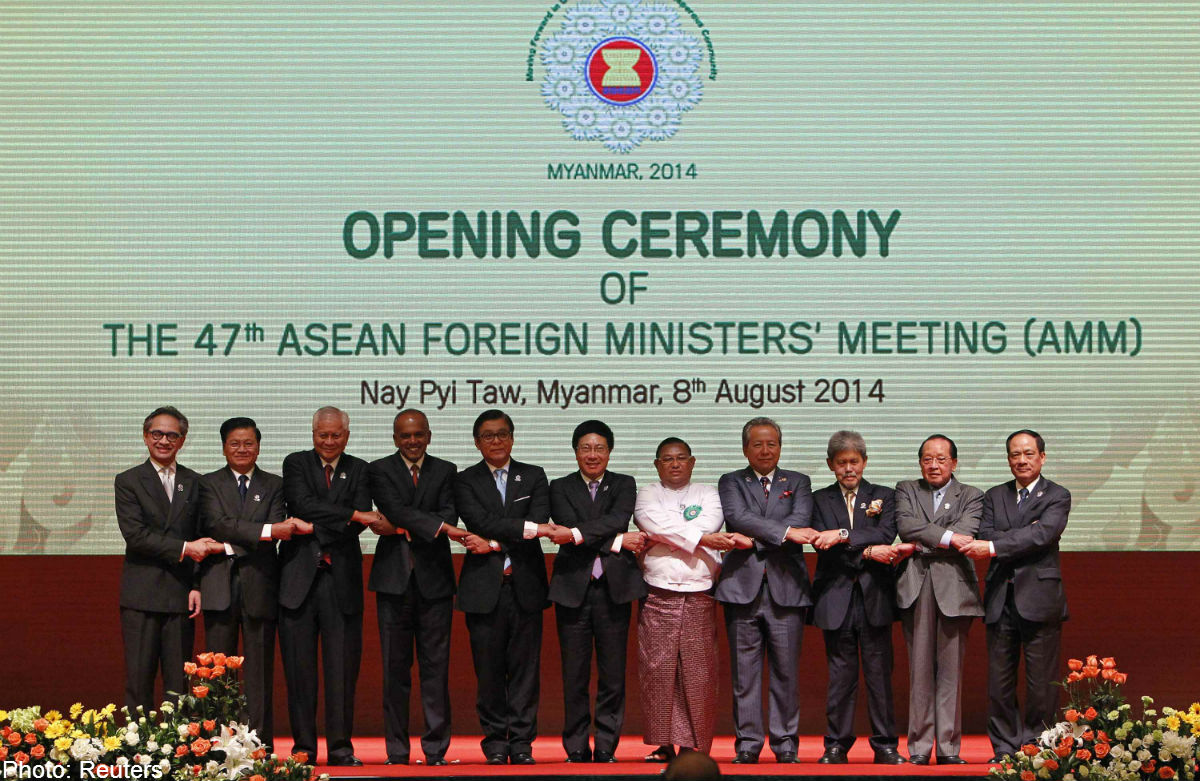 NAYPYITAW - ASEAN foreign ministers meeting in Myanmar's capital have agreed on the need for progress on the long-delayed Code of Conduct (COC) to avoid conflict in the South China Sea.
"There has been consensus on trying to move on the COC," Singapore's Foreign Minister K. Shanmugam told reporters on the sidelines of the 47th ASEAN Ministerial Meeting (AMM) in Naypyitaw yesterday.
"Senior officials have been meeting both among ASEAN and with China," said Mr Shanmugam.
"China has said it wants to see some movement before the end of the year and has talked about low-hanging fruits, and the ministers today discussed and said let's try and catch the momentum."
China claims almost the entire South China Sea, parts of which are also claimed by four ASEAN countries, most crucially Vietnam and the Philippines. There have been confrontations at sea, raising fears of conflict.
"Quite a few countries felt that last year, there were a number of incidents and it is a miracle that there were not even more serious incidents," Mr Shanmugam said. "It is in everyone's interest now to try and make sure that we contain them and move in a way that is acceptable to everyone."
Chinese and ASEAN officials are to work out the specifics of the "low-hanging fruit" that Beijing wants to propose.
Meanwhile, Manila has proposed a three-stage moratorium on activities in the South China Sea.
"One good thing that we know is that our concerns are being shared by other ASEAN member countries," Foreign Affairs Department spokesman Charles Jose told reporters yesterday.
"They also recognise the exacerbating tension in the region and that we should take all measures that would de-escalate and manage the tensions to create the atmosphere that would lead to an eventual resolution of the dispute."Chinese state media reported on Thursday that China planned to build lighthouses on five islands in the South China Sea. Two of them are claimed by both China and Vietnam.
"We hope ASEAN, if we all agree, will be able to convince China to agree to the cessation of activities that escalate tensions," Mr Jose said.
Beijing has already rejected the idea of stopping all activity. ASEAN ministers also say a moratorium still leaves up for debate which specific activities should be covered.
Opening the AMM earlier yesterday, Myanmar President Thein Sein reminded those present that ASEAN's ultimate aim was "to bring prosperity to our people, raise living standards, and ensure peace and stability (and) the promotion of human dignity".
In later discussions, ASEAN foreign ministers were "very heartened" by the progress that has been made, Mr Shanmugam said.
They pointed to tariff cuts of more than 80 per cent in various sectors.
Further cuts in the remaining sectors would require political will, he said, but if these are achieved, they would bring "substantial tangible progress to our people".
A joint communique was expected to be issued after the foreign ministers' meeting.
nirmal@sph.com.sg

This article was first published on August 9, 2014.
Get a copy of The Straits Times or go to straitstimes.com for more stories.