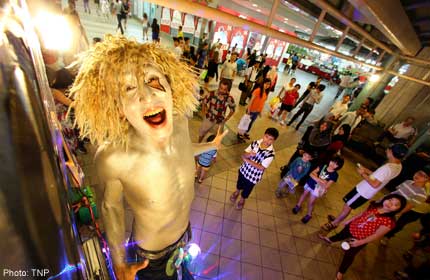 SINGAPORE - Some days, he's draped in an outrageous costume.
Other days, he's covered in body paint.
Mr Roy Payamal, 49, will do anything to entertain. He's found outside Tampines MRT station using quirky gestures to make you think he is underwater, flying or floating in space.
The mime artist said: "Busking allows me to express myself artistically and connect with the audience.
"The body is a marvellous thing. It can convey emotions, situations, even an entire story, without using a single word."
For the last 1½ years, he has been performing at Tampines from 7pm to 10pm on weekends.
Standing on a suitcase on a raised platform, he moves with the music amid the flashing neon lights that complement his performance.
Last Friday night, the crowd watching him grew to about 100 people.
Said waitress Najwa Malwah, 17: "When I first saw him, I thought he was a robot because of the way he moved."
There are some people who simply walk by, but Mr Payamal said: "If I can present engaging situations, I'm sure they too will stop and watch. Audiences know when they can see good art."
He first became interested in circus arts at the age of six, from watching circus performances on TV.
Though his own observation and research, he taught himself tricks like juggling and balancing objects on his chin, nose and head.
In his later years, he even taught himself how to become a fire-eater.
As an actor and comedian in the Singapore Armed Forces Music and Drama Company during his time in national service, his love for performing deepened. He says:
"Every day, we performed in front of over a thousand people. I loved it because being on stage lets me express myself to them.
"I was also heartened that many in the audience cheered me on."
Freelance
Following national service, Mr Payamal undertook freelance theatre projects and began busking in his spare time. Over the years, he has performed at corporate events, product launches and dinners.
He has performed at the Marina Bay Sands, Orchard Road, Waterloo Street, and even overseas, including Japan and France.
He has also conducted mime and circus workshops at schools and polytechnics.
"Mime is something that truly brings me joy. And I would like to share that joy with everyone."
Said his sister, Ms Bina Payamal, 47, a housewife: "He is very brave to put himself out there, and express himself in this way.
Not many people can, or are willing, to do so."

Get The New Paper for more stories.