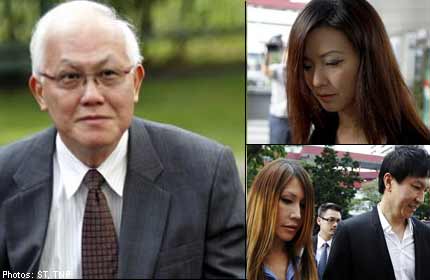 SINGAPORE - Foong Daw Ching, the external auditor who made a public video saying that no City Harvest Church (CHC) funds were ever used in the promotion of Sun Ho's music career, admitted in court on Thursday that the statement had been prepared by CHC, and that he had been pressured into reading it by the church.
Mr Foong, who is a co-founder of the firm now known as Baker Tilly TFW LLP, also told the court that he was not the lead audit partner for CHC's accounts at that time, even though he had said so in the video.
The video message, which was broadcast during CHC's 2003 annual general meeting (AGM) in April that year, was recorded in response to allegations made by a then-CHC member, Roland Poon, that church funds had been misused.
Mr Foong said, in the video, which was addressed to all CHC members: "I am the lead partner in charge of City Harvest Church's accounts. Having led the audit of City Harvest Church's accounts, it is my professional opinion that no church funds were ever used in the promotion of Ms Ho Yeow Sun's secular singing career and the accounts presented before this AGM are true and fair."
Mr Poon, who made the allegations in January 2003, had to retract them and print public apologies to CHC in five newspapers, costing him $33,372, according to the statement of facts agreed between the prosecution and defence.
Mr Foong admitted on Thursday he was not the lead partner in charge of the church's accounts in 2003, having told the court earlier that he was the lead partner only for the first year that the church was the public accounting firm's client - between 1993 and 1994.
Mr Foong, who spent much of his day on the stand not being able to remember the incidents he was being questioned on, said the church had come to him with a prepared statement they wanted him to read.
"Who was it who asked you to read the statement, do you remember?" asked chief prosecutor Mavis Chionh.
Next: CHC wanted him to attend their AGM to present his opinion
"I can't, because the video crew came with this statement. I don't know who accompanied the video crew. And so, I can't remember who was the one who asked me to read this statement," Mr Foong said.
"Do you remember who handed you the statement?"
"Again, I can't remember."
Mr Foong said the whole process was "very rushed", as CHC wanted him to attend their AGM to present his opinion but he could not because he was preaching at his own church.
"Who wanted you to attend the City Harvest AGM to present your report?" Ms Chionh asked.
"I can't really remember," Mr Foong replied.
He did remember the church pressing him on getting the video done, and he agreed as a result.
When asked about the special audit his team did for CHC in 2003 - that is, the kind of work that was performed and how long it took - Mr Foong said: "Really, I cannot remember. All I remember is, work was done."
He also testified that CHC members would approach him for advice on transactions they intended to undertake, even after he was no longer the lead partner. When asked who from the church would come to him for advice, he said: "I really cannot remember. I think maybe (deputy senior pastor Tan) Ye Peng . . . (former finance manager) Serina (Wee) would be a likely person. And, on and off, I would say either (board member) John Lam or (former board member Chew) Eng Han will come . . . I can't remember over the recent years whether (finance manager) Sharon (Tan) was one of them . . . I really can't remember."
When questioned about the sort of advice CHC would approach him for, Mr Foong - who told the court he had been appointed to work in the Accounting Standard Council preparing accounting standards for charities - said he typically gave only very general advice to the church.
"I'm not good for details," he said. "I think the office knows that my real detailed technical knowledge is not very good."
When asked about how he advised CHC when they came to him on the bond issues that Xtron Productions intended to undertake, he said: "I can't remember what exactly I told them . . . My knowledge of financial instruments is very, very weak, so this is one area I never like to venture into because it's too technical for me to understand. So, I could only offer a very general comment . . . some idea of what they mean by 'fair value' and some idea of what is impairment and some idea of how bonds ought to be disclosed in the financial statements."
The hearing continued on Friday.

Get The Business Times for more stories.