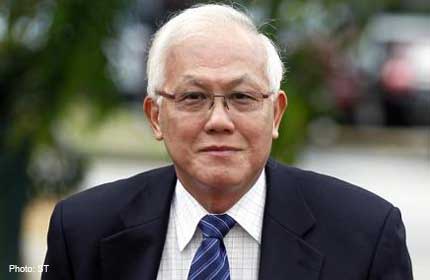 SINGAPORE - Court proceedings for the City Harvest trial kicked off on Thurday with a surprise request by prosecution witness Foong Daw Ching to tell the judge "something from my heart".
Senior District Judge See Kee Oon allowed it.
Mr Foong said that while he was sleeping the night before, "this voice kept coming to me, and as a Christian, I believe this voice must be from God. He said, 'Son, speak to the judge.'"
The 63-year-old auditor said he was "hurt" that in the past few days, the defence accused him of distancing himself from City Harvest Church. He then pointed out that two of the accused had, in fact, taken advantage of him during a recent meeting.
Mr Foong had met John Lam and Tan Ye Peng last December to discuss the case. It was revealed this week that the two church leaders filed their own notes on what Mr Foong said in case he changed his tune.
Mr Foong said they did not tell him they were taking notes. They had asked to meet him to pray together, and he agreed as he is "an elder and a Christian counsellor".
"Two of the defendants came to my office seeking prayer, yet they took the opportunity to record, thinking that I may say something otherwise.. for some safety," he said.
When he found out about this during the trial, "initially I was quite upset, but then I know where they are coming from... They are definitely very troubled", he said.
Mr Foong also wanted to restate what he knew about the six accused and City Harvest, but the judge disallowed it as the defence is still cross-examining him.
Defence lawyers have sought to show that church leaders looked up to Mr Foong and trusted his advice, and that his consistent denial that he gave them detailed guidance on various transactions was "breaking their hearts".
twong@sph.com.sg



Get a copy of The Straits Times or go to straitstimes.com for more stories.