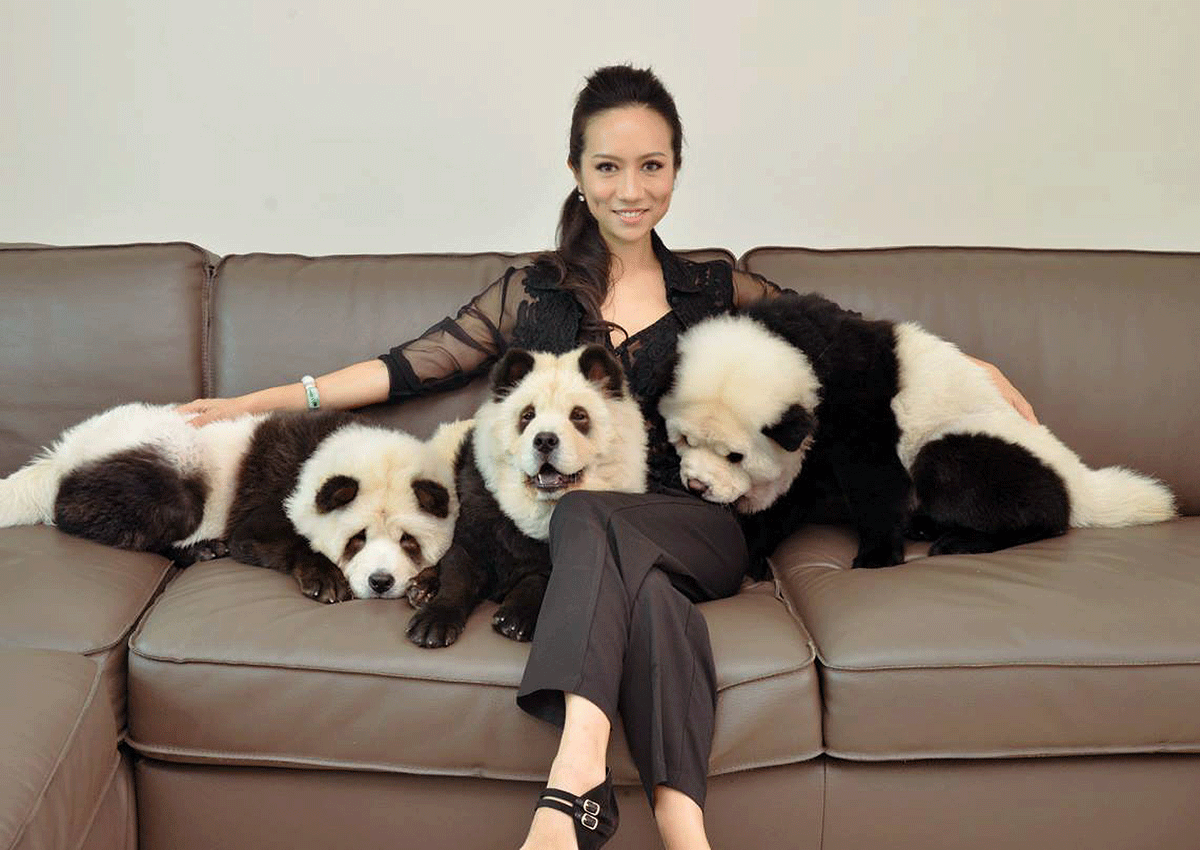 SINGAPORE - The Agri-Food and Veterinary Authority (AVA) of Singapore has concluded the investigation into the welfare of three chows chows which were dyed to look like pandas.
In February this year, the chow chows had caused a stir online since they were spotted around town with their owner Meng Jiang.
While some found the "panda" chow chows cute, others were concerned if they being subjected to stress and cruelty.
On Feb 4, The Straits Times reported that AVA is looking into the case "to ensure that animal welfare is not compromised".
AVA has since concluded investigation on the case, AsiaOne understands. An AVA spokesman told AsiaOne: "There was no compromise to the dogs' health and welfare."
"In general, the use of safe, non-toxic food dyes is unlikely to cause any harm to the dogs," the spokesman said in a statement on July 1.
"Nevertheless, as the dogs are exposed to dog hair dye for prolonged periods, we reminded the Chow Chows' owner to monitor the health of her pets and provide prompt veterinary attention when needed."
The chow chows are naturally white, and the black areas on them are dyed, but Ms Jiang, 27, claims the dye used is "100 per cent organic and a natural colorant".
According to Ms Jiang, "the product we use is readily available off the shelf in Singapore and can be bought in Singapore at dog grooming salons."
She also told The Straits Times in an earlier report that her dogs were dyed by a qualified groomer with more than 10 years of experience, and that sensitive areas such as around the eyes, were "treated with meticulous care".
To keep the dye in place, the process reportedly has to be repeated every six months.
The Society for the Prevention of Cruelty to Animals (SPCA) earlier weighed in on the issue, saying that they are strongly against the practice of dyeing animals' fur.
"SPCA is strongly against such a practice and would advise pet owners to refrain from altering their pet's appearance in this way, because it is unnatural and unnecessary. There are also potential side effects with no benefits to the animals - it can be physically harmful and subject the animal to stress in the process. Animals have natural coats and should be appreciated for what they are, rather than trying to alter them artificially. We are unaware of any law existing prohibiting the dyeing of pet's fur."
Ms Jiang runs the website pandachowchows.com, which offers photoshoots with her pets, named Tu Dou, Yu Mi and Dou Dou.
maryanns@sph.com.sg