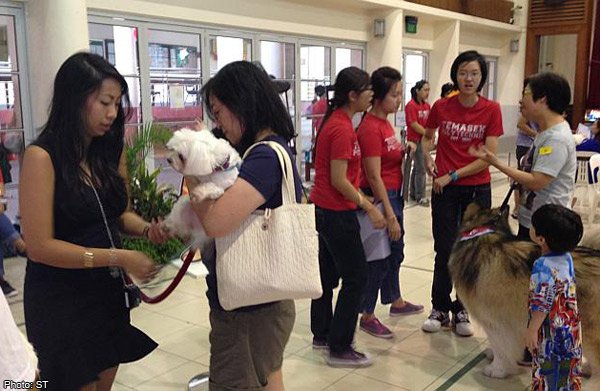 There are five stations, including an educational booth and several consultation stations. Private vets from five clinics in the Jurong area were roped in to help conduct clinical examination and microchipping of pets. Twenty veterinary technology students from Temasek Polytechnic also helped out at the different booths at the event.

Get the full story from The Straits Times.
Here is the full statement from the AVA:
The Agri-Food and Veterinary Authority of Singapore (AVA) is launching a series of island-wide free pet health checks in partnership with private veterinarians and local polytechnics to educate pet owners on preventive pet care and inculcate the importance of routine veterinary care for pets.
The first free pet health check will be launched on 15 February at the Jurong Spring Community Club in Jurong GRC by Minister of State for National Development and Advisor to Jurong GRC Grassroots Organisations, Mr Desmond Lee.
Mr Lee is heartened that AVA is working in partnership with the veterinary profession to serve the community. He said, "With the growing number of pets in Singapore, it is vital for pet owners to recognise the importance of regular veterinary care for their pets. This initiative is a useful platform to educate pet owners, promote responsible pet ownership, and foster good understanding between AVA, private veterinarians, and the community."
About 75 pet owners from Jurong GRC will take part in the first of the series of free pet health checks, which includes the clinical examination and microchipping of pets, veterinary advice and recommendations, as well as dog licensing services.
Private veterinarians from the Jurong GRC have volunteered their services to carry out free clinical examinations with the assistance of veterinary technician students from local polytechnics. In addition, free microchipping services are available for pet owners who wish to microchip their pets. Owners with unlicensed dogs are also able to apply for a licence on this day.
AVA CEO, Ms Tan Poh Hong, said "I am glad that many pet owners have registered for today's launch of the free pet health check series. I would like to thank our partners for supporting AVA and I hope to see more pet owners coming forward to participate in the free pet health check."