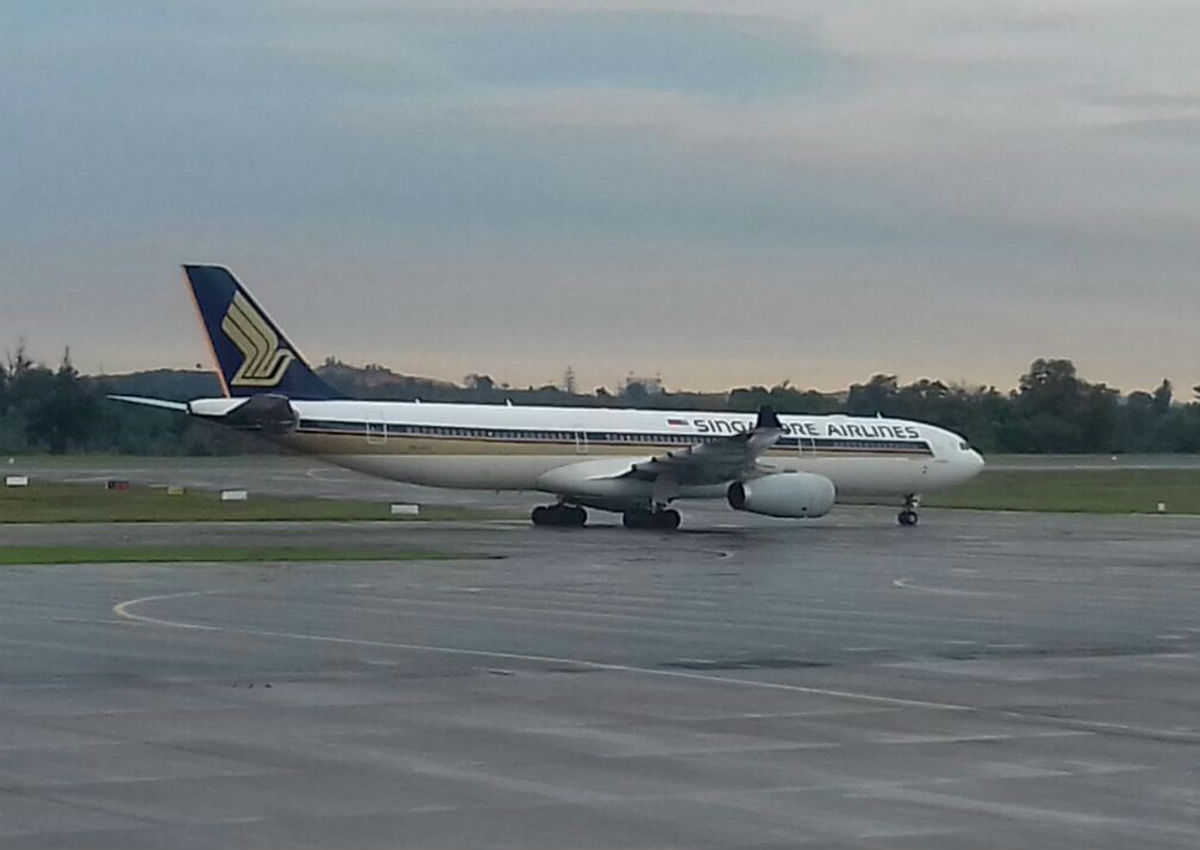 Four Singapore-bound flights were diverted to the Indonesian island of Batam on Thursday due to inclement weather in the city state.
One of the most dramatic involved a Singapore Airlines (SIA) flight from Tokyo which landed at Changi Airport on Thursday evening, more than five hours behind schedule.
The flight, which was scheduled to land at Changi Airport at 3.25pm, eventually arrived at 8.50pm.
It was the last of the four to land.
SQ631, which departed from Tokyo's Haneda Airport at 7.46am Singapore time, made three attempted landings at Changi Airport before diverting to Hang Nadim airport in Batam to refuel, SIA said in response to queries.
Civil servant Mohammad Ismail, who was on board with his family, including two children aged five and 10, said the failed landing attempts had caused concern, though passengers remained calm.
There were 259 passengers on board.
PAYA LEBAR OPTION NOT POSSIBLE 
"The first attempt almost touched the runway, then it ascended like a take off and we shot up past the clouds," said Mr Ismail, 35. "Through the window you could see the dark clouds, rainwater and flashes of lightning."
After circling and making two more attempts, the pilot announced that they would be trying to land at Paya Lebar Air Base due to the bad weather, though this too was called off as conditions there were no better.
The plane then headed for Batam, landing at about 2.50pm local time before waiting three hours for a parking bay, the SIA spokesman said.
The wait in Batam was tedious, and passengers were left hungry as only drinks were served, but "but we passed around some biscuits that were souvenirs from Japan", said Mr Ismail.
The airline crew did their best and handled the situation professionally, he added.
The other diverted flights were a Tigerair flight from Hong Kong, an SIA flight from Brisbane and a SilkAir flight from Siem Reap.
They arrived in Batam before the SQ631 flight, according to local authority BP Batam. All passengers stayed on the planes at Hang Nadim airport while waiting out the bad weather in Changi, it said.
A Changi Airport Group spokesman said decisions regarding flight diversions and landings are left to the sole discretion of the pilot and his airline.
Dynasty Travel's director of marketing communications, Ms Alicia Seah, said flight delays are common during the year-end holiday season because of weather conditions and an increased number of flights.
"Safety is the priority. At the end of the day, if it's not safe to land, it's better not to," she said.

This article was first published on Dec 24, 2016.
Get a copy of The Straits Times or go to straitstimes.com for more stories.