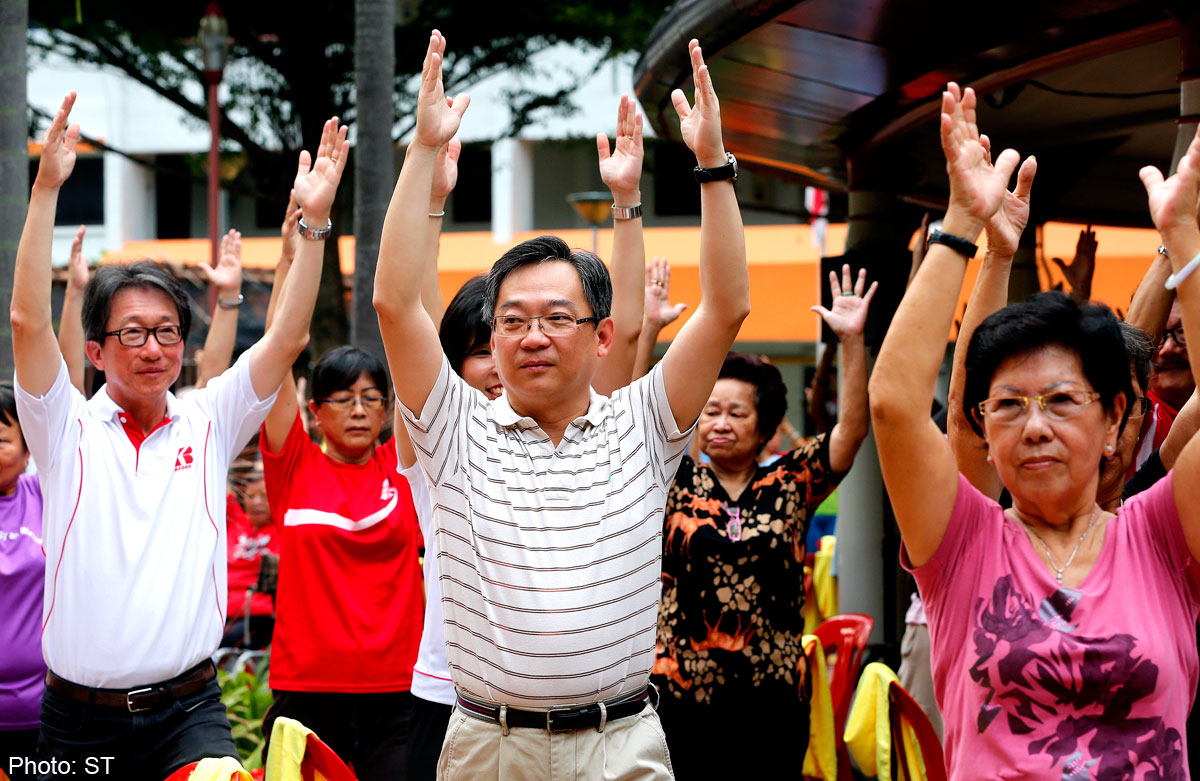 SINGAPORE - To decide how best to help elderly Bedok residents to age well, grassroots organisations went to ask the seniors themselves.
Close to 3,000 of them were surveyed in 2012 to find out what their social, health and financial needs were. They were also invited to town hall meetings and helped audit the town's elderly-friendly features.
These findings became the basis for Bedok's Community for All Ages masterplan, which now has programmes tailored for six groups: active agers, lonely or frail seniors, those in need of financial help, those with disabilities, those with health risks and elderly caregivers.
Health Minister Gan Kim Yong, who was yesterday given an update on Bedok's progress so far, praised this "people-centric" approach.
"I think this is a very important approach and I'll be sharing some of this with the other CFAA projects," he said during his visit to the Bedok Sunflower Residents' Committee.
He was referring to the other three towns in the Government's City for All Ages initiative, or CFAA, which was introduced in 2011 to explore how to create a better living environment for the elderly. The other towns in this initiative are Marine Parade, Whampoa and Taman Jurong.
Chew Siam Hiang, 65, who uses a wheelchair, helped with the town's "audit". She gave volunteers feedback about steps along a route to a swimming complex.
"It feels like I'm hitting a wall," she said. The steps have now been replaced with a smooth ramp.
Mr Gan also praised Bedok grassroots organisations' partnership with other players, such as health-care and volunteer welfare organisations including Thye Hua Kwan Moral Charities, which supports elderly caregivers and links them up with other agencies for help.
Minister in the Prime Minister's Office Lim Swee Say, who is an MP for East Coast GRC and was hosting Mr Gan's visit, said that Bedok's programmes could also be adopted by other wards in the GRC.
janiceh@sph.com.sg

Get MyPaper for more stories.