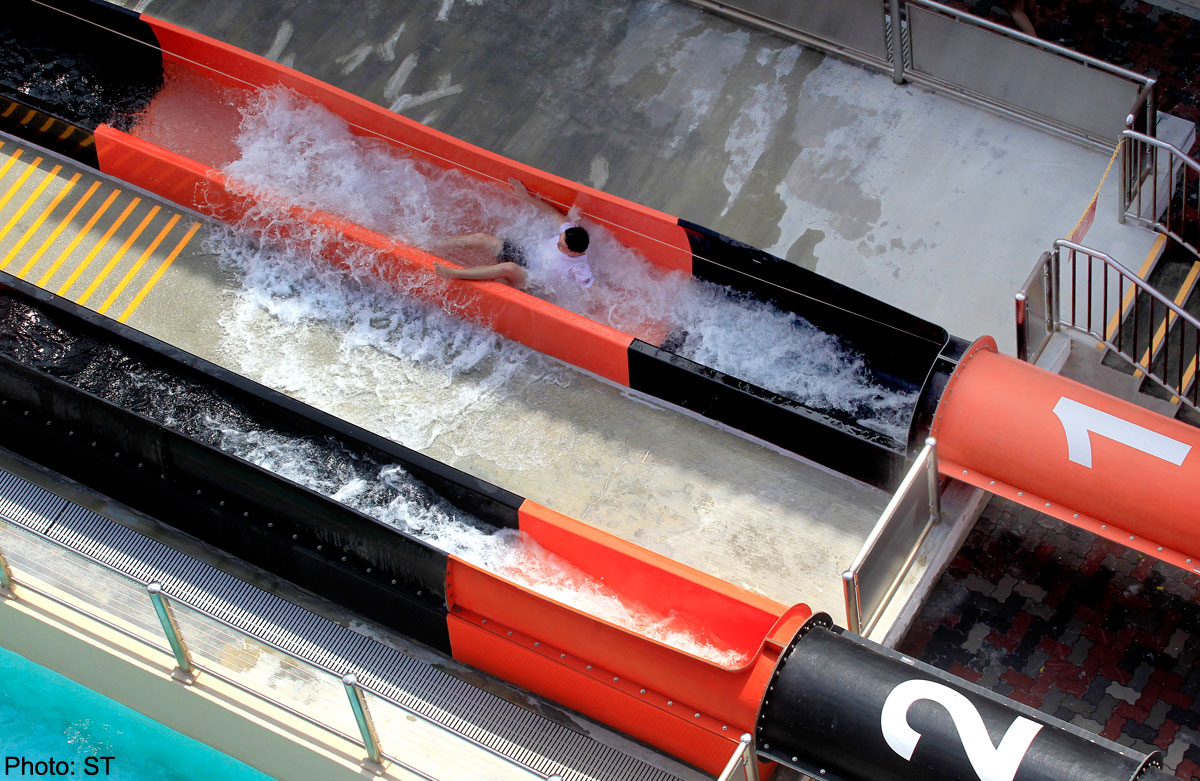 SINGAPORE - Amusement rides located in private clubs and residential estates will now be regulated by the Building and Construction Authority (BCA) through the Amusement Rides Safety Act. Such rides include water slides installed at swimming pools in some condominiums and clubs.
Their inclusion comes with a recent revision of the Act, in an effort by the BCA to further improve safety standards. The amendments to the Act took effect from April 1.
There are currently around 80 amusement rides in Singapore, offering thrill-seekers a myriad of options ranging from indoor skydiving to reverse bungee-jumping. One such ride is the Torpedo, a free-fall ride at water park Wild Wild Wet that was launched in November last year.
As thrill rides may be dangerous for the rider if they do not meet safety regulations, the Act was introduced in 2011 to regulate amusement ride safety. More recently, some amendments were made to it following a review conducted by the BCA.
"Safety regulations are not static," wrote Khaw Boon Wan, Minister for National Development, in his Housing Matters blog. "They have to evolve to meet new safety standards, respond to new incidents and keep pace with introduction of new rides."
Mr Khaw raised the example of water-walking ball operators, who were previously allowed to operate in pools of up to 0.5 metres in depth. Now, however, they can be used in pools as deep as 1.2 metres, if there is a lifeguard present.
The Act applies to all amusement rides, including existing ones, and covers the installation, operation, modification, maintenance and repair of such rides. Prior to the opening of the ride, the BCA's engineers work with the ride operator to ensure that the ride complies with safety standards. In addition, the BCA conducts spot checks on the operators' daily maintenance routines, along with surprise audits, or "mystery shopper" inspections.
"We will stay updated with best industry standards and latest safety technologies," wrote Mr Khaw, adding that ride-goers themselves should also play their part in ensuring their own safety by following safety guidelines.
karaquek@sph.com.sg
This article was published on April 12 in The Business Times.


Get The Business Times for more stories.