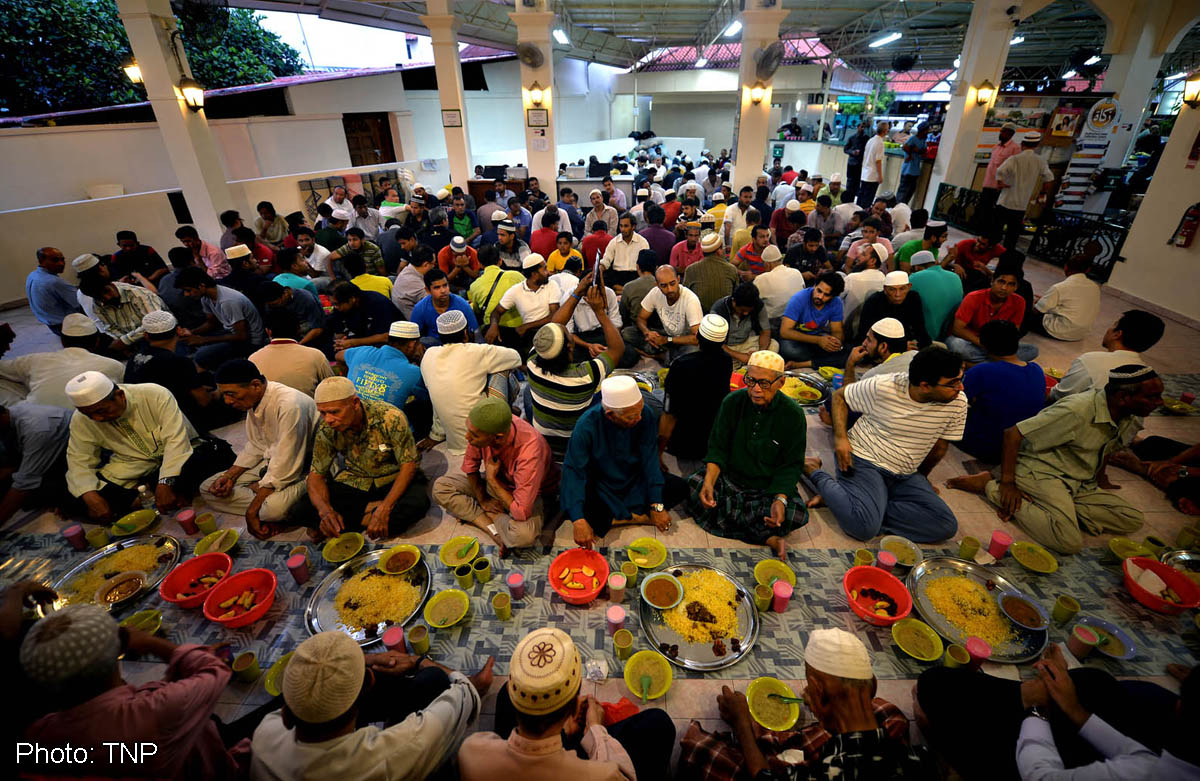 SINGAPORE - It is around six on a Thursday evening.
Nestled between Joo Chiat Road's terrace houses, away from the rush-hour traffic, lies Khalid Mosque.
There is an atmosphere of anticipation in the near-century-old building as it is just over an hour until iftar, the Muslim act of breaking fast.
Khalid Mosque is one of the most popular in Singapore, especially so during Ramadan.
As in many mosques around the country, the breaking of fast is about community as Muslims of all backgrounds, whether prince or pauper, local or foreigner, gather to share a meal.
The main reason people break fast at a mosque, as opposed to at home, is that it gives an opportunity to eat and then pray together.
Outside the prayer hall, the faint sound of engines and the occasional horns give way to the many voices reciting Quran verses.
They are all male voices - the women have their own wing.
As the prayer hall fills for afternoon prayers, a group of volunteers is busy preparing mats for diners to sit on.
This is one of the few mosques that serves briyani and it has its fans.
"The briyani here is the best in Singapore," says Mr Abdul Rahman Haji Alhamdu.
He has been going to this mosque since he was a child growing up in Geylang Serai.
Now 75, Mr Rahman goes to Khalid Mosque 25 days out of 30 during the month of Ramadan. Apart from breaking fast and performing his prayers, he gets to meet his childhood friends who used to live in the area.
They make a special effort to come back to bond.
Ten minutes before it is time to eat, the volunteers start to dish out tray after tray of the famous briyani.
The communal aspect continues. Rather than serving the food in individual portions, it is served on the tray it is carried in with.
Five minutes later and the men are ushered out from the prayer hall to where the food is served, with four people to a tray.
It is not just briyani on the menu, porridge and fruits are available, along with bandung.
Waiting for the clock to hit 7.17pm, newly-made friends introduce themselves to each other. A few are glued to their mobile phones, not to Instagram food pictures, but to read the Quran via apps.
As the prayer call is heard, the crowd digs in. A hum of chatter arises as briyani is shared. Some show concern for this reporter who has yet to eat.
Once the food is done, the trays are carried to the back by volunteers. Speed is of the essence as the eating area has to be quickly converted into a praying space - there are too many people for the prayer hall to accommodate everyone.
Mops are handed out and clean mats rolled out.
Volunteer Shajahan Khan, 32, says: "I've been here every year for the past five years to help during Ramadan."
Mr Khan, who is from Bangladesh, has been in Singapore for 15 years and services air-conditioning units. He takes his volunteering very seriously.
"I tell my boss I can't do overtime for this whole month," he says.
jariffin@sph.com.sg
This article was published on July 13 in The New Paper.


Get The New Paper for more stories.