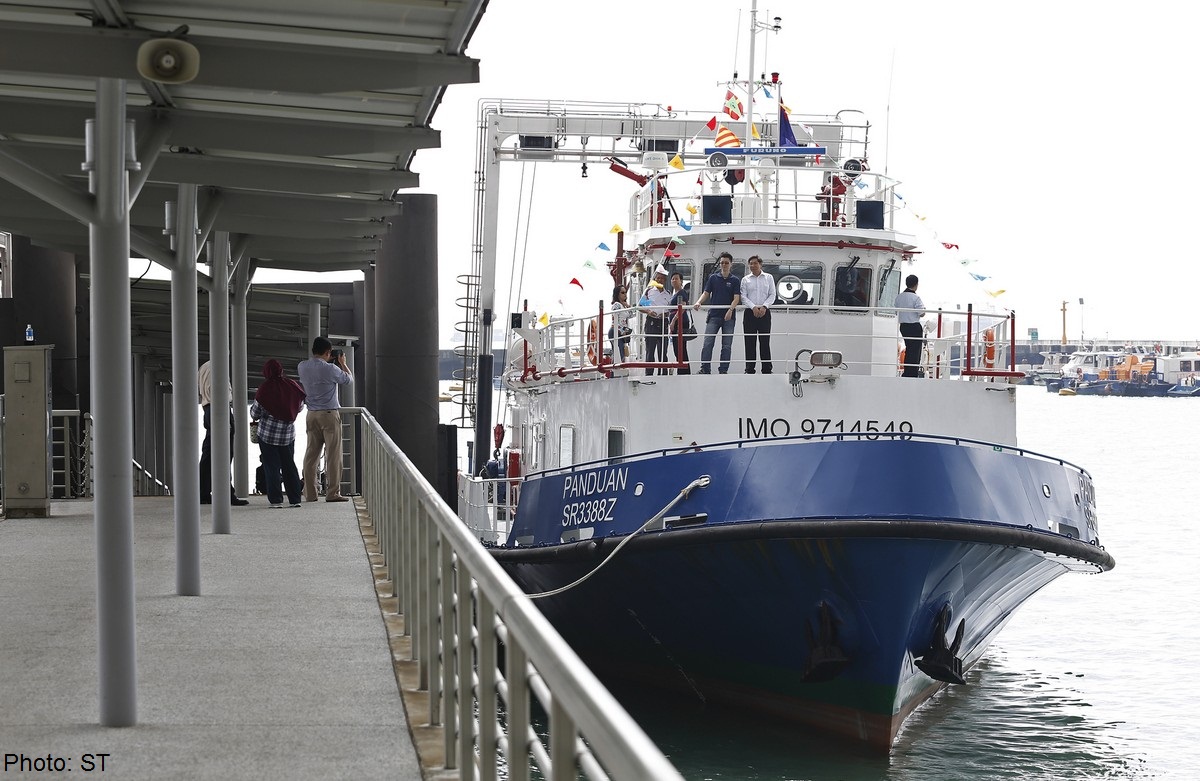 Singapore's waters are getting a traffic light upgrade, thanks to a new vessel commissioned by the Maritime and Port Authority of Singapore (MPA) on Friday.
The $4.8 million Panduan, which means guidance in Malay, is able to deploy bigger and heavier navigational buoys.
These red and green buoys are lit at night to help ships navigate. Typically, a ship should have the red buoy on its left and the green one on the right.
The new 35m-long, 267-tonne vessel, which is able to lift up to 10 tonnes, can handle buoys with a 3.5m diameter, against 2.4m for its predecessor, also named Panduan, which could only lift five tonnes and has been in service since 1996.
MPA chief hydrographer Parry Oei said the bigger buoys, which will make up 10 to 20 per cent of its 121 navigational buoys, will be deployed in deeper waters, where more stability is required.
With a speed of 15 knots, the new Panduan is also 1.5 times faster. This will allow it to deploy buoys more swiftly when needed, for instance to mark the spot of a sunken vessel or underwater object.
The Panduan will be able to traverse Singapore's waters within two hours, compared to the three to four hours the older vessel took.
With the ports getting busier and handling increasingly bigger vessels, MPA chairman Lucien Wong said it was important to ensure there are adequate navigational aids, and more conspicuous ones to clearly mark out Singapore's shipping lanes and anchorages.
About 130,000 vessels arrive here every year.
The Panduan is also equipped with fire fighting equipment and carries 4,000 litres of oil dispersant to support patrol vessels responding to oil spills.
Mr Wong said the vessel's higher speed and lifting capacity make it easier to maintain the navigational buoys and 97 mooring buoys to which smaller vessels are tethered.
He said: "With our new buoy tender vessel, we will be well placed to ensure the safety of navigation in our waters alongside the growth in Singapore's port and shipping operations."
roysim@sph.com.sg
Get a copy of The Straits Times or go to straitstimes.com for more stories.