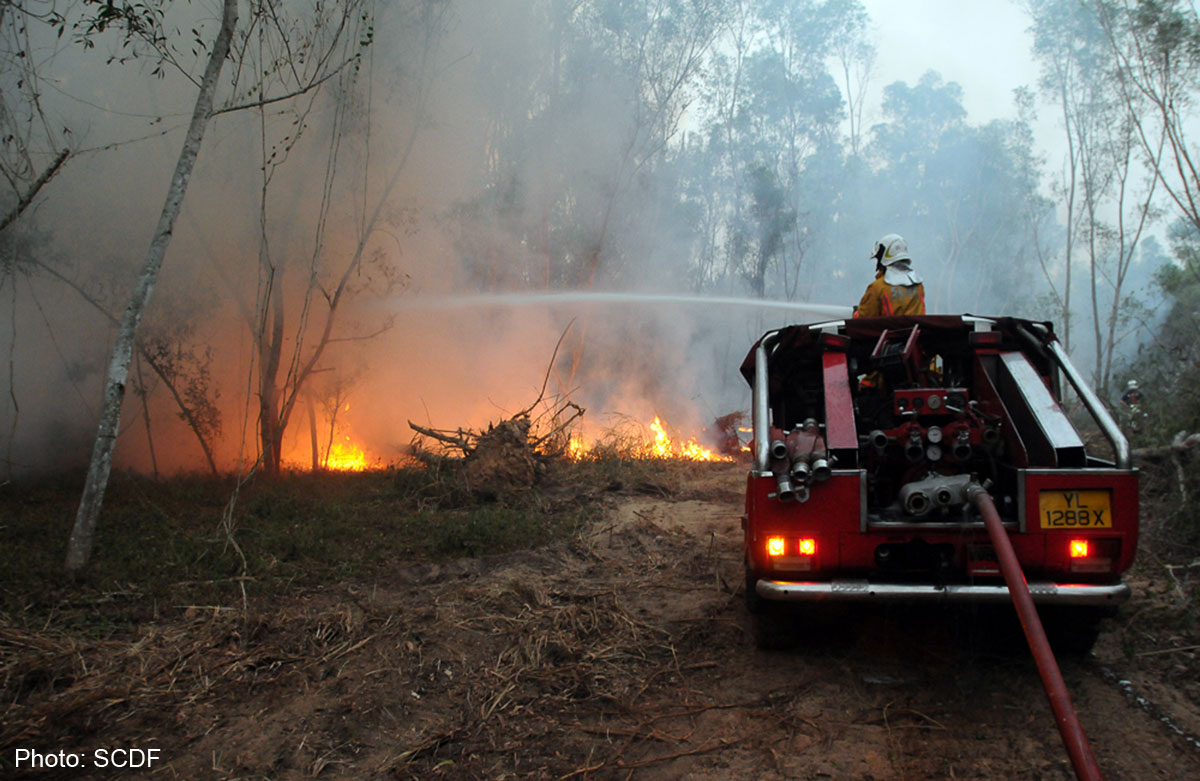 SINGAPORE - With the dry spell lingering, bush fires broke out around the island on Wednesday, including at a patch of forest near Woodlands Bus Interchange, at Bukit Brown cemetery and within 4km of Changi Airport.
Ms Michelle Xu, 32, was initially disturbed by smoke from the fire at Woodlands at around 7pm. She then saw from the window of her 15th-floor flat that the fire had grown.
"I was surprised at how big the fire became. It was burning up an area about the size of two basketball courts," said the shift manager.
The fire was later extinguished by the Singapore Civil Defence Force (SCDF).
Earlier, there was a bush fire about 4km from the Changi Airport Tower.
Pockets of fire covered an area of about eight football fields near 9, Aviation Park Road.
The SCDF received a call about the fire at 4.09pm and it took about four hours to extinguish it.
Over at Bukit Brown, pockets of fire were spreading over an area of about one football field, with smoke trails seen from as far as Holland Village.
The SCDF was alerted at 11.55am to the fire, off Kheam Hock Road.
Officers used three water jets to tackle the fire within two hours.
When The New Paper arrived at the scene at around 4.20pm, there were still small pockets of fire in the forest.
The SCDF was carrying out damping-down operations to prevent deep-seated embers from reigniting the forest.
A member of the Heritage Singapore - Bukit Brown Cemetery Facebook group, Mr Chew Kheng Chuan, 56, tipped off TNP. The remains of his great grandfather, Mr Chew Boon Lay, a Singapore pioneer, rest there.
At press time (for Thursday's publication), SCDF was unable to confirm the number of bush fires on Wednesday. No one was injured.
How to prevent bush fires
The Singapore Civil Defence Force's appeal to the public to help minimise bush fires:
- Do not throw lit materials such as cigarette butts onto grass patches, fields or rubbish dumps.
- Do not discard unwanted items such as furniture, beds and mattresses on to grassy areas/fields/gardens as they can serve as additional fuel to burning vegetation.
- Keep grass trimmed and watered if you have grass compounds.
- Burn incense papers in burners and ensure that it is completely extinguished before leaving the site.
Bush fires
JAN & FEB 2014: 198JAN & FEB 2013: 25(Most of the fires in January and February were minor. There were no reported injuries.)
Get The New Paper for more stories.