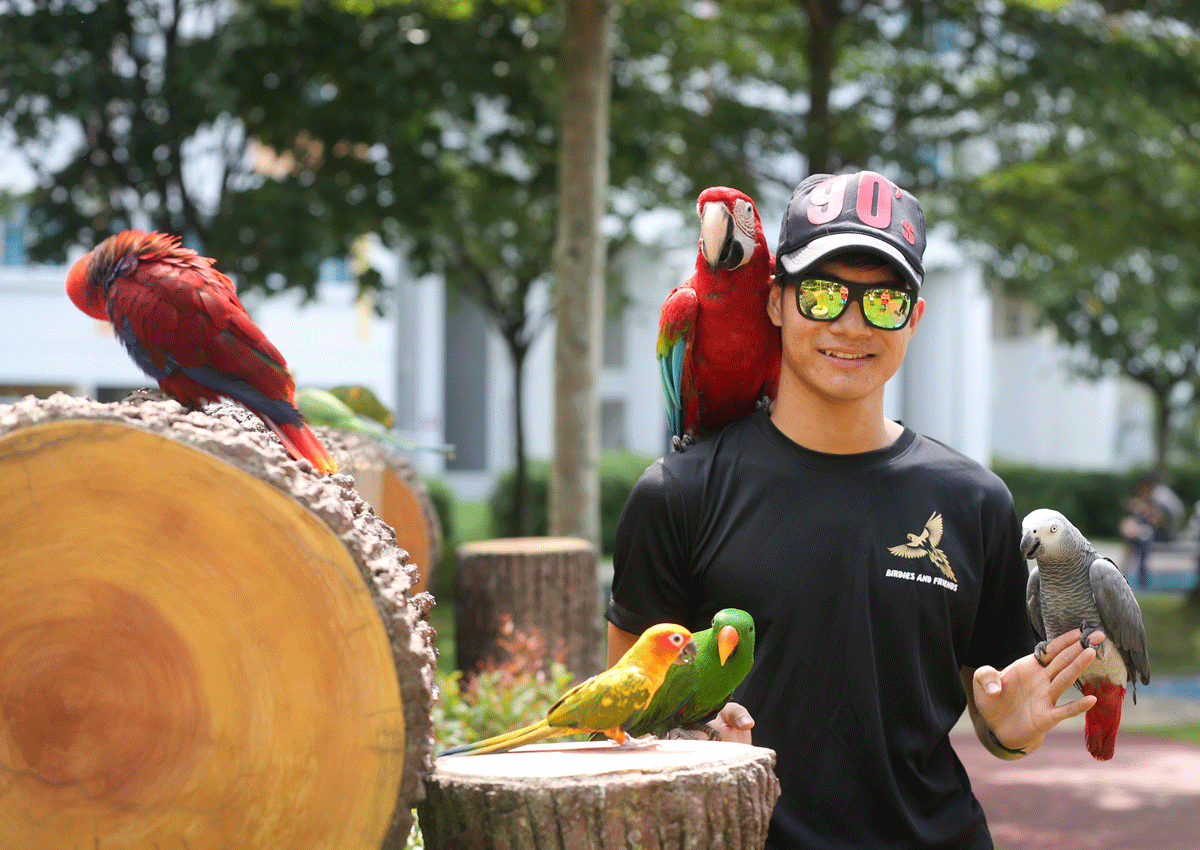 Every Saturday, the community space next to Block 981 Buangkok Crescent turns into a miniature Jurong Bird Park.
Flying among the trees and perched on benches are more than two dozen parrots.
Often, the star of the show is Elmo, a majestic green-winged macaw, with a wingspan of more than 1m. With eye-catchingly bright red, green and blue feathers, the two- year-old macaw never ceases to catch the attention of passers-by.
The birds belong to members of Birdies and Family Sg, a group of parrot enthusiasts who meet weekly to care for their birds, as well as socialise and share notes on bird-rearing.
The Facebook-based group was founded slightly more than a year ago by Elmo's owner, Mr Louis Loo, 30.
The Malaysian chef, who has been in Singapore for 11 years, started keeping birds when he was a teenager. He started rearing parrots as a serious hobby about four years ago, after buying a pair of cockatiels.
Mr Loo started the Facebook group to reach out to fellow parrot enthusiasts and to create a platform on which they could share knowledge about rearing the birds.
"When I started keeping birds in my teens, I thought that feeding them a diet of sunflower seeds was sufficient.
"However, birds need a mixture of food such as seeds, fruits and vegetables to stay healthy.
"Needless to say, the birds died. None lasted more than three months under my care then," said the Singapore permanent resident, who now keeps 14 parrots and one mynah in his flat in Farrer Park.
"By starting Birdies and Family Sg, I hope that I can share the knowledge that I have acquired over the last few years keeping parrots. I don't want my past bad experience to be suffered by anyone else."
The group, which started with just a few of Mr Loo's friends, now has about 3,800 members.
Birdies and Family Sg organises three meetings a week - at Buangkok Crescent, Farrer Park and Sun Plaza Park in Tampines.
At the meetings, members give their parrots a shower with spray bottles, set up perches for them to enjoy the sun and let the trained ones stretch their wings by flying around freely.
Members travel to the meetings from all over Singapore and one such member is Mr Adi Rusydi, 25, who owns 16 parrots.
He goes from his home in Tampines to Buangkok Crescent almost every Saturday and organises the group's Sunday meetings in Sun Plaza Park as well.
The food and beverage business owner is usually never far away from his favourite parrot, Barry.
The yellow-sided conure, which is specially trained to come back to its owner on command, is constantly perched on his shoulder.

Photo: ST
Mr Rusydi, who has been keeping parrots for about a year, credits his newfound hobby for making him a better person.
"In the past, I used to go partying a lot, often returning home only at 4am, even on weekdays. But since I started keeping parrots, I've not been clubbing and have become closer to my family," he said.
Some Birdies and Family Sg group members, including Mr Rusydi, have also been using the birds to entertain at community events.
Recent events to which they have taken their birds include a family day at Bishan Park for special needs children, where attendees interacted and took photos with the birds.
The group will also be at the Paws and Furs Carnival at Tiong Bahru Park on Saturday.
It will be the first time that a bird interest group is taking part in the pet carnival and adoption drive event.
Although there are no firm plans yet, Mr Loo hopes that Birdies and Family Sg will be able to join more community events next year while reaching out to fellow parrot enthusiasts and educating people on responsible pet ownership.
And he is hoping that Elmo can play a part : "Even though I am the founder of the Birdies and Family Sg group, not everyone knows who I am. But everyone knows Elmo; he never ceases to attract attention," Mr Loo said.
So if you pass by Buangkok Crescent and see a green-winged macaw perched on a bench, do stop by to say "hello".
osadaj@sph.com.sg

This article was first published on January 14, 2016.
Get a copy of The Straits Times or go to straitstimes.com for more stories.