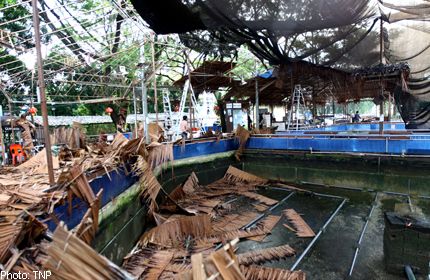 SINGAPORE - From Monday, fishing for prawns in Bishan will no longer be a reality.
Hai Bin Bishan Prawn Fishing will shut its operations after six years, following a rent dispute with its landlord. Group manager of Hai Bin Prawning, Mr David Ng, 53, told The New Paper on Friday the prawn fishing facility was a sublet of the coffee shop from the start.
He said their initial monthly rent was $11,800 to the coffee shop owner for the two locations - $4,800 for the one nearest the carpark and $7,000 for the one on the lower floor behind the coffee shop. This was slowly raised to $26,000 over the years.
Mr Ng said things changed on Aug 19 this year, when Hai Bin's owner was asked to meet the landlord, Nature Park, that runs Asian Golf Academy at the same location.
Said Mr Ng: "That was when the landlord asked if we were interested in continuing our prawning business in Bishan.
"When we said we were, they said both the coffee shop and ourselves had to pay a total of $110,000 for the monthly rental from September."
Mr Ng said his boss was stumped upon hearing that. The coffee shop's part of the rent amounted to $45,000.
That would mean they would have to fork out $65,000 - two-and-a-half times the amount they had been paying.
Hai Bin said it could not afford the amount and the company decided to shut its operations at Bishan and concentrate on its two other outlets in Punggol and Jurong.
Hai Bin Prawning was first set up in December 2006 at Sin Ming Avenue.
The prawns they bring in are the big freshwater variety commonly known as big head prawns.
According to their website, each rod costs $18 for one hour, $28 for 2 hours and $33 for 3 hours to rent. Additional hours are charged at $11 per hour.
Prawn fishers can also cook their catch, as there are barbecue facilities.
Hai Bin's Facebook posting on the closure of its Bishan site went viral online as prawn-fishing enthusiasts shared the news.
Most expressed shock while some called the landlord greedy.
But was this a case of big fish eat small fish?
"No," said the managing director of Nature Park, Lim Lay Meng. He said: "What we are offering in terms of rental is an established market price."
'Heavily subsidised'
Mr Lim said the rental Hai Bin had been paying was "heavily subsidised"as it was a small enterprise when it first started at Bishan.
"We had helped them out and now that the business had clearly grown, we revert back to charging market rate. I believe that's fair," he said.
But Mr Ng is still upset.
He said: "But how fair is it when we were given only three days to clear out?
"How fair is it that we had to beg for a 15-day extension and was only given when we agreed to pay $34,700 as rent for those 15 days?"
He said that the 15 days were to allow the workers to give notice to the flats they had been renting so they would not lose their deposits.
Mr Ng said Hai Bin Prawning will commemorate its last day in Bishan on Sunday by inviting customers for a three-hour prawning session free of charge.
From 7am to 11.59pm each customer will get one rod to fish for prawns for a three-hour slot.
The company will offer free two-hour sessions at the other two outlets.
Mr Ng said they would also be adding 500 kg of live prawns, shipped from Thailand, for Sunday's event at Bishan.
"Bishan is where we started and created Hai Bin Prawning. We started this as a form of relaxation for Singaporeans. It is always sad to see something that launched our business go," Mr Ng said.

Get The New Paper for more stories.