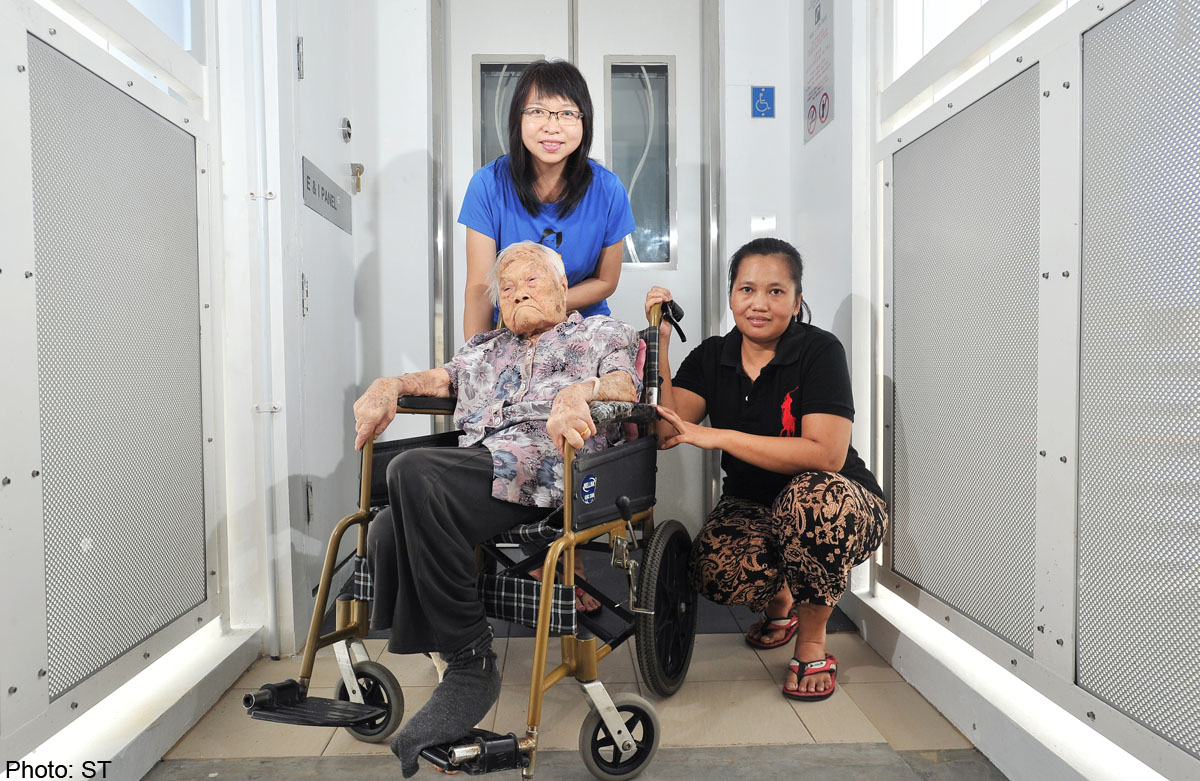 For most people, elections are about the only time they get to cast their vote on public policy.
But for the better part of a decade, a group of Singaporeans could exercise their democratic rights when it came to the Lift Upgrading Programme (LUP).
While households in most of the blocks selected for the LUP voted for the programme, those in 54 blocks actually voted against it the first time around.
Some had a second chance to vote and changed their minds. But the scheme remains rejected by at least 15 blocks.
A big part of the reason is simply cost: The Government said that residents must vote on whether they want the programme because they have to pay part of the cost, capped at $3,000.
At least 75 per cent of eligible Singapore citizen households in a block, who do not yet have lift access, must vote "yes" for upgrading to go through.
One place where the vote failed is Block 128 in Pasir Ris Street 11, where the lifts stop on just alternate floors. But only a minority of residents are affected. This is because all the units in the nine- storey block are maisonettes.
"Those on the fourth, sixth and eighth floors already have the lifts going to their doorstep," observed Madam Santhakumari, 67.
"So what's the purpose of us, on the second storey, paying $3,000 for this upgrading? It doesn't make any sense."
The retiree lives alone in one of the second-floor units, the only ones which lack direct lift access.
The 13 eligible citizen households on that floor have gone to the LUP polls twice: In 2010, the vote was nine to four in favour, and, in 2013, it was seven to four, with two households not voting.
Both times, one of the four dissenting votes was cast by Madam Santhakumari. "It's not a hassle to take the stairs up one level," she said. "People living here will have to climb stairs inside their own house, anyway."
Over at Block 418, Serangoon Central, second-floor residents must walk up two flights of stairs to get home. When polled in 2012, five households wanted the LUP, but two said "no".
Some residents remain dissatisfied with the outcome.
"It's inconvenient when we have heavy groceries, or when we travel and have big luggage," said housewife Iris Ho, 38, who lives on the second floor with her husband, father-in-law and four- year-old daughter. Ms Ho's household voted in favour of the LUP.
But her neighbour John Toh, 62, also living on the second floor, voted "no" because of the cost.
"Isn't it too expensive to pay $3,000 just for new lifts? In the first place, having no lifts on our floor was a planning mistake. It should be rectified without costing us anything," said Mr Toh, who has lived there for 16 years.
Other residents in the block already have direct lift access, but still reckon that the lifts should be upgraded for safety reasons.
"The lifts are so old. Sometimes they make noises and will shake. I feel very scared in them," said retiree Leong Sow Lan, 68, who lives on the 12th floor.
Adding that the current pair of lifts has broken down more than 10 times since she moved in two years ago, Madam Leong said: "Newer lifts will put me more at ease."
This article was first published on January 5, 2015. Get a copy of The Straits Times or go to straitstimes.com for more stories.