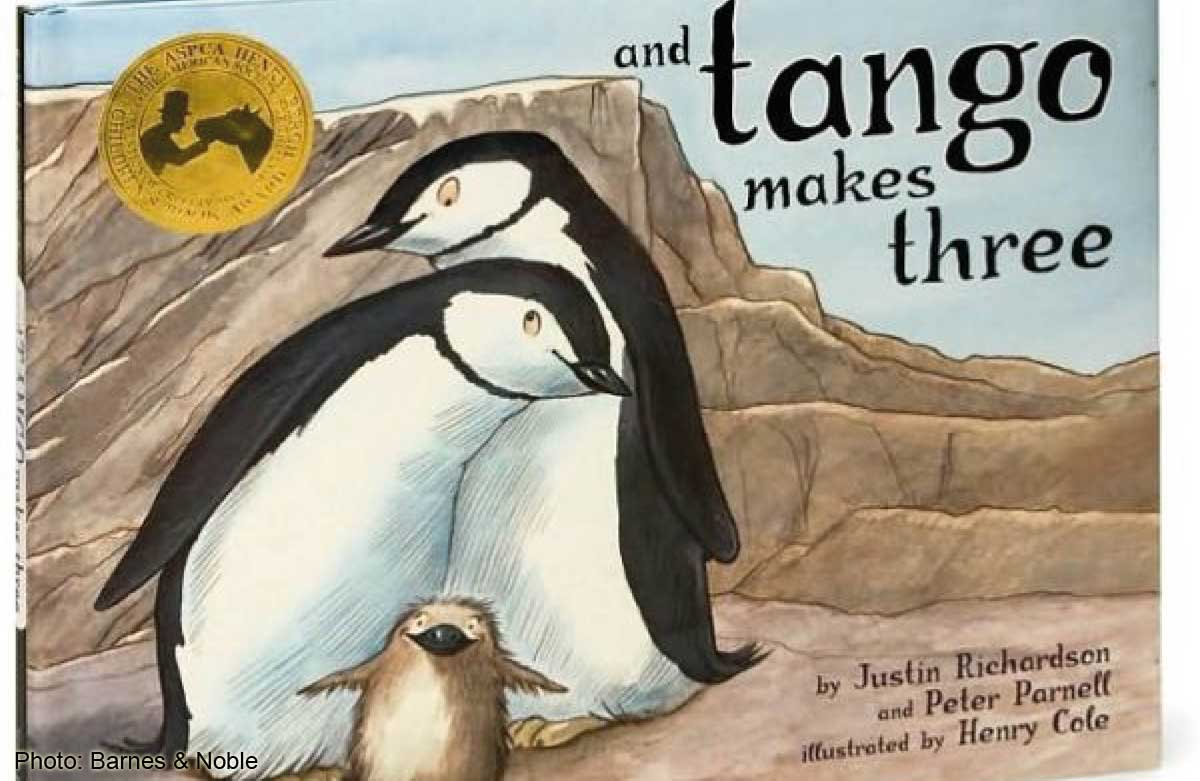 SINGAPORE - Earlier this month, a member of the public, Mr Teo Kai Loon, e-mailed the National Library Board (NLB) to voice his concerns over two children's books, And Tango Makes Three and The White Swan Express, which he felt did not promote the right family values.
He posted in the Facebook group, We Are Against Pinkdot In Singapore, about what he had done and included an e-mail from Ms Tay Ai Cheng, NLB's assistant chief executive, telling her that the two books had been removed following his feedback.
Yesterday, the NLB called a press conference to explain the selection process for their books.
Ms Jasna Dhansukhlal, NLB's assistant director of library services and management, said the books would not return to the shelves despite at least two petitions calling for them to be reinstated.
Instead, the books will be destroyed.
"It is the usual discarding process. Basically it is pulped. It is no longer in existence," she said.
After news broke that the books would be pulped, there was outrage online.
A Facebook group called Singapore's Parents Against Library Censorship, which was formed on Wednesday and has more than 650 members, posted: "I'm angry. I'm so very angry. I cannot believe we live in a society where libraries PULP books that some people happen to disagree with."
What is clear is that the banning of the books has been divisive.
After the books were removed, members of the We Are Against Pinkdot In Singapore Facebook group applauded the NLB and called for members to support them.
Another Facebook page, Singaporeans United for Family, claims to have garnered more than 21,000 signatures as of last night for a petition to support its cause, titled Thank You NLB For Upholding Your Role With Clarity And Integrity!
At least two petitions have called for the NLB to reinstate the books.
One of them, an open letter to the NLB by student Lim Jialiang, 23, writer Ng Yi-Sheng, 33, and Ms Liyan Chen, 31, a PhD student from the National University of Singapore, has collected more than 3,000 signatures. Another petition on online platform change.org drew more than 1,800 signatures.
Even parents who are frequent users of the library are divided.
Ms Jodi Ling, a freelancer in her 40s who has two sons, aged three and seven, is in favour of the ban.
Impressionable
"Children are impressionable and tend to take things literally - what if they take certain values as the norm but it is not necessarily what society embraces," she said.
"I do not read every book that they pick in detail and sometimes they pick up books on their own, especially in a library.
"I want them to be exposed to values which I believe in and majority of society subscribes to."
Ms Elizabeth Li, a housewife in her 30s with three children, aged one, seven and nine, feels that parents should have the choice of deciding what their children can read.
"I think such books should not be placed in free access, but perhaps they could be put in a section of their own so that parents can decide whether they want their kids to read them," she said.
"I'm not in favour of exposure without guidance, but I feel that a book like And Tango Makes Three is heart-warming and it is a good starting point for parents to discuss themes such as homosexuality with their children."
Ms Li said she monitors her children's books and banned her seven-year-old daughter from reading the Horrid Henry series after her teacher complained that she was not paying attention in class.
The series is about the adventures of a mischievous boy who often gets into trouble.
"Some books do have a direct impact on children, but we can't just blame the book because parents have a part to play as well," she added.
Mr Winston Tay, 36, who owns blogfather.sg, a parenting and social commentary blog, said: "Family values are unique to each and every family. What might work for one family might not fit into the beliefs of another."
The father to a five-year-old son and three-month-old girl added: "We read of enough stories of families afflicted by disability, sickness, death, divorce, financial burden, miscarriage, infertility, or even racial, religious, political and sexual discrimination to understand that there is no one-size-fits-all solution to family creation and management."
A check shows that And Tango Makes Three is on sale in local bookstores such as Kinokuniya.
Grey Projects, an artist-run platform for publication, curation and exchange, has also offered to loan And Tango Makes Three, which is available in its library.
Its founder, Mr Jason Wee, said in an e-mail to TNP: "And Tango Makes Three is not about two gay men and their child. It is the real story of two male penguins in a zoo.
"There are other male penguin pairs that raise baby penguins in Harbin, China.
"The book is good science. It doesn't mean the penguins are gay, they are animals doing what comes naturally to them.
"It is a little ridiculous to accuse animals of having the wrong human values."
Children's books banned overseas
Some are critically acclaimed, others have won literary awards. Nonetheless, some libraries around the world have removed these books from the shelves after complaints by the public.
The Harry Potter series, by J K Rowling
Synopsis: A boy discovers on his 11th birthday that he has wizarding abilities and goes to learn magic at Hogwarts School of Witchcraft and Wizardry. Here, he learns spells, encounters fantastical creatures and battles an evil dark wizard.
Banned in: Many parts of the US, the United Arab Emirates (UAE) and Australia
Reason: Fundamentalist Christian groups and schools across the US have criticised the Harry Potter books for promoting anti-religious themes such as witchcraft, black magic, occultism, violence and even Satanism. The UAE also banned the series in 2002, claiming that it went against Islamic values.
The Adventures of Captain Underpants, by Dav Pilkey
Synopsis: Best friends George and Harold sell comic books on the school playground featuring superheroes they created, the newest being The Amazing Captain Underpants. When George obtains a 3D Hypno-Ring, the two hypnotise their hateful school principal, Mr Krupp, and make him act as if he were Captain Underpants come to life, complete with underwear and cape.
Banned in: Libraries and schools in many parts of the US
Reason: Many parents across the US complained that the series contained nudity, violence, offensive language and misbehaviour.
Where Willy Went, by Nicholas Allan
Synopsis: Willy is a little sperm that lives inside Mr Browne, along with 300 million other sperm. He practises for the Great Swimming Race every day and on the day of the race, beats all his competitors to reach the prize - one of Mrs Browne's eggs.
Banned in: Libraries across the US
Reason: Many parents complained that the subject matter and images in the book were too sexually explicit for young children.
In the Night Kitchen, by Maurice Sendak
Synopsis: A young boy named Mickey is fast asleep when he is disturbed by noise from the lower floor. He suddenly begins to float and all his clothes disappear as he drifts, naked, into a surreal world called the "Night Kitchen".
Banned in: Libraries across the US
Reason: Parents and libraries protested against the book, which contained images of full-frontal nudity and sexually suggestive scenes, such as one in which Mickey jumps into a milk bottle and slides down it.

This article was first published on July 11, 2014.
Get The New Paper for more stories.