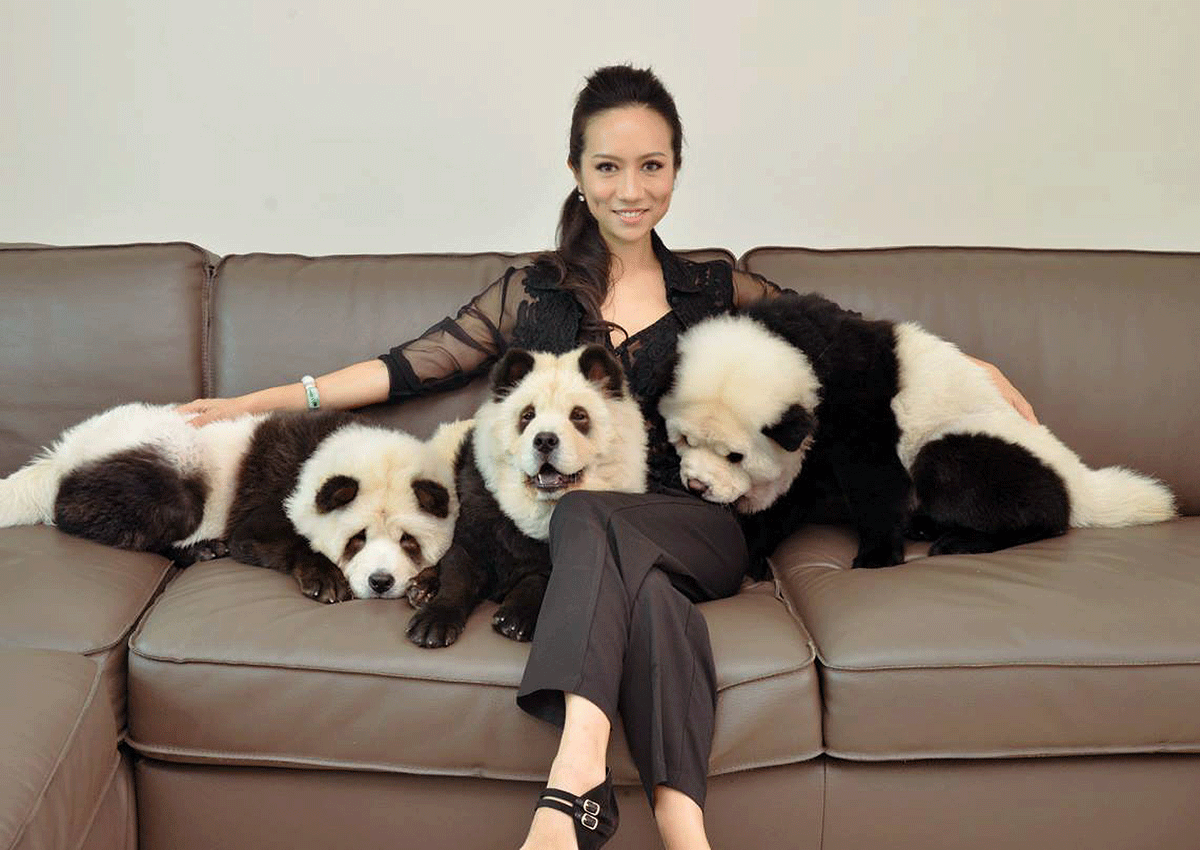 Update on July 1: The Agri-Food & Veterinary Authority (AVA) has concluded the investigation into the case, and found "no compromise to the dogs' health and welfare". 
---
A dog owner who dyed her three pure-bred chow chows to make them look like pandas has rejected accusations that what she did was cruel.
Ms Jiang Meng, 27, said she used a safe and approved dye to paint black patches on their white fur. She runs the website pandachowchows.com, which offers photoshoots with the animals - named Tu Dou, Yu Mi and Dou Dou.
The dogs have attracted curious onlookers around Singapore, but have raised divided reactions online, with some cooing over their "cuteness" and others accusing her of subjecting them to stress and cruelty.
Mr Ricky Yeo, president of Action for Singapore Dogs, said the practice is exploitative. "Anything chemical in nature is always detrimental to the dog's health. I don't really approve," he said.
The Society for the Prevention of Cruelty to Animals (SPCA) is also against the practice. "Animals have natural coats and should be appreciated for what they are, rather than trying to alter them artificially."
But vet Kenneth Tong said that he would not consider it cruelty if the pets show no signs of distress, and if the product is not toxic or an irritant. However, he cautioned that care should be taken when dyeing the fur around sensitive regions, like the eyes, muzzle, nose and genitalia.
Ms Jiang told The Straits Times yesterday that her dogs were dyed by a qualified groomer with more than 10 years of experience, adding that areas, such as around the eyes, were "treated with meticulous care". Two groomers were also present to make sure that the dogs did not lick the wet dye.
The process has to be repeated around every six months.
She said it gave her dogs, which she bought last October, "a new level of energy" and called her critics "hypocrites".
"Maybe they have been to see the pandas at the Singapore Zoo and exchanged money to do so for photos? Now you can see the total hypocrisy of these people."
The Agri-Food & Veterinary Authority (AVA) said on Thursday that it is investigating the case to ensure that the dogs were not harmed. It added that the use of safe, non-toxic food dyes would be unlikely to harm the dogs.
Ms Jiang would not name the brand of dye she used. She also said it was safe and approved by authorities, adding that a patch test was done before it was applied, to ensure that her dogs were not allergic to it.
Fur dyeing services have been available in Singapore for years.
There have been reports since 2010 about the popularity of pet owners in China dyeing dogs to look like pandas and other animals. The South China Morning Post reported in 2014 that the trend had caught on in Hong Kong.
In Singapore, though, such extreme makeovers are uncommon.
Dog groomers said some owners dye a small part of the dog, such as the tail or paws, but few go for such an extensive dye job.
A spokesman for Pet Loft in Upper Paya Lebar Road said he did not think there was anything wrong with the practice, but had not seen much demand for it.
"As long as the colouring is safe and everything is organic, and the dye is not in contact with the skin and sensitive areas, I don't see a problem," he said.
However, Mr Desmond Chan, co-owner of Bubbly Petz, did not feel it was necessary to dye the fur of animals: "The dogs don't ask for it and it may result in unwanted attention and stress for them."
chuimin@sph.com.sg
chiaytr@sph.com.sg

This article was first published on February 6, 2016.
Get a copy of The Straits Times or go to straitstimes.com for more stories.