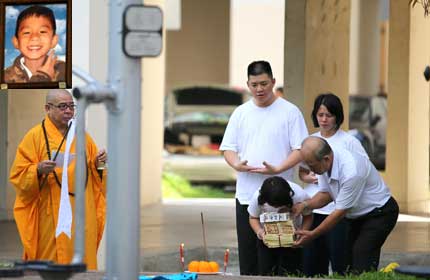 SINGAPORE - He was found lying on the ground floor, next to the playground where he played, clutching his schoolbag. Neighbours had heard a thud and were shocked to see a little boy motionless.
Nobody knew where he had fallen from.
Inside the boy's bag was a family picture, and with it, the police went knocking on the doors at Block 934, Tampines Street 91, after midnight.
Only then did his family discover the tragedy.
Lim Jia En, 8, is believed to have fallen from the window of his unit on the 14th storey.
Said a neighbour, who wanted to be known only as Maiya: "We seldom saw him. Usually, he wouldn't be outside his house. We never talked much.
The 16-year-old said she was watching television when she heard a loud thud. She went out of her flat, looked down and saw the boy. Police received a call at 12.13am on Sunday.
Jia En was already dead when paramedics arrived.
It was only 10 to 15 minutes later, when police came with a family photograph, that Maiya realised the boy was the son of a neighbour who lives two storeys above her.
She said the boy's schoolbag had exercise books and coins in it.
She said: "The police officers asked if the people in the photographs were our neighbours.
"Shortly after, his father went to the scene and was talking on the phone. I think he called his wife.
"His wife came down and started crying, wailing and shouting her son's name for about five minutes.
"She was very weak and couldn't walk properly."
The boy's mother was then led back home and Jia En's body was taken away at about 4am.
Neighbours described the boy as shy and said that the family kept to themselves.
Jia En attended the nearby Junyuan Primary School and has an older sister and an infant sibling.
He was often seen with his older sister.
Happy kid, loving family
A neighbour, a housewife who wanted to be known only as Ms Tan, 47, said Jia En was "a happy kid and from a loving family".
"He was always smiling when I saw him. Very shy with strangers, but the siblings would talk to each other."
Neighbours said the close-knit family would often go out on weekends.
At the wake on Sunday, family members were sombrely folding joss papers. They declined to speak to reporters.
Mr Mohd Farhan, 21, who lives in the same block, said the Lims have lived in their three-room flat for about 10 years.
Two of the bedrooms would have large windows facing the playground, he said.
It is unclear how the boy fell out of the window, but there are grilles at his flat.
Neighbour Madam Ng, 39, a housewife, said: "I've lived here for seven to eight years, but never spoke with the boy. I hope this (incident) will make people here look out for one another more."
Maiya said: "I wish I knew him better. Maybe this will make neighbours more caring."
Police are investigating the unnatural death.
Get The New Paper for more stories.