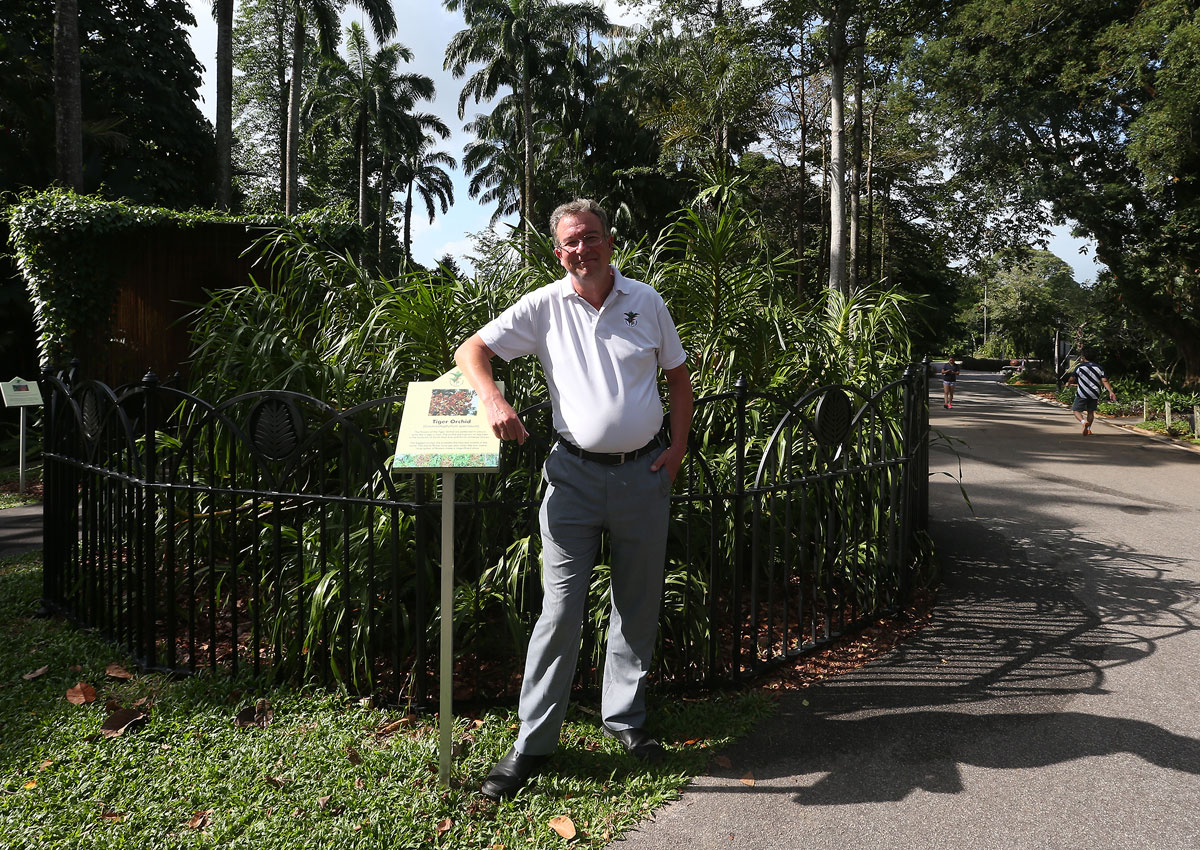 Ask Dr Nigel Taylor anything about the Botanic Gardens and, chances are, he will know the answer.
In an interview with The Straits Times last week, the director of the newly inscribed Unesco World Heritage Site effortlessly rattled off facts about its heritage trees, previous directors and long history.
Discussing celebrations for the Unesco nod and SG50, he stressed how the festivities would pay tribute to the role that the Gardens, now 156 years old, has played in the Republic's history.
In 1959, the first in a series of multicultural concerts called the Aneka Ragam Ra'ayat or People's Variety Show was launched there by founding Prime Minister Lee Kuan Yew.
Dr Taylor, 59, said: "On Aug 7, we are going to re-enact this historical event, and bill a variety concert as a re-run of the original one, and that will be very nice in heritage terms.
"Back in the 1950s, Singapore wasn't the green city that it is today. There were few parks and no green roadways or streets. The Botanic Gardens was the obvious place to have this first concert."
Dr Taylor's intimate knowledge of every nook and corner of the Gardens - and the work and history behind each spot - comes partly from the painstaking research he has done over the past few years to help assemble its Unesco nomination dossier, which eventually came to about 700 pages in all.
But hearing him wax lyrical about the attraction, and seeing his delight at the obscure facts he uncovered, reveals the deep satisfaction he derives from his job.
While looking through a 1981 book published by Mr Edred John Henry Corner, who was the Gardens' assistant director during the Japanese Occupation, Dr Taylor discovered two images with captions that had been switched.
He was thrilled to point out: "If you put the correct caption on one of the photos, it actually forms part of a series of photos that shows this tiger orchid in the Gardens growing from a small plant into a huge one over 154 years!"
Earlier this year, he gave a tour of the Gardens to Mr Stefan Wessman, an archaeologist and a senior adviser to Finland's National Board of Antiquities.
"That evening, Mr Wessman said over dinner that, not counting his marriage and the birth of his first child, it was the best day of his life," recalled Dr Taylor.
"It was such an extraordinary thing to say. To hear that from someone - and he was very genuine about it - was very rewarding and made me feel good."
Before Dr Taylor took up his post here in 2011, he spent 34 years at Britain's Royal Botanic Gardens, Kew, where he started as a horticultural taxonomist and eventually became curator or "head gardener".
He led a team that worked with consultants to prepare Kew Gardens' submission to Unesco, and it was listed as a World Heritage Site in 2003. He is thus responsible for two of the three botanic gardens on the Unesco list. The other is the Orto Botanico di Padova, located at Padua in Italy.
Dr Taylor said he applied for the Singapore post because he wanted a new challenge. He beat more than 20 applicants for the job.
Apart from overseeing the Gardens, he continues to do research, especially on his pet topic of cacti. He studied the subject for his doctorate at Britain's Open University, and he has written and co-written books about the plant.
Last year, he named two new species of Brazilian cacti.
Actually, he met his wife, Dr Daniela Zappi, when he went to Brazil in 1988 to study cacti as part of a research programme. They married in 1991 and have two daughters.
When he came to Singapore, she took a three-year sabbatical from her job at Kew, and worked as a senior researcher at Gardens by the Bay. Dr Zappi, 50, is now back with Kew's conservation department.
They were in Bonn, Germany, for the much-awaited Unesco announcement, and "celebrated with a very big meal".
Now, Dr Taylor is looking forward to the celebrations that will be held here next month.
"The Unesco inscription is for the people of Singapore," he said.
"I might get personal satisfaction from having been involved in the whole process, but the important people who should celebrate are the people of Singapore."
zengkun@sph.com.sg
To find out more about the Gardens' celebrations, go to https://www.nparks.gov.sg/news/2015/7/botanical-inspirations-factsheet-c

This article was first published on July 20, 2015.
Get a copy of The Straits Times or go to straitstimes.com for more stories.