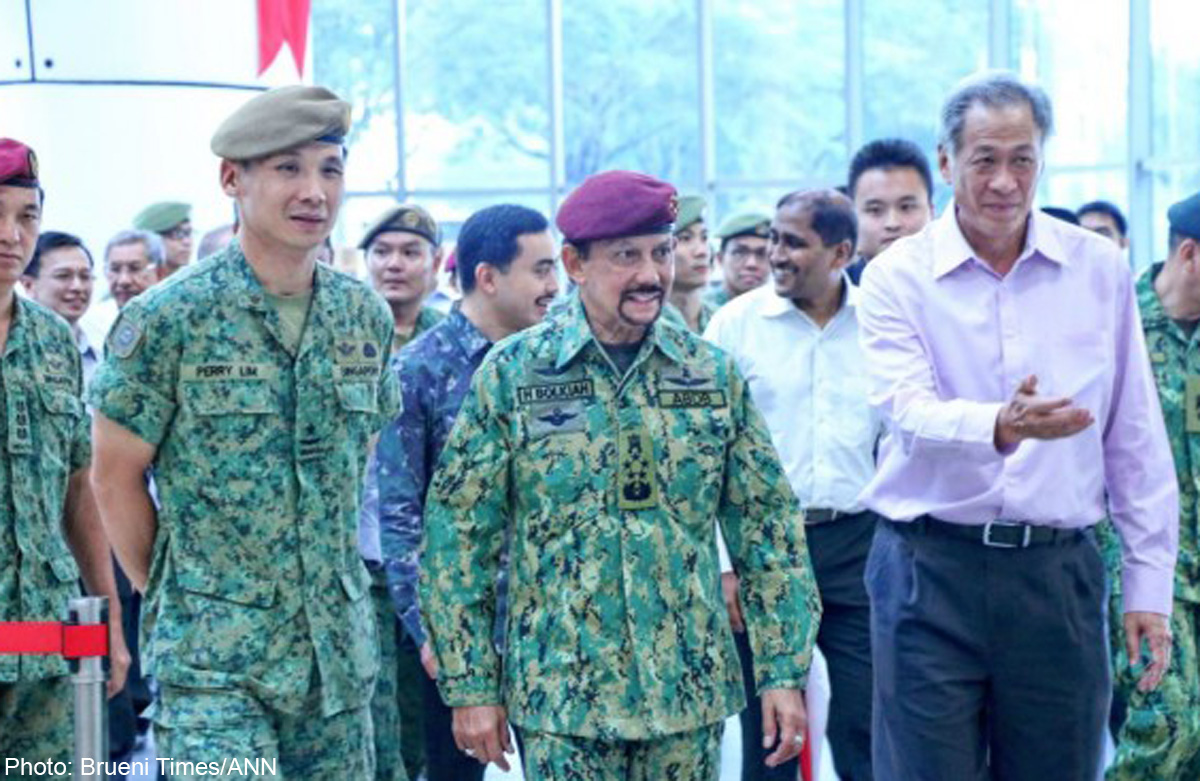 SINGAPORE - His Majesty the Sultan and Yang Di-Pertuan of Brunei Darussalam toured the Singapore Armed Forces' (SAF) facilities, as part of his programme on the second day of his state visit to the city-state.
The Sultan made stops at SAF's Multi-Mission Range Complex in Pasir Laba Camp and Headquarters of Third Division (HQ 3 Div) at Jurong Camp yesterday.
Accompanying His Majesty during the military visits was His Royal Highness Prince Hj 'Abdul Malik.
Present during the sovereign's visit to the military facilities included Singapore Defence Minister Dr Ng Eng Hen and Singapore Chief of Defence Lt General Dato Paduka Seri Ng Chee Meng.
The monarch viewed live-firing demonstrations at the 50m indoor shooting range and the Urban Operations Range, where His Majesty also experienced using a Rifle-SAR21.
Before leaving the Multi-Mission Range Complex, His Majesty was presented SAF's Honourary Advance Combat Skills Badge by Chief of Singapore Army Brigadier General Perry Lim.
His Majesty then made his way to HQ 3 Div at Jurong Camp, where he inspected a guard of honour comprising 24 personnel from Singapore's Land Forces.
The monarch viewed a static display of the SAF's third generation military hardware, and was invited to drive the upgraded Light Strike Vehicle Mark II as well as the Terrex Infantry Carrier Vehicle.
To commemorate his visit, the Sultan was presented the Honourary Terrex and Light Strike Vehicle Mark II driver's licences by the chief of Army.
Meanwhile, Singapore's defence minister presented a momento in the form of a miniature Terrex to the monarch.
His Majesty also met five personnel from the Royal Brunei Armed Forces (RBAF) who have been undergoing a training programme at the Jurong Camp.
The Sultan's visit to SAF shows the strong friendship and longstanding defence ties between both countries, a statement from Singapore's Foreign Affairs Ministry said.
Both military forces will conduct their flagship Exercise Maju Bersama in Singapore next month and mark the 20th year of their cooperation next year.
In a separate event, Her Majesty Raja Isteri Pengiran Anak Hjh Saleha visited the Peranakan Museum, accompanied by Ho Ching, spouse of Singapore Prime Minister Lee Hsien Loong.
Also present was HRH Princess Hjh Masna, Ambassador-at-Large at the Ministry of Foreign Affairs and Trade.
During Her Majesty's visit, the royal entourage was invited to the galleries at the museum, followed by a High Tea Session at the True Blue Cuisine.
The Peranakan Museum explores the culture of Peranakan communities in Southeast Asia. The three-floor galleries portray the cultural traditions and visual arts of the Peranakans.