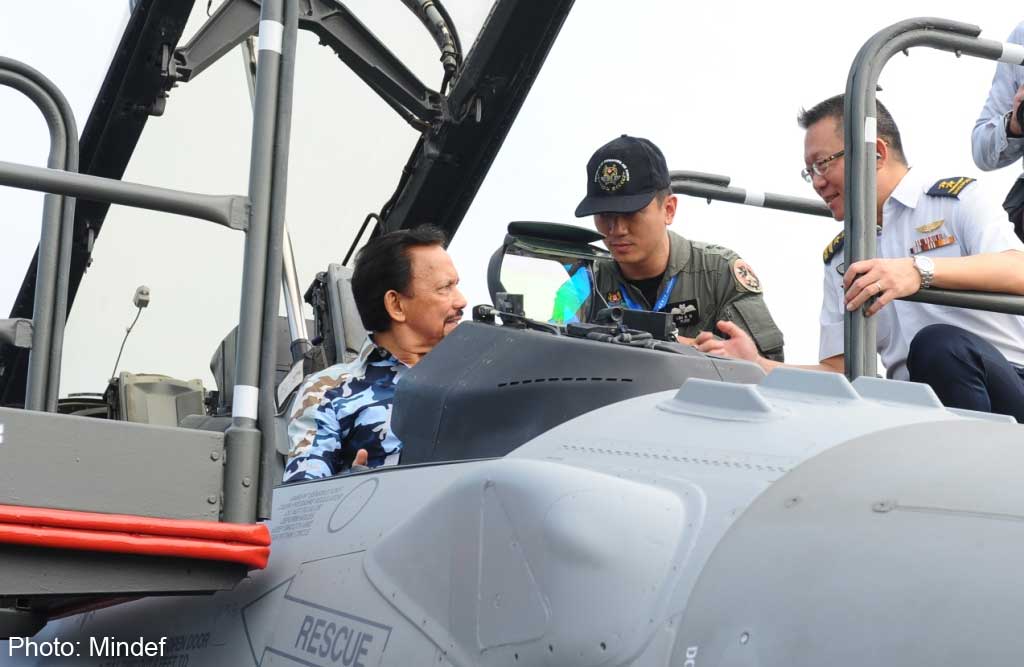 SINGAPORE - The Sultan of Brunei, His Majesty Paduka Seri Baginda Sultan Haji Hassanal Bolkiah Mu'izzaddin Waddaulah of Brunei Darussalam, visited the Singapore Airshow (SA) 2014 today.
He was given a tour of the SA14 Exhibition, accompanied by Defence Minister Dr Ng Eng Hen.
The sultan also viewed the aerial display and was hosted to lunch by Dr Ng.
The royal was accompanied by Brunei Minister of Foreign Affairs and Trade II Pehin Orang Kaya Pekerma Dewa Dato Seri Setia Lim Jock Seng and Brunei Minister of Energy Pehin Dato Seri Setia (Dr) Awang Haji Mohammad Yasmin. Also present during his visit were Minister of State for Defence Dr Mohamad Maliki Bin Osman and Chief of Defence Force Lieutenant-General Ng Chee Meng.
President Tony Tan Keng Yam and Mrs Tan hosted the sultan and his wife, Her Majesty the Raja Isteri Pengiran Anak Hajah Saleha at the Istana today.
He also met Prime Minister Lee Hsien Loong and, together with Her Majesty, was hosted to dinner by Prime Minister Lee and Mrs Lee.
ellenja@sph.com.sg