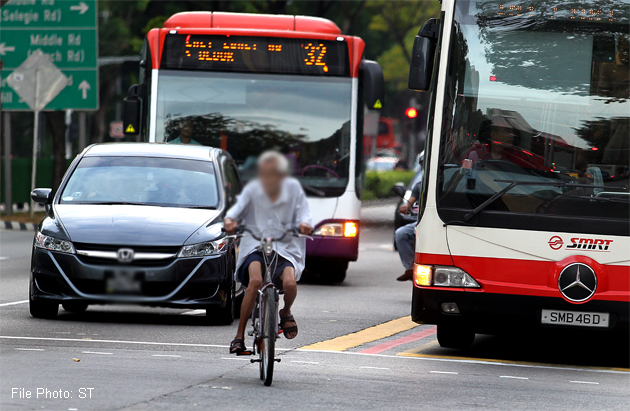 National Development Minister Khaw Boon Wan says cycling should be a viable transport option for short trips to "the supermarket, coffee shop, hawker centre or the nearest MRT station" ("Cycling can be viable transport mode: Khaw"; Thursday).
I do not think his vision is feasible.
First, there are no rules and regulations for cyclists. Many of them do not observe traffic rules and cycle in any way that pleases them.
If the traffic signal is in favour of pedestrians, they will use the pedestrian crossing. Right after that, when the traffic lights turn green for motorists, they will then use the road like any other motorist.
Second, the roads in Singapore are too congested and narrow to accommodate both cyclists and motorists.
While I applaud the Government's efforts to build more cycling paths, there is a limit to this plan. Most cyclists will still have to use the road.
Third, most motorists are not gracious enough to give way to cyclists. This makes cycling on Singapore roads unsafe.
A lot more has to be done to make cycling truly viable and safe in Singapore.

This article was first published on October 25, 2014.
Get a copy of The Straits Times or go to straitstimes.com for more stories.