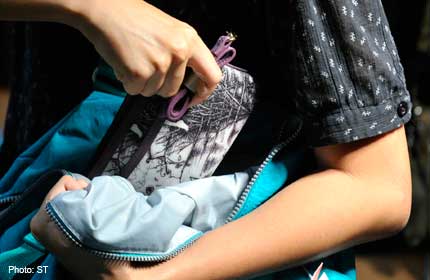 KUALA LUMPUR - Three months after masked robbers armed with parang disrupted a family dinner and took away jewellery, cash and laptops from the home of a businessman here, car thieves struck at his house and drove off in his BMW and his wife's Mini One car.
"I have no more valuables left," said a distraught Muhammad Fadhil Choong, 51, who also lost a digital camera and another laptop in the latest incident at his home in Wangsa Maju here early yesterday.
"I suspect it is the work of the same group that attacked my family in May.
"They have taken all my valuables and left my family traumatised. There is nothing valuable left for anyone to take now," he lamented.
"Last time, they stole all our jewellery, including my wife's wedding ring, cash and laptops.
"Today, they broke into my house while we were fast asleep and stole a digital camera, another laptop, my bronze BMW 318 and my wife's red Mini One," he said.
Muhammad Fadhil said he only realised what had happened when a neighbour alerted him at around 5am and told him his front gate was open.
"I rushed downstairs and found the house ransacked and the two cars missing," he said, adding that the dead bolt lock of the front door was broken and the grille latch cut off.
In the earlier incident, armed intruders had jumped into the grounds of his house and disrupted a family dinner on the patio.
They held the family in a bathroom and made away with jewellery, cash, and laptops.
City CID chief Senior Asst Comm Datuk Ku Chin Wah said the police have been alerted to look out for the two stolen vehicles.
Those with information on the case should contact the police hotline at 03-2115 9999 or report to the nearest police station.