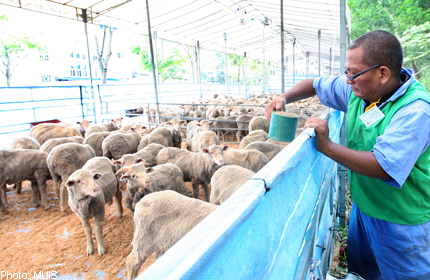 SINGAPORE - For the first time, lambs from Canada will be imported to Singapore for the annual Islamic sacrificial ritual of korban.
The 500 lambs for this year's rites on Oct 15, however, will not come cheap. They will cost $757 each, largely due to the cost of flying the animals 13,000km from Canada, the Islamic Religious Council of Singapore (Muis) said on Wednesday.
Another 2,000 sheep brought in from Australia for the rite will cost $455 each.
The Hari Raya Haji ritual, which commemorates Prophet Ibrahim's obedience to God, almost did not take place last year after Australia introduced rules to ensure that the animals' welfare was taken care of.
Mosques here were required to pass an audit guaranteeing, among other things, that each animal's holding pen was at least 0.6 sq m, had enough ventilation and lighting, and provided shelter from the weather.
Only 16 mosques took and passed the audit last year. Before the new rules, a yearly average of 45 mosques conducted the korban ritual on their premises.
To explore alternative sources, a korban review committee was formed last December with officials from Muis, the Agri-Food And Veterinary Authority (AVA) and the Ministry of Culture, Community and Youth.
Regional options did not meet AVA standards, said Mr Sakdun Sardi, chairman of the Singapore Mosques Korban Committee. He took part in the inter-agency review.
Instead Canada, the United States, France and Ireland were highlighted as possible sources. The lambs from Canada are part of a "pilot trial", he explained.
The Canadian authorities do not require mosques to go through an audit. Five mosques will conduct the korban for the lambs this year, bringing the total number of mosques conducting the ritual to 21.
But Mr Sakdun stressed that the "same standard operating procedures" required by Australia will be applied at these five mosques. Registration for korban starts from today.
Still, the price of the lambs may be too steep for some. Said manager Ridzwan Ismail: "I've got to hand it to them for trying to find other sources, but for $700, I could slaughter two or three sheep overseas and share more with the needy."
Increasingly, Muslim Singaporeans are sending money overseas for representatives to perform the korban on their behalf. In China, for instance, a sheep is about $200.
maryamm@sph.com.sg

Get a copy of The Straits Times or go to straitstimes.com for more stories.