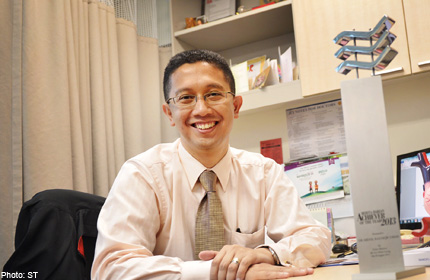 SINGAPORE - Dr Abdul Razakjr Omar was 35 years old when he became the first Malay heart specialist in Singapore. Now 43, Dr Abdul Razakjr's achievements in his medical career has earned him the honour of being named the recipient of the prestigious Berita Harian Achiever of the Year Award 2013 (Anugerah Jauhari 2013).
Prime Minister Lee Hsien Loong, who was the Guest-of-Honour at the Gala dinner tonight at Shangri-La Hotel, presented the award to Dr Abdul Razakjr.
The annual award, now into its 15th year, is organised by Singapore Press Holdings' Malay daily, Berita Harian. It honours Malay/Muslim individuals for their achievements in their chosen fields, be it education, business, arts and culture, sports, the professions or social work. The qualities that the judging panel looks for include perseverance, determination, integrity and the ability to overcome odds. Above all, the winner must be a role model for the Malay/Muslim community in Singapore.
This year, Berita Harian has introduced a new award - the Berita Harian Inspiring Young Achiever Award 2013 (Anugerah Jauhari Harapan Berita Harian). The award recognises young inspiring Malay/Muslim Singaporeans aged 30 and below. The winner of the inaugural award is Mr Adil Hakeem Mohamad Rafee.
Berita Harian Achiever of the Year Award 2013
Dr Abdul Razakjr is a Consultant Cardiologist at the Raffles Heart Centre, a position he has held since April 2010. He has also previously served as Visiting Consultant to National University Heart Centre, Khoo Teck Puat Hospital and Jurong General Hospital at various times from 2010 to 2013, as well as an Adjunct Assistant Professor at the Yong Loo Lin School of Medicine, National University of Singapore.
Even at a young age, Dr Abdul Razakjr knew he wanted a career in medicine - not just any doctor, but a heart specialist. While he came from a humble family background, he pursued his dream with the support of his family and was the top student for the GCE 'O' Level examinations in 1986, scoring top marks for Biology. He was awarded the Singapore Armed Forces (SAF) Medical Education Scholarship in 1988.
In 2005, Dr Abdul Razakjr left for Toronto, Canada under the Ministry of Health's Higher Medical Development Plan award to perform a one-year fellowship at the Toronto General Hospital. Three years later, he was appointed head of the Committee for Community Health, set up by the Health Promotion Board. The 12-man committee aims to raise awareness about health related issues plaguing the Malay community.
Dr Abdul Razakjr is married and is a father of two. Despite his busy schedule, he finds time to volunteer and serve the community. He chairs various committees that organises health seminars and conducts some of the talks himself. He also started an initiative to mentor secondary school students from less privileged families. In addition, he volunteers at the Islamic Religious Council of Singapore, offering his medical expertise as and when needed by the Council.
His research is widely published in international journals and has been featured in numerous media interviews and articles. Since 2012, he has regularly contributed to Berita Minggu's health column, sharing his expertise with the Malay community.
Dr Abdul Razakjr said: "It was never about achieving glory for me. I studied hard to be a doctor to fulfil a life-long dream. I grew up wanting to be a doctor - it is a noble profession as it gives me the opportunity to heal and contribute to mankind. I also wanted to make my parents proud. They had very little, but they sacrificed everything for me. Hopefully they and the Lord are happy with what I have done."
Mr Saat Abdul Rahman, Editor of Berita Harian, said: "Berita Harian is celebrating Dr Abdul Razakjr not only because of his achivements in the field of medicine. We are celebrating his life story, one of grit and determination. A story that gives hope to every Malay/Muslim family that no matter the odds, hard work is the key to success."
Beria Harian Inspiring Young Achiever Award 2013
Mr Adil Hakeem Mohd Rafee made history when he became the first Malay in 44 years to be awarded the President's Scholarship, the Republic's most prestigious undergraduate award.
The award is the latest in a string of success stories in his academic life - not least of which was to top the Primary School Leaving Examinations in 2005.
He also received a $5,000 cash along with the award, sponsored by Management Development Institute of Singapore (MDIS).
Now pursuing his studies in Yale University, Mr Adil Hakeem had this to say about receiving the award: ""I am very grateful and it is really an honour for me to be the first recipient of the Berita Harian Inspiring Young Achiever Award."
"I am not perfect. I presume other people who have made some achievements in life are also not perfect and have made some mistakes at some point of time in their lives. But as long as you acknowledge that you make mistakes and move on from there, there is a possibility that you too can achieve something," he added.
Commenting on the inaugural award, Mr Saat Abdul Rahman said: "This award is Berita Harian's small gesture in motivating young Malay/Muslims who has shown the potential to achieve greater heights. We hope this award will spur the individual to continue to work hard and pursue his or her dream, and while doing so, inspire other young Malay/Muslims to achieve their goals."
This year's winners were picked by a panel of four judges from the Malay/Muslim community in Singapore, headed by Mr Saat Abdul Rahman.
Previous winners of the Berita Harian Achiever of the Year Award are:
- Dr Mansoor Abdul Jalil, lecturer with the Department of Electrical Engineering at the National University of Singapore (NUS)
- Professor Aziz Nather, director at the Tissue Bank and consultant with the Department of Orthopaedic Surgery at NUS
- Madam Halimah Yacob, Assistant Secretary General of NTUC
- Mr Iskandar Jalil, master potter
- Mr Iskandar Mirza Ismail, veteran composer
- Haji Abu Bakar Maidin, a veteran of social service
- Mr Zulkifli Baharudin, Chairman of Mercy Relief
- Mr Mardan Mamat, millionaire golfer
- Mr Ashley Isham, fashion designer
- Datuk Mohd Zain Abdullah, accomplished businessman in the shipping industry
- Madam Som Binte Mohamed Said, cultural ambassador
- Mr Shafie Shamsudin, Chief Executive Officer of Carrefour Indonesia
- Mr Mohamed Salleh Marican, Chairman and Managing Director of SCP
- Mr Suhaimi Rafdi, Chief Executive Officer, Cathay Organisation