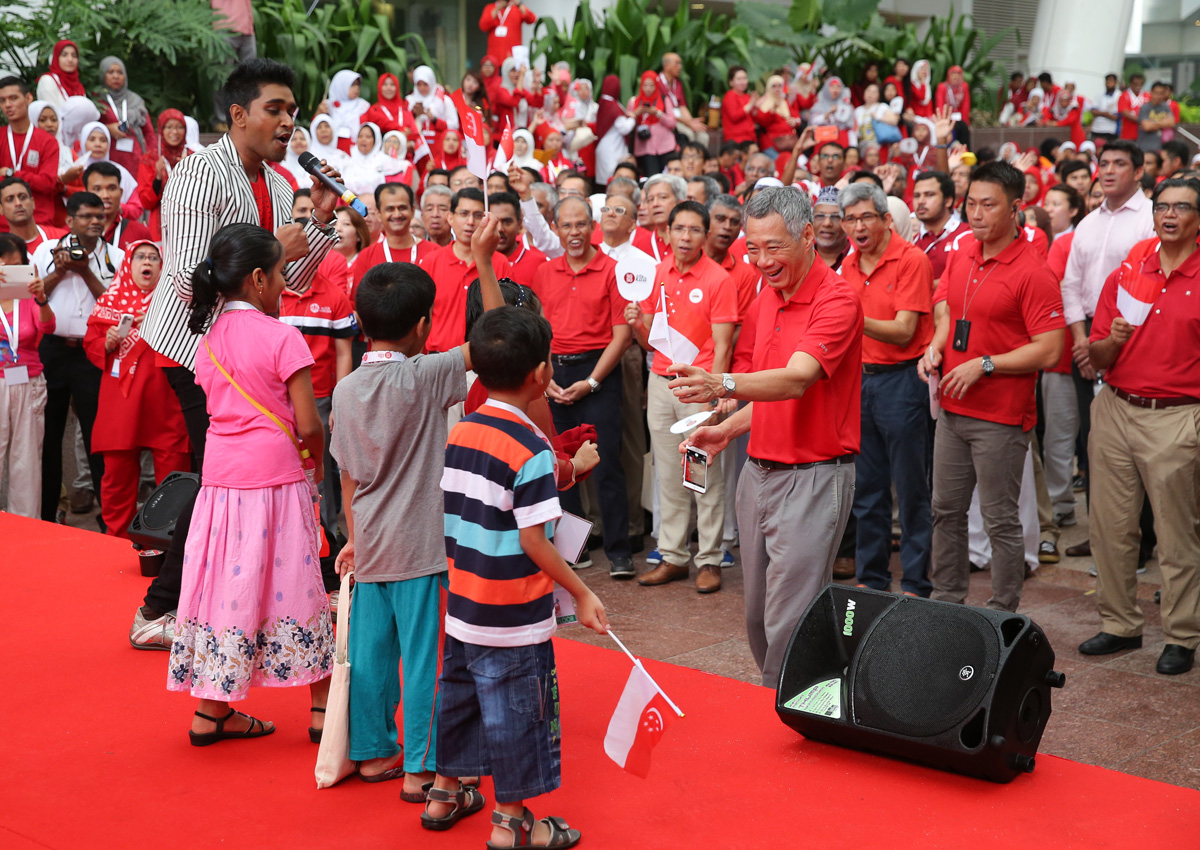 As a dikir barat performance unfolded on stage to the thunderous beat of Malay drums, children flocked to stalls to have their faces painted and their hands decorated with little henna swirls and flowers.
They were at a National Day observance ceremony and carnival organised by some 30 Malay/Muslim groups and partner organisations to bring people from various communities together in celebration of Singapore's Golden Jubilee.
As a 1,500-strong crowd watched, many with smartphones in the air to capture the moment, Prime Minister Lee Hsien Loong struck a beduk, a traditional Malay drum, kicking off the festivities to applause.
In a short speech in Malay and English, Mr Lee paid tribute to the pioneer generation and successive generations for helping build a harmonious multiracial society, where each group maintains its culture and traditions while coming together to forge one Singapore identity.
He noted how 50 years ago, the people of Singapore "were determined to build a multiracial society, where every citizen is equal, regardless of race, language or religion".
"It was why we left Malaysia. It was the fundamental reason for Singapore to exist as a nation."
Five decades on, Singaporeans have succeeded in building a harmonious, multiracial society.
"We kept the faith between Government and the people," he said.
Mr Lee noted that people had high expectations of the Government, and the Government, on its part, did its best to serve the people.
"Together, we have journeyed from the Third World to First, and that's why today, we can be happy to celebrate SG50," he added.
He also noted that the event was an important and significant way to mark Singapore's 50th birthday.
While Malay/Muslim groups took the lead to organise the event, self- help groups from the other major communities - the Chinese Development Assistance Council, Sinda and the Eurasian Association - were also part of the festivities.
Said Mr Lee: "It shows the success of our multiracial society, it shows that our minorities are confident of our place in Singapore and proud of our nation. It shows that all of us can stand together as Singaporeans celebrating SG50, and making Singapore succeed as one united people.
"Long may we continue to be successful, long may this peace and harmony continue, and long may we go forward as one united people."
Mr Lee and Communications and Information Minister Yaacob Ibrahim visited stalls set up by community groups showcasing their activities over the years.
They also put the finishing touches on two batik pieces, guided by veteran artist Sarkasi Said, who was teaching the traditional art form to children from Jamiyah Children's Home.
Dr Yaacob, who is Minister-in-charge of Muslim Affairs, told reporters: "This is a truly multiracial event that captures the essence of what we are all about. After 50 years, we have been able to strengthen our social fabric, and I think this is an exemplification of the values that we hold dear.
"The whole basis of multiculturalism has to be reaffirmed, and doing so on the eve of National Day, when we celebrate our 50th anniversary, is timely and very meaningful for all Singaporeans."
The event saw performers from various backgrounds, and the recitation of the Pledge was led by football legend Fandi Ahmad.
As Mr Ken Tan, 28, headed for a second helping of putri salat, a Malay snack, he said his grandmother, who lived through the 1964 race riots, was thankful to see how far Singapore has come since. "Having celebrations like this where we can all be together is something I take for granted. But she tells me it took a lot of work to get to this," he said.
And Victoria Junior College's Nikhil Godsay, 17, was optimistic about the younger generation, pointing out that "when we come together, race and religion are nothing. We're just Singaporeans".
asyiqins@sph.com.sg

This article was first published on August 9, 2015.
Get a copy of The Straits Times or go to straitstimes.com for more stories.